Research article

Open Access
Genetic analysis of inflorescence and plant height components in sorghum (Panicoidae) and comparative genetics with rice (Oryzoidae)
BMC Plant Biology
2015
15:107
Received: 2 November 2014
Accepted: 19 March 2015
Published: 19 April 2015
Abstract
Background
Domestication has played an important role in shaping characteristics of the inflorescence and plant height in cultivated cereals. Taking advantage of meta-analysis of QTLs, phylogenetic analyses in 502 diverse sorghum accessions, GWAS in a sorghum association panel (n = 354) and comparative data, we provide insight into the genetic basis of the domestication traits in sorghum and rice.
Results
We performed genome-wide association studies (GWAS) on 6 traits related to inflorescence morphology and 6 traits related to plant height in sorghum, comparing the genomic regions implicated in these traits by GWAS and QTL mapping, respectively. In a search for signatures of selection, we identify genomic regions that may contribute to sorghum domestication regarding plant height, flowering time and pericarp color. Comparative studies across taxa show functionally conserved 'hotspots' in sorghum and rice for awn presence and pericarp color that do not appear to reflect corresponding single genes but may indicate co-regulated clusters of genes. We also reveal homoeologous regions retaining similar functions for plant height and flowering time since genome duplication an estimated 70 million years ago or more in a common ancestor of cereals. In most such homoeologous QTL pairs, only one QTL interval exhibits strong selection signals in modern sorghum.
Conclusions
Intersections among QTL, GWAS and comparative data advance knowledge of genetic determinants of inflorescence and plant height components in sorghum, and add new dimensions to comparisons between sorghum and rice.
Keywords
Sorghum
GWAS
Biparental QTL mapping
Inflorescence
Flowering time
Plant height
Domestication
Genetic correspondence
Background
The Sorghum genus has recently become an important botanical model for Andropogoneae grasses, by virtue of its relatively small and largely-sequenced genome, a minimum of gene duplication thanks to 70 million years of abstinence from polyploidy, and its close relationship to grasses such as maize, sugarcane and Miscanthus that have much more complex genomes [1]. Cultivated sorghum (Sorghum bicolor) ranks fifth in importance among the world's grain crops, is a versatile source of food, fodder, and fuel, and possesses a great diversity of cultivated forms that may reflect its wide range of adaptation [2-4].
The ~30 year history of using linked molecular markers to dissect complex traits in plants has broadly used two complementary approaches. Conventional biparental QTL mapping [5] has been widely used and has provided foundational information that led to some successes in the identification of causal genes in many organisms. However, biparental QTL mapping generally offers relatively coarse resolution that is not sufficient to determine causative genes. Highly saturated recombination maps, multiparent advanced generation intercrosses (MAGIC) [6] or nested association mapping (NAM) [7], offer options to enhance mapping resolution of QTLs. Dramatic increases in genomic data provide rich resources with which to investigate genes and gene functions on a much finer scale than QTL mapping by taking advantage of historical accumulation of recombination events in a gene pool using 'association genetics' [8]. However, association mapping can require extremely high DNA marker densities to thoroughly scan a genome for genes influencing a trait, and complex measures to distinguish between artifacts such as relatedness among genotypes (especially in improved germplasm) and true evidence of functional association between a mutation and a phenotype [8-11]. Although GWAS is able to explore for causative loci on a genome-wide scale, population structure and genetic relatedness may confound associations at causative loci. Some GWAS conducted in rice and A. thaliana have suggested that known causative loci showed weaker signals than nearby markers [12]. In contrast, carefully designed crossing schemes in QTL mapping may be more targeted to locate relevant QTLs. Identifying intersections between results from biparental QTL mapping and association genetic data is a potentially powerful means to mitigate constraints associated with each approach, accelerating progress toward identifying specific genes that function in biological processes of relevance to agriculture.
The grass inflorescence, the primary food source for humanity, has been repeatedly selected during domestication [13]. Some well-characterized domestication traits related to the inflorescence include pericarp color of seed, seed shattering, awn length/presence and seed size/yield. Of similarly high and recurring importance in plant domestication and crop improvement are flowering time and plant height, which often show significant genetic correlation with one another [13,14].
In this study, we use GWAS to investigate 6 components of sorghum inflorescence morphology and 6 traits related to plant height, then compare GWAS-based associations to positional evidence from meta-analysis of QTL likelihood intervals. QTL meta-analysis, the comparison of multiple independent QTL studies in different germplasm and environments, is used here to provide a more comprehensive picture of the true genetic control of a trait than analysis of any single population [15], for example revealing plant height and flowering of sorghum to be genetically more complex than had been realized after more than 70 years of investigation [16]. We note that a few classically-identified loci (dw1-dw4) had already been compared to GWAS data [4], one of which (dw3) had been cloned [17], however here we address additional loci identified only by meta-analysis of QTL likelihood intervals.
Inbreeding organisms have limits to the precision in the association mapping studies [12]. Sorghum is largely inbreeding, which can result in strong LD patterns, and may lead to low genetic resolution in specific local regions along the genome. Hence, we reported the hotspots underlying 12 traits in sorghum, instead of gene candidates. The identified 'hotspots' provide a valuable advance toward the goal of uncovering causative variants for the trait of interest.
It is accepted widely that QTL intervals controlling common traits have non-random correspondence across and within cereals, and GWAS adds a new dimension to the ability to compare the genetic control of common traits in different cereals (and other taxa). For example, in an early comparison, the observed probabilities that seed mass (size) QTLs in sorghum, rice, and maize would correspond so frequently by chance was conservatively estimated as 0.1 to 0.8% [18]. Another early study [14] indicated that 8 of 25 regions affecting flowering of maize fall into 4 homoelogous regions. Numerous studies have shown that some orthologs across taxa have similar functions underlying common phenotypes, but other causative genes have no obvious counterparts that contribute to similar traits even in their close relatives. Thus, genetic correspondence may reflect functionally conserved 'hotspots' existing across taxa, but may or may not be conserved 'genes'. Genes in a pathway exhibit significantly higher genomic clustering than expected by chance in eukaryotes [19]; for example, co-regulated clusters of genes have been implicated in QTLs affecting cotton fiber traits [20].
The common ancestor of rice, maize and sorghum experienced a whole-genome duplication (WGD; named rho) that is still readily discernible in their genomes [21], making it possible to test the hypothesis of convergent evolution across an estimated 70 million years, with the possibility of subfunctionalization among homoeologous regions. A hypothesis worthy of further exploration is that a co-regulated cluster of genes in the cereal common ancestor may have experienced gain/loss and functional divergence of some members in the subsequent 70 my of divergence, with independent domestications conferring additional functional changes in similar locations of different taxa but which are not strictly orthologous.
Conclusions
Our studies illustrate how GWAS may be used to complement the genetic resolution of causal elements (genes) of quantitative phenotypes that is typically attained from conventional likelihood intervals determined by QTL mapping. The degree of improvement in resolution by GWAS over QTL mapping is related to the nature of the 'genomic environment' surrounding a gene – with substantial improvement in recombinationally-active euchromatin but much less improvement in recombinationally recalcitrant heterochromatin with long LD blocks.
Understanding and utilizing the relative strengths and weaknesses of QTL mapping and GWAS can aid in dissecting the genetic basis of a complex trait. A carefully chosen cross can allow QTL mapping to have better statistical power to detect variants with low/rare frequency in a natural population. For example, the classical maturity locus Ma3/phyB was initially identified with a map-based strategy (QTL mapping) [69], but association mapping is unable to detect striking signal near Ma3 because virtually all members of the panel are wild type (i.e. the mutation is rare). Another case is that a map-based (QTL mapping) strategy was used to determine one major-effect QTL (sh1) controlling shattering in sorghum, and revealed three different non-shattering haplotypes widely existing in five major cultivated races that may reflect low/rare frequency of causative polymorphism [2,3]. Hence, association mapping may have reduced power to find phenotype-genotype association for sh1. Additionally, complex population structure in unrelated individuals may compromise genetic variation at the true causative loci, resulting in cases of true negative detection in GWAS. More generally, multiple independent domestications may create a scenario under which many QTLs cannot be verified with the current sorghum association panel.
An important fundamental question in gene mapping is why the GWAS approach has revealed so much less variation than anticipated [
62
]. Even given 'perfect' (i.e. 100% accurate) information about phenotype and genotype, some associations may not be repeatable due to interaction between genotype and environment [
57
]. We observed that traits related to the inflorescence were more greatly affected by environment than traits related to plant height (Figure
7
). The interaction between genotype and environment plays an important role in the variation between individuals in their observable characteristics, even for traits with high heritability.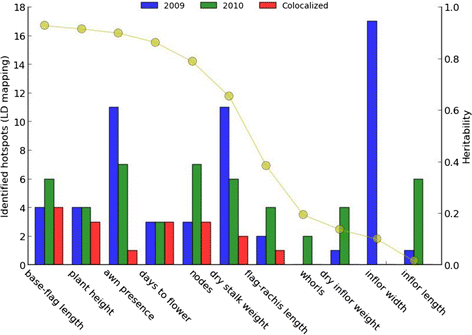 Identification of intersections among QTL, GWAS and comparative data advance knowledge of the genetic determinants of variation in sorghum, and provide a finer-scale comparison than was previously possible of the genetics of important traits between sorghum and rice. Non-random correspondence of sorghum GWAS signals to rice QTLs, i.e. between divergent panicoid and oryzoid grasses, adds a new dimension to evidence of the ability to leverage genetic data about the important traits across divergent plants. More variants can be gained through re-sequencing gene candidates. Joint evidence from hotspots and re-sequencing data are likely to be extremely powerful to answer the question of whether such genetic correspondence implicates 'conserved' single genes or co-regulated clusters of genes that exist for the trait of interest after cereal divergence.
Rich SNP data also clarifies the phylogenetic relatedness of sorghum races, improving on several prior studies [38-41]. Based on the high-density genotype in the large population, we showed joint evidence from the striking clustering patterns in population structure and fixation index values, suggesting several hypotheses that might shed light on the unknown ancestry of sorghum races.
Availability of supporting data
In addition to the supplementary files listed below, Newick files for all the phylogenetic trees are available for download at Dryad (http://datadryad.org/).
Abbreviations
QTL:

Quantitative trait locus
GWAS:

Genome-wide association study
SNP:

Single nucleotide polymorphism
SAP:

Sorghum association panel
PCA:

Principal component analysis
LD:

Linkage disequilibrium
MAF:

Minor allele frequency
FST :

Fixation index
WGD:

Whole-genome duplication
GBS:

Genotyping-by-sequencing
CMLM:

Compressed mixed linear model
Declarations
Acknowledgements
This work was supported by the United Sorghum Checkoff Program, and the US Department of Energy-US Department of Agriculture Plant Feedstock Program (project grant numbers: 2011-02786, 2012-03304).
Authors' Affiliations
(1)
Plant Genome Mapping Laboratory, University of Georgia, Athens, USA
(2)
Institute of Bioinformatics, University of Georgia, Athens, USA
(3)
Department of Crop and Soil Sciences, University of Georgia, Athens, USA
(4)
Department of Plant Biology, University of Georgia, Athens, USA
(5)
Department of Genetics, University of Georgia, Athens, USA
Copyright
© Zhang et al.; licensee BioMed Central. 2015
This is an Open Access article distributed under the terms of the Creative Commons Attribution License (http://creativecommons.org/licenses/by/4.0), which permits unrestricted use, distribution, and reproduction in any medium, provided the original work is properly credited. The Creative Commons Public Domain Dedication waiver (http://creativecommons.org/publicdomain/zero/1.0/) applies to the data made available in this article, unless otherwise stated.