Research article
Open Access
Expression-based discovery of candidate ovule development regulators through transcriptional profiling of ovule mutants
BMC Plant Biology
2009
9:29
Received: 05 December 2008
Accepted: 16 March 2009
Published: 16 March 2009
Abstract
Background
Arabidopsis ovules comprise four morphologically distinct parts: the nucellus, which contains the embryo sac, two integuments that become the seed coat, and the funiculus that anchors the ovule within the carpel. Analysis of developmental mutants has shown that ovule morphogenesis relies on tightly regulated genetic interactions that can serve as a model for developmental regulation. Redundancy, pleiotropic effects and subtle phenotypes may preclude identification of mutants affecting some processes in screens for phenotypic changes. Expression-based gene discovery can be used access such obscured genes.
Results
Affymetrix microarrays were used for expression-based gene discovery to identify sets of genes expressed in either or both integuments. The genes were identified by comparison of pistil mRNA from wild type with mRNA from two mutants; inner no outer (ino, which lacks the outer integument), and aintegumenta (ant, which lacks both integuments). Pools of pistils representing early and late stages of ovule development were evaluated and data from the three genotypes were used to designate genes that were predominantly expressed in the integuments using pair-wise and cluster analyses. Approximately two hundred genes were found to have a high probability of preferential expression in these structures, and the predictive nature of the expression classes was confirmed with reverse transcriptase polymerase chain reaction and in situ hybridization.
Conclusion
The results showed that it was possible to use a mutant, ant, with broad effects on plant phenotype to identify genes expressed specifically in ovules, when coupled with predictions from known gene expression patterns, or in combination with a more specific mutant, ino. Robust microarray averaging (RMA) analysis of array data provided the most reliable comparisons, especially for weakly expressed genes. The studies yielded an over-abundance of transcriptional regulators in the identified genes, and these form a set of candidate genes for evaluation of roles in ovule development using reverse genetics.
Keywords
Auxin Response FactorMassively Parallel Signature SequencingOuter IntegumentHigh Fold ChangeOvule Stage
Background
Ovules, the precursors to seeds, are an important focus of study to better understand plant development within a unique reproductive context. Ovules are highly specialized for reproductive function, but the typical angiosperm ovule, as found in Arabidopsis, is relatively simple morphologically. Development of the ovule within the carpel is well described, [
1
–
5
], beginning with primordia emergence from the marginal placentas of the carpels (floral stage 9, ovule stage 1). The primordia have three regions, the distal region or nucellus, marked by the formation of the large megaspore mother cell, the central or chalaza region indicated by the emergence of the two integuments, and the proximal region which forms the funiculus supporting the ovule (Figure
1A
; floral stage 10, ovule early stage 2). The inner integument initiates as a ring from divisions in the L1, while the outer integument derives from divisions on the gynobasal side of the ovule below the inner integument. The integuments grow together to enclose the nucellus and when this has occurred the embryo sac develops from a meiotic product of the megasporocyte. The integuments continue to differentiate with the outer and inner integument cells changing in appearance in preparation for the integuments roles in pollen tube attraction [
6
] and formation of the seed coat.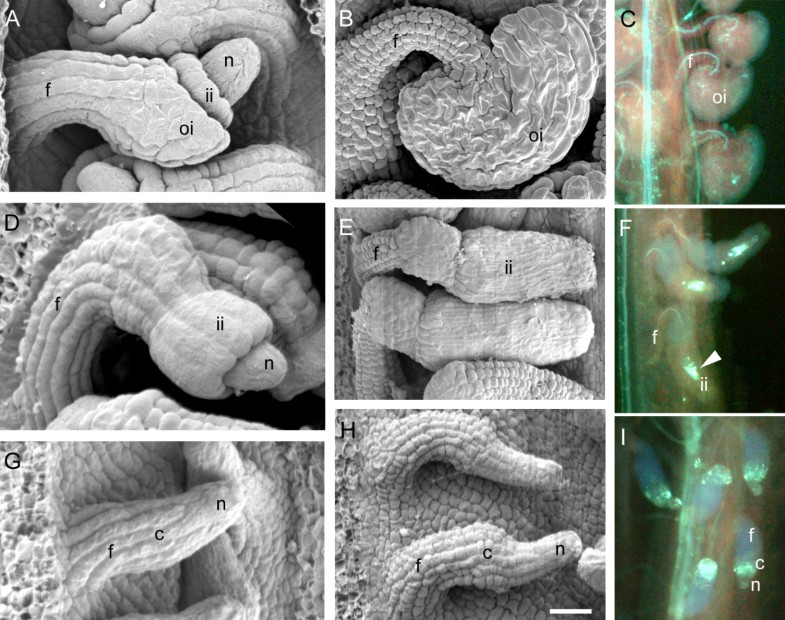 Our knowledge of the genes involved in ovule development has benefited from three complementary approaches. Mutants with altered integument morphogenesis such as bell1 (bel1) and inner no outer (ino) were discovered in screens for sterility [1, 7–10]. Systematic reverse genetics analysis of families of transcription factors has also yielded important ovule regulators, including the MADS domain proteins encoded by SHATTERPROOF (SHP)1/2 and SEEDSTICK (STK) [11, 12]. Finally, several genes identified through their action in other organs or processes were subsequently shown to have important effects in ovules, including WUSCHEL (WUS) and PHABULOSA (PHB) [13, 14]. Identification of such genes and analysis of their interactions have permitted the construction of models of ovule development, including specification of regional ovule identity, integument identity and outgrowth, and asymmetric growth of the outer integument, reviewed in [15].
The two integuments are particularly interesting as a focus of study as their evolutionary origins are unclear and are likely to be separate, the inner integument from sterile branches or telomes, and the outer integument from lateral structures similar to leaves [16, 17]. Despite the recent advances, control of several aspects of ovule development, such as inner integument patterning and integument morphogenesis, remains poorly understood. Further mutant screens to uncover regulatory genes may have limited success as some phenotypes may not cause sterility, and pleiotropic effects that lead to loss of flowers would obscure ovule effects. A further problem results from redundancy between gene families or pathways, which has been shown for diverse Arabidopsis developmental regulators such as the SEPALLATA (SEP)/AGAMOUS (AG) clade of MADS domain genes [11, 18], the NO APICAL MERISTEM (NAM) family genes, CUP-SHAPED COTYLEDONS (CUC)1 and 2 [19], and the KANADI (KAN) genes [20]. An alternative to such forward genetic approaches is the expression-based discovery of integument-expressed genes. Research on the genes described above has shown that developmental regulators often have specific and restricted spatial and temporal domains of expression and this concept has been exploited in strategies to find such genes using subtractive hybridization, differential display, cDNA and oligonucleotide microarrays, and technologies such as Serial Analysis of Gene Expression (SAGE) and Massively Parallel Signature Sequencing (MPSS) [21–25].
Microarrays have been successfully used to identify genes expressed in specific structures. Some studies have utilized isolated cell types or organs, such as guard cells or pollen for this purpose [26–28]. In other studies, developmental mutants that have homeotic changes or loss of structures have been used through comparisons to wild type to identify genes expressed in those structures [29–34]. Two ovule mutants have phenotypic properties that would enable a microarray approach to integument gene identification. The ino-1 mutant has an almost complete loss of the outer integument [7]. The INO gene encodes a YABBY domain protein important in polarity and growth of the outer integument [35]. The AINTEGUMENTA (ANT) gene is known to be expressed in and required for proper outgrowth of organ primordia and, in particular, ant mutants fail to initiate integument primordia [36–39]. Because these mutants lack integuments, any gene that is expressed mostly in these structures should be at a much lower abundance relative to wild type in the set of mRNAs isolated from these mutants. This approach would not be expected to identify only genes that are direct targets of INO and ANT, but rather a set of genes downstream of these that are expressed in the structures that are absent in the mutants.
We used microarrays to evaluate differences in gene expression between wild-type carpels and those of ino-1 and ant-4. Approximately nine hundred genes were identified that were predicted to be expressed in placenta or ovules, with two hundred twenty-two of these genes reliably predicted to be in the ovule primordia or integuments based on high fold changes or support from both mutants. Among these are genes that are known to have integument-specific activity, demonstrating that the approach can detect genes important for ovule function. The results were validated through quantitative polymerase chain reaction and in situ hybridization for a subset of the genes. These results will help build a more detailed picture of the processes involved in integument morphogenesis, and, through further research on candidate genes, will yield a greater understanding of the mechanisms of regulation of ovule morphogenesis.
Discussion
In this study, the spatial and temporal expression of genes in Arabidopsis integuments was analyzed by comparing the gene expression profiles of ovule morphogenesis mutants. The grouping of genes into broad domains of expression had predictive power, as shown by the correct assignment of genes with know expression patterns and the results of in situ hybridizations performed on candidate genes. At least thirty uncharacterized genes encoding proteins with likely regulatory function were identified in this study as having preferential expression in integuments. Thus, the use of mutants that lack specific structures to identify gene expressed in those structures was successful in providing new candidates that are likely to be playing roles in integument growth and development.
The candidate genes were selected on the basis of a combination of robust statistical tests and biological information. Approximately 4000 differentially regulated genes were initially identified by pair-wise statistical tests, for which the FDR rate was kept at 1%, which implied that approximately 40 genes were incorrectly identified as significant. Subsequently, the sets of genes were subjected to biological tests, to ensure that their expression levels were logical, given the nature of the mutants: genes had to show a decrease in expression in the mutants, and, where necessary, in both mutants. Next, the genes were analyzed for shared patterns of expression and sorted into groups using known expression patterns as profile indicators. On the basis of these indicators and to bring the number of genes to a manageable level, the groups were further subjected to a filter whereby genes were only retained if they were greater than 2-fold changed or had significant q-values in two pair-wise comparisons, resulting in a set of 207 genes. The use of a fold-change cutoff was justified by the observation that more specific expression patterns had higher fold changes in this experimental context, helping to differentiate between broadly expressed genes and those with ovule-specific expression. In addition, genes with higher fold changes were more likely to be selected by different statistical tests, giving more confidence to their selection.
There was a small set of twenty-five genes (including six putative transcription factors) that were predicted to be expressed predominantly in both integuments, including the gene ATS/KAN4, now known to be expressed in both integuments [104]. Approximately ten-fold that number were predicted to be predominantly expressed in the outer integument (including at least ten putative transcription factors), and 50 of these genes were decreased by more than two fold in ino. Known outer integument genes were identified, such as AP3, and an unknown gene was shown to be expressed in the outer integument using in situ hybridization (At2g34700). Some genes, such as RBE and At4g12960, have described expression patterns that differ from the predicted expression from the array, with expression in both integuments instead of just one or the reverse. Taken together, these results show that the array analysis was successful at predicting overall expression in the integuments and for most genes can predict whether that expression is in the outer or both integuments. Several genes (132 with 2-fold decrease in ant or significant decrease in ino F) were identified as candidates for early inner integument expression. While the aim of this study was to uncover novel genes involved in integument development, the data have also shown a clear ability to identify those genes expressed in the placenta and ovule primordia, as shown by in situ hybridization of the gene AGF2/At3g55560. This is a useful result as there is much that remains mysterious about placenta formation and the initiation of ovule primordia. Clustering of the different expression profiles suggests pattern differences between integument and placental expression, but further expression characterization will be necessary to sort such genes from those expressed in the inner integument.
Separately pooling early and late stages decreased the complexity of the samples and allowed better resolution of expression differences of lower expressed genes and genes active early in ovule development that may be key regulators of developmental processes. In addition, gene expression changes due to the failure of the embryo sac to develop were reduced with the earlier samples, as there were fewer putative gametophyte genes in the EARLY samples than the FULL samples. Although fifty of the 207 selected genes have evidence of embryo sac expression from other array experiments, there is a significant probability that such genes are not only expressed in the gametophyte, as genes such as PFS2, RBE, At2g34700 and At4g12960 have been shown to have specific integument expression, despite their identification as putative embryo sac genes [30, 73, 78]. This work has also confirmed that the sensitivity of the arrays was sufficient to detect changes in integument expression even within the complex tissue of whole pistils. A similar ability to distinguish differentially expressed genes was observed in the comparison of whole siliques of wild type and heterozygous medea mutants that showed 50% embryo abortion [32], and by comparison of pistils with and without gametophytes [34]. This sensitivity, however, was challenged when genes were expressed at lower levels or in very few cells, as seen with the meiosis and gametophyte cell specific genes, which are very likely not expressed in the ant mutant and yet show no difference between the mutant and wild type. This was partly beneficial, as these genes would contaminate the desired set of integument genes. However, if some genes were expressed very transiently in the integuments or in only a few cells, these genes would be unlikely to be found. The use of a relatively high fold change cutoff would also reduce the probably of finding such genes. Fortunately, genes expressed in integument primordia may not be affected as the primordia comprise several cells due to the ring or half ring nature of the integuments. Many of the identified genes were not at putatively absent levels in the mutants implying expression in other regions of the pistil. This is important because there is evidence that regulators of integument development have other roles in the carpel, as is the case for the SHP genes and ANT itself. However, the ability to detect different levels of expression was negatively affected when the expression was widespread, meaning that genes with more specific expression in integuments or primordia were preferentially identified.
There was an overabundance of transcription regulator genes in the dataset (20%) compared with the genome sequence (6–7%) [84–86]. While there is some uncertainty in such analyses due to evolving notions of transcription regulation, transcription factors appear to be selectively identified in this analysis. One reason for this could be the nature of the comparison that was being made. Since a large part of the cell types making up the samples were in common between the genotypes, with only specific structures being absent, more ubiquitously expressed genes such as metabolic enzymes are less likely to have been identified. Rather, those genes that have more specific expression patterns were identified, and transcription factors are often among these types of genes. The forty-two putative transcription factors identified at high fold change in this experiment occur in several gene families. It was surprising that only one MADS domain protein was identified at greater than 2-fold changed, as these genes are significantly involved in reproductive development. For some specific genes, such as SHP2, this is may be because of their more general expression in the carpels.
Transcription profiles of gene family members can be compared to yield information on their possible redundant action, or to identify members that act alone in specific cell types. The four members of the HD-ZIP I family identified in this analysis display differences in expression profile, which will help to predict which genes to analyze in mutant combination. Similarly, NGA2 gene expression is decreased in ant by greater than 2-fold, which indicates that this family member is regulated differently from the remaining three NGA genes. NGA genes are thought to act redundantly in lateral organ growth [109], and NGA2 could be acting more specifically in the carpel medial regions or inner integument.
The confirmation of expression using in situ hybridization has provided useful information about two genes. The presence of the At2g34700 mRNA in the growing outer integument in a specific pattern, secretion of the At2g34700 protein into the cell wall, and the encoded extensin motifs suggest at least two possibilities for this gene. The protein may be acting in cell expansion or maturation, as the outermost cells of the outer integument are relatively large, and also undergo cell wall rearrangements after fertilization to accommodate secretion of mucilage [110]. Extensins are also implicated in defense responses, and many respond to wounding or other environmental signals. An accumulation of this protein in the cell wall could be part of the complex set of defenses that are put in place to protect the developing seed. As putative knockouts in this gene did not show any unusual ovule morphology, double or triple mutants with paralogs may be needed to determine function.
The expression of the gene At3g55560 (AGF2) in carpels was specific to the placental regions and early ovule primordia, while the MPSS and GeneAtlas (Genevestigator) [111] databases indicate that this gene is not limited to expression in the carpel, but is found in seedlings, leaves and roots, with strongest expression in callus. AGF2 contains an AT-hook motif thought to bind AT-rich regions of DNA [112], and that has been implicated in plants in binding to matrix attachment regions of chromosomes during mitosis [113, 114] as well as binding to promoters as part of HMG transcription complexes [115]. AGF1 and AGF2 bind to the GA3ox1 promoter in vitro, and AGF1 has been shown to function in the GA-negative feedback regulation of that gene [102]. There is no additional evidence that AGF2 functions in GA signaling, but it is possible that this protein could be acting to control GA induced development in the placenta. One of three gibberellin receptors (GID1C) [116, 117] is also identified as putatively expressed in medial regions or ovule primordia indicating a possible specific action of a set of giberellin regulators in ovule development.
Several auxin responsive genes and genes involved auxin transport and perception were among the set of genes that were considered decreased in the mutants. These were genes such as PIN1, which had previously been shown to be expressed in the ovule epidermis and integuments in a polarized manner [66]. Such expression is thought to result in the observed foci of auxin accumulation in growing regions such as the integument tips. It therefore is not surprising that three of the auxin receptor proteins (TRANSPORT INHIBITOR RESPONSE 1 (TIR1), AUXIN SIGNALING F-BOX 1 (AFB1) and (AFB3) [118–120]) are predicted to be expressed in regions affected by ant. A pertinent question is whether there are specific auxin response factors (ARF) [121] that act in ovule development. Only 2 ARFs were retained after applying the final fold change thresholds, including ETT and AUXIN RESPONSE FACTOR 11 (ARF11). ETT has a known role in the auxin-mediated growth and development of the gynoecium, but no specific role has been demonstrated for ARF11 [122, 123]. ARF18, the most similar protein to ARF11 [123, 124] (70% identity over most of the protein), shares a similar expression profile to the ARF11 gene but with lower fold changes that were significant but not sufficient to be included in the final set. This pair of genes could also be acting redundantly in ovules to mediate auxin responses and affect cell divisions and differentiation.
Our studies provide numerous candidate genes to serve as targets for further analysis for their specific expression patterns and function through reverse genetics. In addition, this dataset provides further utility as a resource for information on genes of interest identified through other means and also provides an as yet uncharacterized set of genes that were upregulated in the two mutants examined.
Conclusion
This work identified a set of approximately two hundred candidate genes expressed in the integuments through comparison of wild type to mutant ovules. The genes are predicted to have expression in the outer integument, both integuments or the inner integument and ovule primordia, and these predictions were confirmed by the presence of known genes in these groups, and through in situ hybridizations. Different analysis methods were compared, and RMA was considered most effective at reducing variance for low expressing genes (such as transcription factors). Genes identified with the limma modified t-test differed by up to 50% from those identified by the dchip fold change test, but the limma test was more effective at identifying known genes that differ between genotypes and thus this test was used for the analysis. The results showed that it was possible to use a mutant, ant, with broad effects on plant phenotype to identify genes expressed specifically in ovules, when coupled with predictions from known gene expression patterns, or in combination with a more specific mutant, ino. Groups of genes known to act in plant growth regulator pathways (such as auxin and giberellin) were identified, confirming the importance of such pathways in organ patterning and growth and providing an indication of which family members are acting specifically in ovules. The studies yielded an over-abundance of transcriptional regulators in the identified genes, which form a set of candidate genes for evaluation with reverse genetics.
Methods
Plant material growth conditions
Wild type plants were Landsberg erecta (Ler) ecotype, and the ant-4 and ino-1 mutants were in the Ler background. Plants were grown in 24 hour light at 19°C in growth chambers, using a 1:1 mixture of Premier Pro-Mix 'BX' potting soil (Premier Horticulture, Oceanside, CA) and vermiculite. Once germinated, plants were fertilized using a complete nutrient solution once per week [125]. All plants used in the array analysis were grown in a single growth chamber and flats of pots were rotated three times per week to different shelves and orientation to help ensure even growth conditions. Pots containing a particular genotype were placed randomly in flats. For each genotype and stage, pistils from more than 20 plants were collected over several days, during the same time period each day (10 AM – 1 PM), and pooled. Pistils were collected into tubes on dry ice and stored at -80°C.
RNA extraction and array hybridization
Total RNA was extracted using the Qiagen RNeasy Plant kit (Qiagen, Valencia, CA). aRNA synthesis was performed using the Ambion MessageAmp kit (Ambion, Austin, TX) with biotin-11-CTP (Perkin Elmer, Boston, MA) and biotin-16-UTP (Roche, Indianapolis, IN). aRNA was fragmented following Affymetrix protocol and total RNA, aRNA and fragmented aRNA were checked for fragmentation and purity by gel electrophoresis and absorbance. Samples were hybridized to Affymetrix ATH 1 Genome Arrays (Cat # 900385; Affymetrix, Santa Clara, CA). All arrays were processed by the Core Facility in the UC Davis Department of Medical Microbiology & Immunology using an Affymetrix Hybridization Oven 640, the Affymetrix 450 Fluidics Station, and an Affymetrix GeneChip 3000 Scanner. The array data sets were named for the genotype (WT, ino or ant), replicate number and ovule stage pool (E, F, L). All array hybridization data were deposited in the ArrayExpress database with accession number E-MEXP-1920.
Data Analysis
Raw CEL data was generated using MAS 5.0 (Affymetrix). An RMA measure of gene expression was calculated using the affylmGUI (affy and limma) package implemented for the Bioconductor project running in the R environment [50, 51, 126]. Perfect match values only were used with quantile normalization [127]. Raw CEL files were also loaded into dchip (v1.3 release date: 07/20/2005) and were normalized and modeled using the PM-MM and PM-only algorithms. Scatter plots of the log2 expression measures between a set of replicates processed with different methods and Pearson correlation coefficients were prepared using Excel 2003 (Microsoft, Redmond, WA).
For the statistical tests, affylmGUI was used to compute the moderated t-statistic [49, 52], and the log fold changes. P-values were adjusted for multiple testing using the Storey q-value method [56]. For dchip, the PM-only expression values of sets of replicates were used to compare with other genotypes using the 'compare samples' function, with the following criteria: means separated by at least 20 and a fold change of 1.2 (using the lower bound of 90% confidence interval). SOM cluster analysis was carried out in GeneCluster 2.1.7 (Broad Institute), chosen as the number of likely patterns was low and it was not important to identify sub-clusters. The 12 clusters that result from SOM clustering of 800 inner integument genes are shown in additional file 5.
Genes were considered putatively absent in a sample if the average value was below 12, which was chosen by assessing the values of a set of putatively root specific genes [128] in the pistil samples (additional file 10).
qRT-PCR
The RNA samples for RT-PCR were subjected to DNase treatment (Promega, Madison, WI) and digestion by two four-base cutter restriction enzymes to ensure complete digestion of any contaminating DNA. Two of the three biological replicates used for the microarrays were used in the reverse transcription and quantitative PCR. 1 μg of each RNA was used in reverse transcription reactions with either 3.75 units of Thermoscript (Invitrogen, Carlsbad, CA) or no reverse transcriptase as a -RT control, which was tested for contaminating genomic DNA in PCR reactions. 2 μl of a 1:40 dilution of the RT reactions were used in each quantitative PCR (qPCR) reaction. Primers were designed using the SYBR Green option of the Beacon 2.0 primer design software (Premier Biosoft, Palo Alto, CA) (Additional file 11). qPCR reactions were carried out using an iCycler (Biorad, Hercules, CA) and the following PCR reaction mix: 20 mM Tris pH 8.4, 50 mM KCL, 3 mM MgCl2, 4% glycerol, 20 nM fluorescein diacetate, 0.5× BSA (New England Biolabs, Beverly, MA), 1:50 000 diluted SYBR GREEN I (Cambrex Bio Science, Rockland, ME), 0.2 mM each dNTP, 0.24 μM each primer and 0.6 U iTaq (Biorad, Hercules, CA).
The fluorescence threshold at which the cycle number (Ct) was calculated was set at 25 CF RFU (curve-fit relative fluorescence units) for all experiments, close to the automatically determined threshold for each plate. The 60S ribosomal protein RPL14B gene (At4g27090) was used as a reference and showed very similar Ct values (range: 19.17 – 19.70) in all sample types tested. The relative starting quantity of cDNA for a particular gene was determined in GENEX (Biorad) using the following equation: relative quantity = efficiency (control Ct-experimental Ct) based on Livak [129] and Vandesompele [130]. The mean PCR efficiencies of the primer sets were determined using LinRegPCR [131], using a linear regression model.
Plasmids
Plasmids for production of probes for in situ hybridization were constructed as follows. The 1 kb At3g55560 coding region was amplified from Columbia genomic DNA using c55560F1: AGAATGGCGAATCCTTGG and c55560R1: CTAATCAATACGAAGGAGG and cloned into the pCR4-TOPO vector (Invitrogen, Carlsbad, CA) to form pDS148. The At2g34700 cDNA was amplified from the cDNA clone U20928 [132] using the primers c34700F3: ATACTAGTAATGGGTCTGGTAACAAAAGCTC adding the restriction site Spe1 and c34700R4ns: ATAGGATCCGTCTTCCAAGAGCACAGGCAGGCTC which removes the STOP codon, and adds the restriction site BamH1. This fragment cut with BamH1 and Spe1 was subcloned into pLitmus28 (New England Biolabs, Beverly, MA) cut with the same enzymes to form pDS137. This fragment was also cut and used in a three-way ligation with pLitmus28 cut with Spe1 and Sac1, and the GFP sequence subcloned from the pGFP1.1.5 plasmid [133] using BamH1 and Sac1. The resulting plasmid, pDS138.3, was digested with Spe1 and Sac1 and the GFP-fusion fragment inserted into pMON999 [79] cut with Xba1 and Sac1 to give pDS142. This formed a sequence verified expression cassette using the 35S promoter driving expression of a chimeric gene that encodes a C-terminal fusion of the GFP protein to the At2g34700 protein. This plasmid was tested for transient expression by blasting into onion cells as described previously [134]. The resulting fusion protein formed aggregates of protein that were likely not localized correctly. Therefore, this plasmid was subcloned using Not1 sites into a transformation plasmid, pMLBART, forming pDS146. This clone was transferred using three-way mating into the Agrobacterium strain ASE and transformed into wild type Arabidopsis (Ler) plants.
In situ hybridization
Wild type Ler inflorescences were fixed in FAA: formaldehyde (10%), ethanol (50%) and acetic acid (5%) overnight at 4°C and embedded in Paraplast Xtra (Electron Microscopy Sciences, Philadelphia, USA). Probe preparation and in situ hybridization were performed using a modification [135] of the protocol of Ferrándiz et al. [136]. Digoxigenin-labeled RNA probes were prepared from the clones above, linearized with appropriate enzymes and transcribed with T3 or T7 RNA polymerases. As a control for all in situ hybridization experiments, an antisense probe for the INO gene was used simultaneously. The INO hybridizations confirmed the expression pattern reported previously [35, 79].
Microscopy
Mutant and wildtype pistils were fixed for scanning electron microscopy (SEM) as described [137], using 5% glutaraldehyde with postfixation in 2% osmium tetroxide. Pistils were dissected following critical point drying to allow observation of ovules. SEM images were collected using a Hitachi S3500N microscope and processed using Photoshop v. 7.0.
For callose staining of embryo sacs, wild type and mutant pistils at anthesis were preprocessed by cutting the pistil just below the style, and at the base to allow entry of the stain, and immersed in 65°C 5 M NaOH for 5 minutes. Pistils were rinsed with water, stained with decolorized aniline blue for 2 hours and examined with fluorescence microscopy using a UV laser on a Zeiss (Oberkoche, Germany) Axioplan microscope and images were acquired with a MDS290 digital camera (Kodak, New Haven, CT) and edited in Photoshop v. 7.0 (Adobe, San Jose, CA).
Transgenic plants expressing the At2g34700-GFP fusion protein and wild type non-transgenic plants were examined on an Olympus (Orangeburg, NY) Confocal FV1000 microscope and digital images obtained with the integral Olympus camera and edited in Photoshop v. 7.0 (Adobe, San Jose, CA).
Declarations
Acknowledgements
We wish to thank Venkatesan Sundaresan, Hee-Ju Yu, Siobhan Braybrook, Alan Krivanek, and members of the Gasser Lab for helpful discussions. This work was supported by funds from the University of California, Davis, Genetics Graduate Group (to DJS) and U. S. National Science Foundation grant number IOS-0419531 (to CSG).
Authors' Affiliations
(1)
Department of Molecular and Cellular Biology, University of California, Davis, USA
(2)
Department of Crop Science, University of Illinois, Urbana, USA
Copyright
© Skinner and Gasser; licensee BioMed Central Ltd. 2009
This article is published under license to BioMed Central Ltd. This is an Open Access article distributed under the terms of the Creative Commons Attribution License (http://creativecommons.org/licenses/by/2.0), which permits unrestricted use, distribution, and reproduction in any medium, provided the original work is properly cited.