Research article
Open Access
Genomic expression profiling of mature soybean (Glycine max) pollen
BMC Plant Biology
2009
9:25
Received: 31 July 2008
Accepted: 06 March 2009
Published: 06 March 2009
Abstract
Background
Pollen, the male partner in the reproduction of flowering plants, comprises either two or three cells at maturity. The current knowledge of the pollen transcriptome is limited to the model plant systems Arabidopsis thaliana and Oryza sativa which have tri-cellular pollen grains at maturity. Comparative studies on pollen of other genera, particularly crop plants, are needed to understand the pollen gene networks that are subject to functional and evolutionary conservation. In this study, we used the Affymetrix Soybean GeneChip® to perform transcriptional profiling on mature bi-cellular soybean pollen.
Results
Compared to the sporophyte transcriptome, the soybean pollen transcriptome revealed a restricted and unique repertoire of genes, with a significantly greater proportion of specifically expressed genes than is found in the sporophyte tissue. Comparative analysis shows that, among the 37,500 soybean transcripts addressed in this study, 10,299 transcripts (27.46%) are expressed in pollen. Of the pollen-expressed sequences, about 9,489 (92.13%) are also expressed in sporophytic tissues, and 810 (7.87%) are selectively expressed in pollen. Overall, the soybean pollen transcriptome shows an enrichment of transcription factors (mostly zinc finger family proteins), signal recognition receptors, transporters, heat shock-related proteins and members of the ubiquitin proteasome proteolytic pathway.
Conclusion
This is the first report of a soybean pollen transcriptional profile. These data extend our current knowledge regarding regulatory pathways that govern the gene regulation and development of pollen. A comparison between transcription factors up-regulated in soybean and those in Arabidopsis revealed some divergence in the numbers and kinds of regulatory proteins expressed in both species.
Keywords
Pollen TubePollen GerminationWRKY ProteinSporophytic TissueArabidopsis Pollen
Background
In flowering plants, pollen development occurs in the anthers. The meiotic division of diploid sporogenous cells gives rise to a tetrad of haploid microspores. The microspores then undergo an asymmetric mitotic division, giving rise to a smaller generative cell enveloped within a larger vegetative cell [1]. The generative cell divides once again to give rise to the two haploid sperm cells required for double fertilization. In most plants, the pollen is bi-cellular at anther dehiscence, with the division of generative cells taking place during pollen tube growth in the female tissues. However, in some cases such as crucifers and grasses, this division takes place while the pollen is still undergoing maturation in the anther.
In the last decade, the knowledge of pollen transcriptome has emerged with the development of large-scale transcriptional profiling techniques. This is exemplified by a number of studies carried out using model species such as Arabidopsis thaliana [2–5] or Oryza sativa with a recent report on allergen transcripts [6]. Studies on Arabidopsis pollen transcriptome showed that 9.7% of the 13,977 pollen-expressed mRNAs were selectively expressed in pollen; among them, many genes had an unknown function or were reported to be functionally associated with signalling pathways and cell wall metabolism [4]. These studies also revealed differences among the cell cycle regulators, cytoskeleton genes, and signalling in pollen as compared to sporophytic tissues [2–5].
The current knowledge of the pollen transcriptome however, is limited to Arabidopsis and rice that have tri-cellular pollen grains at maturity. Comparative studies on pollen of other genera, particularly legume crop plants, are needed to understand the pollen gene networks that are subjected to functional and evolutionary conservation. In this study, we present the transcript profile of the mature soybean pollen that is bi-cellular as compared to sporophytic tissues assayed on the soybean GeneChip®. Among the transcripts identified to be up-regulated in the pollen in comparison to the sporophytic tissues, we observed many that are unknown as well as transcripts with putative annotation. That has allowed us to infer pollen regulatory roles for various families of transcription factors as well as products associated with protein destination and storage, signal transduction, transporters and heat shock-associated proteins. The data presented here represent a rich source of novel target genes for further studies into molecular processes that govern the development of pollen.
Conclusion
This is the first report on transcriptional profiling of the pollen of a major legume crop. The current knowledge from pollen transcriptome profiling with microarrays is limited to the model plant, Arabidopsis. Our data will extend the current understanding of pollen biology and gene regulation by providing a set of robustly selected, differentially expressed genes in soybean pollen. We also provide a number of genes with unknown functions that are highly expressed in the pollen and could be tested in many functional analyses to increase our understanding of gene regulation in pollen. Most of the genes important for sporophytic organs are highly repressed in pollen. Regulation of these genes is probably controlled at the transcriptional level by transcriptional factors and chromatin remodelling machinery, as pollen contains a variety of transcription factor transcripts for use in different developmental situations. Further research on the candidates reported in this study should provide new insights into the understanding of plant male gametophyte development other than the current knowledge provided by research on model plants.
Methods
Plant growth and pollen collection
Soybean plants [
Glycine max
. (L) Merr. Cv. Bragg] were used in this study. The plants used for pollen collection were grown in a temperature-controlled greenhouse with a 16 hour light/8 hour dark photoperiod at 30°C. They were grown in vermiculite with the addition of a slow release fertilizer (osmocote). When the plants had matured and developed significant biomass, flowering was induced by changing the photoperiod to 12 hours. Pollen was collected on coverslips by rubbing isolated anthers together, and anther tissue was removed from the coverslip prior to freezing at -80°C. Pollen purity and viability was assessed by microscopic observations and fluorescein diacetate test (Figure
4
).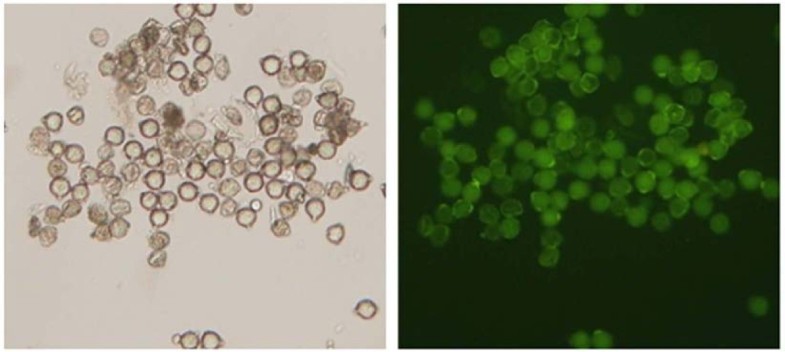 RNA isolation and microarray hybridization
Total RNA from pollen or sporophytic tissues (primary stem, primary roots and mature leaves of 10-day-old soybean seedlings) was isolated using the QIAGEN RNeasy Mini Kit (QIAGEN) and eluted with nuclease-free water. Subsequent cDNA labelling and Affymetrix Soybean GeneChip hybridization was carried out by AGRF (Australian Genome Research Facility, Melbourne, Australia) using 3 μg of total RNA according to protocols outlined in http://www.affymetrix.com/support/downloads/manuals/expression_analysis_technical_manual.pdf.
Analysis of expression data
The GeneChip® Soybean Genome Array (Affymetrix, Inc.) containing probe sets for 37,500 transcripts was used in this study. Three biological replicates for pollen and two biological replicates for sporophytic tissues were used. Raw numeric values representing the signal of each feature were imported into AffylmGUI (Affymetrix linear modeling Graphical User Interface [7] that uses the Empirical Bayes linear modeling approach of Smyth (2005)[53] for identifying differentially expressed genes in pollen. The data were normalized using Robust Multiarray Averaging (RMA) method and a linear model was then used to average data between replicate arrays and to look for variability between them [7]. The list of transcripts that were detected to be differentially expressed at adjusted p-value of < 0.05 were used for all subsequent analysis. All microarray data have been submitted to Gene Expression Omnibus (GEO) at NCBI http://www.ncbi.nlm.nih.gov/geo under the accession GSE 12286.
To obtain the number of pollen-expressed genes (expressed in pollen and sporophytic tissues), we collect the expression signals, average expression values, and present/absent calls from AffylmGUI (RMA data) and sorted the data in Excel. To find pollen-specific group of genes, we used the following criteria: 1) showed statistically significant differential expression at adjusted pvalue < 0.05; 2) possessed a signal greater than or equal to 100 on each replicate; 3) had a cut-off value of a 2-fold change; and 4) had "Absence" calls on all of the sporophytic replicates.
The annotation for the transcripts represented by the soybean GeneChip® was downloaded from the Seed Development website http://estdb.biology.ucla.edu/seed/. The annotation is based on the best BLASTX match of the corresponding soybean sequences against TAIR Arabidopsis protein database or NCBI non-redundant protein database (expect value < 0.01). Functional categories for these transcripts were assigned based on the EU Arabidopsis sequencing project [54] as described at the Seed Development website http://estdb.biology.ucla.edu/seed/.
Declarations
Acknowledgements
We thank ARC for financial support for this project. We thank Terry Speed and Ken Simpson (Bioinformatics group, Walter & Eliza Hall Institute, Melbourne) for valuable helps and suggestions about statistical analysis, Snow Li and Mark Kinkema (University of Queensland) for soybean pollen collection and Scott Russell for help in obtaining the micrograph for the pollen.
Authors' Affiliations
(1)
Plant Molecular Biology and Biotechnology Laboratory, ARC Centre of Excellence for Integrative Legume Research, Faculty of Land and Food resources, The University of Melbourne, Parkville, Australia
(2)
ARC Centre of Excellence for Integrative Legume Research, The University of Queensland, Brisbane, Australia
Copyright
© Haerizadeh et al; licensee BioMed Central Ltd. 2009
This article is published under license to BioMed Central Ltd. This is an Open Access article distributed under the terms of the Creative Commons Attribution License (http://creativecommons.org/licenses/by/2.0), which permits unrestricted use, distribution, and reproduction in any medium, provided the original work is properly cited.