Research article
Open Access
Gene expression analyses in maize inbreds and hybrids with varying levels of heterosis
BMC Plant Biology
2008
8:33
Received: 03 January 2008
Accepted: 10 April 2008
Published: 10 April 2008
Abstract
Background
Heterosis is the superior performance of F1 hybrid progeny relative to the parental phenotypes. Maize exhibits heterosis for a wide range of traits, however the magnitude of heterosis is highly variable depending on the choice of parents and the trait(s) measured. We have used expression profiling to determine whether the level, or types, of non-additive gene expression vary in maize hybrids with different levels of genetic diversity or heterosis.
Results
We observed that the distributions of better parent heterosis among a series of 25 maize hybrids generally do not exhibit significant correlations between different traits. Expression profiling analyses for six of these hybrids, chosen to represent diversity in genotypes and heterosis responses, revealed a correlation between genetic diversity and transcriptional variation. The majority of differentially expressed genes in each of the six different hybrids exhibited additive expression patterns, and ~25% exhibited statistically significant non-additive expression profiles. Among the non-additive profiles, ~80% exhibited hybrid expression levels between the parental levels, ~20% exhibited hybrid expression levels at the parental levels and ~1% exhibited hybrid levels outside the parental range.
Conclusion
We have found that maize inbred genetic diversity is correlated with transcriptional variation. However, sampling of seedling tissues indicated that the frequencies of additive and non-additive expression patterns are very similar across a range of hybrid lines. These findings suggest that heterosis is probably not a consequence of higher levels of additive or non-additive expression, but may be related to transcriptional variation between parents. The lack of correlation between better parent heterosis levels for different traits suggests that transcriptional diversity at specific sets of genes may influence heterosis for different traits.
Keywords
Differentially ExpressDifferentially Express GeneHeterotic GroupParental RangeTranscriptional Variation
Background
Heterosis is the phenomenon in which F1 hybrids exhibit phenotypes that are superior to their parents [1, 2]. Plant breeders have utilized heterosis for the development of superior yielding varieties in many important crop species without fully understanding the molecular basis of heterosis. Researchers frequently discuss the magnitude of yield heterosis for a particular hybrid. In maize, the different inbred lines have been divided into "heterotic groups" based upon the level of grain yield heterosis [3]. Generally, crosses within heterotic groups have lower grain yield heterosis than crosses between groups. However, heterotic groups are used as a general tool and not as a precise predictor of heterotic response [4]. There is a correlation between grain yield heterosis and genetic diversity such that increasing genetic diversity produces increasing level of grain yield heterosis [5]. However, when the parents become highly diverse this relationship is no longer observed [3, 6].
Although heterosis in crop plants is most commonly discussed in terms of yield, numerous other phenotypic traits also display heterosis. Maize exhibits high levels of heterosis for many traits such as root growth, height, ear node, leaf width, seedling biomass and other traits [7–11]. Within a given hybrid, the amount of heterosis can vary widely for different traits [9, 12].
While it is widely agreed that parental genetic diversity serves as the basis of heterosis, the specific aspects of genetic diversity and how these contribute to heterotic phenotypes remains to be determined. The molecular mechanism(s) driving heterotic phenotypes remains a subject of wide interest and debate [
12
,
13
]. The availability of high-throughput gene expression profiling technologies has allowed researchers to study the gene expression profile of hybrid plants relative to the inbred parents [
11
,
14
–
21
]. In general, most of these studies have focused on characterizing gene expression patterns in a single heterotic hybrid compared to the two parents. Many of these studies have addressed similar topics regarding gene expression and heterosis, such as the relative frequencies of additive and non-additive expression levels in the hybrid. Additive expression occurs when the hybrid expression level is equivalent to the mid-parent values while non-additive expression occurs whenever the hybrid expression level deviates from the mid-parent level (Figure
1
). It is worth noting that non-additive expression phenotypes can include expression levels between the mid-parent and parental values, expression levels equivalent to one of the parents or expression levels outside the parental range. The identity and frequency of genes exhibiting hybrid gene expression levels outside of the parental range have been of particular interest in these studies.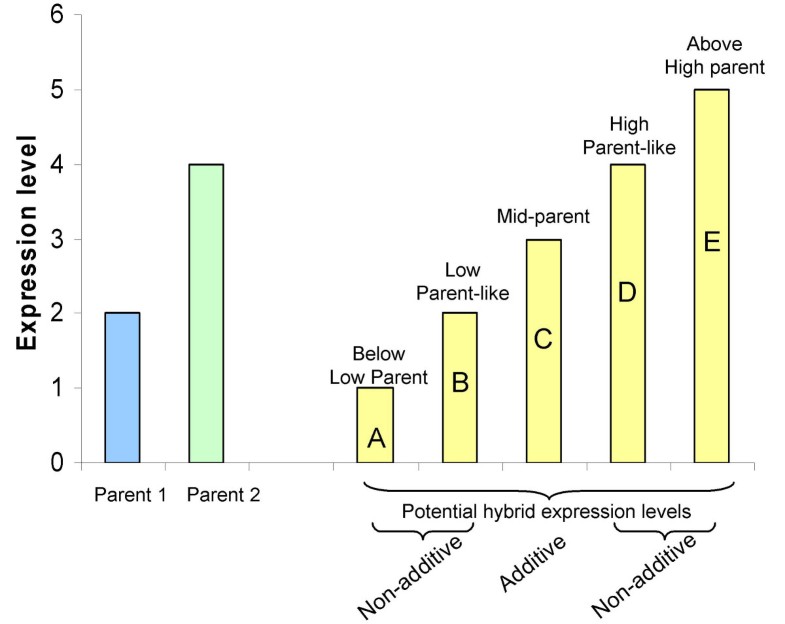 The hybrid expression profiling studies have utilized a variety of expression profiling platforms, experimental designs and tissues. Several studies have found that the majority (~75%) of genes exhibit additive expression in the hybrid and that only small numbers of the non-additively expressed genes exhibit expression levels outside the parental range [11, 15, 17]. Other studies have found much higher levels of non-additive expression and numerous examples of expression outside the parental range [21–23]. It is unclear whether these differences are caused by biological differences between tissues, genotypes, or differences in the expression profiling platforms.
In this study we have investigated the heterosis and gene expression profiles for a set of maize hybrids with varying levels of parental genetic diversity. In addition, gene expression profiling was performed using several different technologies enabling the assessment of whether hybrids that generally exhibit lower levels of heterosis exhibit lower levels of non-additive expression or expression levels outside the parental range.
Discussion
Linking maize genetic diversity and transcriptional variation
It is especially important to recognize that genetic and transcriptional assessments of natural variation apply different experimental procedures and analysis tools. Sequence-based genetic diversity studies utilize a stable character for scoring variation, typically DNA sequence polymorphisms. Studying transcriptional diversity involves measuring an unstable unit, mRNA, that is subject to change based on developmental and environmental cues. Multiple sources of variation in gene expression datasets may increase the measurement variance among replicates, thereby reducing statistical power.
In the present study, we compared the transcriptional diversity of six different maize inbred-hybrid combinations. We found that the number of DE genes identified for each inbred-hybrid group strongly correlated with the genetic diversity between inbred lines, as estimated by SNP-based sequence analyses [23]. A comparison of the number of DE genes for each of the 10 possible pairs of inbred genotypes also revealed a strong correlation between transcriptional and genetic diversity (data not shown). Our previous work using allele-specific expression assays indicated that maize intraspecific transcriptional variation is primarily driven by cis-acting sources of variation [17, 26]. It is possible that increased levels of sequence polymorphism linked to genes may be at least partially responsible for the higher rates of transcriptional variation observed in more genetically distant inbreds. Indeed, the intergenic space in the maize genome is known to be highly polymorphic among inbred lines [12, 28], and these structural and nucleotide polymorphisms may drive transcriptional variation of certain maize genes.
Implications of non-additive expression patterns
We were also interested in identifying possible links between transcriptional profiles and heterotic performance. A higher number of differentially expressed genes were identified in the inbred-hybrid combinations representing more distantly related genotypes. The hybrids derived from more genetically diverse inbred parents exhibited higher numbers of both additive and non-additive gene expression patterns. However, the proportion of non-additive hybrid expression profiles among the DE genes was similar for all six hybrids. Additionally, the relative proportions of genes that display different types of non-additive expression were similar in the six hybrids. These data suggest that the prevalence of non-additive expression in seedling tissue is not correlated with different heterosis levels.
It is tempting to infer that non-additive hybrid expression patterns imply novel hybrid regulation or may be associated with heterosis. However, it is important to consider that non-additive expression patterns include both predictable and unpredictable patterns. Using the "expression level" as a phenotype, we can describe non-additive expression patterns using dominance terminology. The genes with between-parent non-additive expression can be described as partially dominant while genes with HP or LP expression can be described as dominant. Classical genetics provides many examples of partial or complete dominance in an F1 hybrid and in many cases the molecular mechanisms for this type of inheritance have been determined. In our study, even when we applied liberal statistical criteria for DE gene identification, > 98% of the non-additively expressed genes exhibited expression phenotypes that could be described as partial or complete dominance.
Many studies of intraspecific F1 hybrid gene expression have focused upon the identification of genes with expression levels outside the parental range, including studies in Drosophila [29], Arabidopsis [14] and oyster [30], among others. Such patterns (termed AHP or BLP in this study) have often been described as over- or under-dominant. These are unpredictable hybrid expression patterns and may be caused by novel hybrid-specific regulatory mechanisms. The importance of AHP or BLP expression patterns in heterosis is unclear. It is possible that the AHP or BLP expression patterns may play a role in driving heterosis. However, it is also possible that the AHP or BLP expression patterns are a consequence, not a cause, of heterosis.
The previous study by Swanson-Wagner et al. [11] had documented evidence that while additive expression was most common, all potential modes of hybrid gene expression were observed in the B73 × Mo17 hybrid. In this study we report similar findings and extend this analysis to additional hybrids that exhibit different levels of genetic diversity. The number of AHP or BLP genes reported in maize hybrid expression profiles has varied widely from essentially none [17] to a small proportion of genes [11, 15] to a larger proportion of genes [18, 23] and even up to > 50% of DE genes [21]. There are several potential explanations for this discrepancy. It could be that different tissues or developmental stages exhibit different levels of AHP and BLP expression. Alternatively, it could be that different expression profiling technologies, sampling methodologies or experimental designs influence the discovery of AHP and BLP expression patterns, as described by Cui et al. [31] and Rottscheidt and Harr [32]. Indeed, using the same RNA samples across platforms, we found substantially more AHP and BLP patterns on the 70-mer oligonucleotide microarray platform than on the Affymetrix platform. However, real-time PCR rarely validated the 70-mer oligonucleotide microarray AHP and BLP patterns (2/12 genes; data not shown), but more frequently validated the Affymetrix AHP and BLP patterns (6/8 genes). If we assume that AHP and BLP expression patterns are quite rare, then greater degrees of technical variation in an expression profiling platform may lead to higher numbers of false-positive AHP or BLP observations.
Complications in predicting heterosis
In this study, we investigated the heterotic responses of 25 different maize F1 hybrids across five different traits, plant height, days to flowering, seed weight, seedling height and seedling biomass. Our goal was to ascertain whether heterosis for any particular trait was predictive of heterosis for another trait. Furthermore, we wanted to observe the relationship between heterosis and parental genetic distance for each trait.
A major goal of this study was to compare the types of expression variation observed in hybrids with differing levels of heterosis. In order to perform this experiment we wanted to ascertain whether certain hybrids would show higher or lower levels of heterosis for a variety of traits. However, we found that there is generally a lack of correlation for heterosis levels among different traits. Few hybrids appeared to consistently exhibit either high or low relative heterosis among traits. This suggests that heterosis is not an organism wide phenomenon but instead is trait-specific, and is likely controlled by partially non-redundant sets of genes for different traits.
Previous studies have found that genetic distance between inbred parents is correlated with grain yield heterosis in maize when the parental lines are closely related but that this correlation breaks down when the parental lines are distantly related [5]. Our analysis of non-yield traits in a relatively small number of hybrid genotypes concurs with the previous studies on the correlation between yield heterosis and genetic distant. We found that genetic distance was an inconsistent predictor of heterosis. Only one of five traits (seedling biomass) was found to have a significant correlation between genetic distance and heterosis. In general, hybrids derived from closely related parents had relatively low levels of heterosis. However, hybrids derived from distantly related parents displayed a range of heterotic responses, including high and low BPH values. As in studies of yield heterosis, this means that genetic distance can often be used to predict poorly performing hybrids but has weak power to predict superior hybrids. Hamblin et al. [24] suggested that the difficulty in predicting hybrid performance for more distantly related parents may be due in part to difficulties in accurately assessing genetic distance for more distantly related inbreds.
Conclusion
This study indicates that there is a strong correlation between genetic diversity and transcriptional variation among maize inbreds. However, the degree of genetic or transcriptional variation between the inbred parents appears to be an inconsistent predictor of hybrid heterosis, depending on the trait of interest. The frequency and patterns of non-additive hybrid expression profiles appear to be similar among different hybrids. Together, these data suggest that maize hybrid heterosis may be more influenced by the additive complementation of transcriptional variation than by novel non-additive expression states.
Declarations
Acknowledgements
Peter J. Hermanson, Anna K. Bredsten and Anne Bergmark provided assistance with phenotypic measurements in the field and greenhouse. The authors thank the University of Minnesota Microarray Facility for performing the Affymetrix microarray chemistries. The Minnesota Supercomputing Institute provided access to software packages used for data analysis. This work is supported by NSF DBI 0421619 to NMS. Robert Sandoval provided assistance in 70-mer microarray experiments, which were supported by NSF DBI 0321663 to VLC.
Authors' Affiliations
(1)
Center for Plant and Microbial Genomics, Department of Plant Biology, University of Minnesota, Saint Paul, USA
(2)
Department of Plant Science, and BIO5 Institute, University of Arizona, Tucson, USA
(3)
Department of Agronomy and Plant Genetics, University of Minnesota, Saint Paul, USA
Copyright
© Stupar et al; licensee BioMed Central Ltd. 2008
This article is published under license to BioMed Central Ltd. This is an Open Access article distributed under the terms of the Creative Commons Attribution License (http://creativecommons.org/licenses/by/2.0), which permits unrestricted use, distribution, and reproduction in any medium, provided the original work is properly cited.