Research article
Open Access
Comparison of ESTs from juvenile and adult phases of the giant unicellular green alga Acetabularia acetabulum
Received: 19 November 2003
Accepted: 12 March 2004
Published: 12 March 2004
Abstract
Background
Acetabularia acetabulum is a giant unicellular green alga whose size and complex life cycle make it an attractive model for understanding morphogenesis and subcellular compartmentalization. The life cycle of this marine unicell is composed of several developmental phases. Juvenile and adult phases are temporally sequential but physiologically and morphologically distinct. To identify genes specific to juvenile and adult phases, we created two subtracted cDNA libraries, one adult-specific and one juvenile-specific, and analyzed 941 randomly chosen ESTs from them.
Results
Clustering analysis suggests virtually no overlap between the two libraries. Preliminary expression data also suggests that we were successful at isolating transcripts differentially expressed between the two developmental phases and that many transcripts are specific to one phase or the other. Comparison of our EST sequences against publicly available sequence databases indicates that ESTs from the adult and the juvenile libraries partition into different functional classes. Three conserved sequence elements were common to several of the ESTs and were also found within the genomic sequence of the carbonic anhydrase1 gene from A. acetabulum. To date, these conserved elements are specific to A. acetabulum.
Conclusions
Our data provide strong evidence that adult and juvenile phases in A. acetabulum vary significantly in gene expression. We discuss their possible roles in cell growth and morphogenesis as well as in phase change. We also discuss the potential role of the conserved elements found within the EST sequences in post-transcriptional regulation, particularly mRNA localization and/or stability.
Keywords
Land PlantExpansinArgonaute ProteinSuppressive Subtractive HybridizationTBLASTX Search
Background
High-throughput sequencing of partial cDNAs, or expressed sequence tags (ESTs), provides relatively fast and cost-effective access to the gene expression profile of an organism [1, 2]. EST libraries provide access to the population of genes transcribed, making analyses of ESTs informative in determining which genes are expressed at specific developmental ages, in specific tissues, or under specific environmental conditions.
EST analyses are especially useful when studying organisms for which little sequence data exists and for which sequencing of the genome is either not planned, or not easily feasible due to genome size. To date, there is little genomic data available for the Chlorophytes (green algae), a group far more diverse and evolutionarily divergent than all land plants combined. From this group, only Chlamydomonas reinhardtii has been the object of an extensive EST project [3, 4]. Genomic information from this project proved critical to elucidating the function, biosynthesis, and regulation of the photosynthetic apparatus [4].
Acetabularia acetabulum
(Fig.
1
), also known as the "Mermaid's Wineglass", is a giant unicellular green alga whose size and complex life cycle make it an attractive model system for understanding morphogenesis and subcellular localization [
5
]. Reaching 3 cm in height at maturity, this unicell contains just a single diploid nucleus for most of its life cycle. It undergoes a complex morphogenetic program, most of which takes place at the apex [
6
], centimeters away from the nucleus. Classic experiments on
A. acetabulum
[
7
,
8
] provided the first compelling evidence for the role of the nucleus in morphogenesis and for the existence of "products of the nucleus", later presumed to be mRNAs [
9
].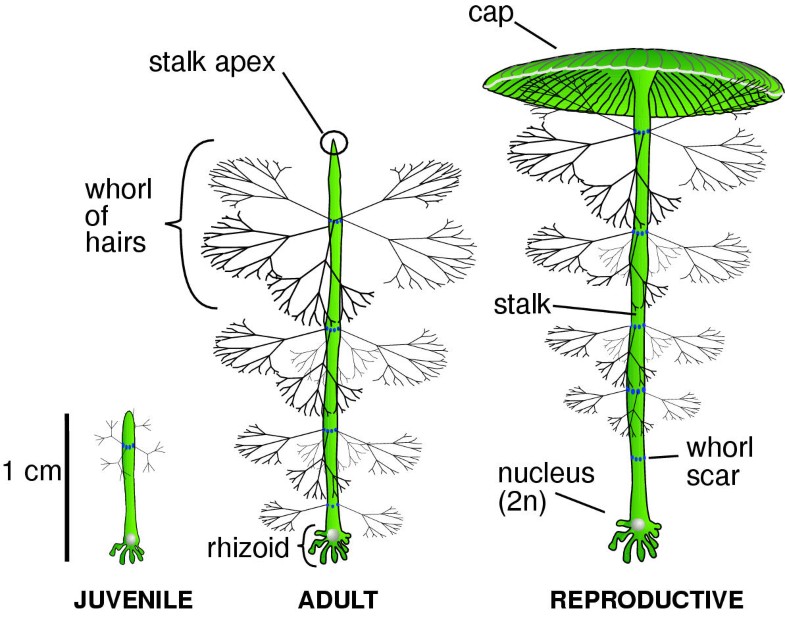 The life cycle of A. acetabulum is composed of several developmental phases (Fig. 1). Like multicellular land plants, juvenile and adult phases of A. acetabulum are temporally sequential, but morphologically distinct [10]. Juvenile phase comprises the first centimeter of growth while adult phase comprises the remaining 2 to 3 cm [10]. Juvenile whorls of hairs are stacked closer to each other along the stalk, and the branching pattern of the hairs within each whorl is simpler than in adults [10]. Physiologically, these two phases differ as well. For example, juveniles grow well in crowded conditions and poorly at low population densities, while adults grow well only at low population densities. Similar to land plants, the transition between phases is associated with a change in the reproductive competence of the apex [11, 12]. In A. acetabulum, adult apices are competent to produce a terminal reproductive whorl, the cap, while juvenile apices are not (J Messmer and DF Mandoli, unpublished). At the molecular level however, the difference is gene expression patterns between adult and juvenile phases are virtually unknown.
To reveal differences in gene expression between adult and juvenile phases, we constructed two subtracted EST libraries from A. acetabulum. These libraries were designed to contain transcripts specific to one phase or the other, presumably enriched in transcripts involved in morphogenesis or phase change. We randomly sequenced and analyzed 941 ESTs from these two libraries. Our analyses of these sequences indicate that juvenile and adult phases differ significantly in their gene expression patterns. We also identified 3 consensus sequences, shared mainly by adult ESTs, that have identity with introns and the 3'UTR from carbonic anhydrase genes we previously cloned [13]. We discuss the potential role of these conserved elements in mRNA post-transcriptional regulation, particularly mRNA localization and/or stability.
Conclusion
These results presented here provide strong evidence supporting the hypothesis that adult and juvenile phases in A. acetabulum differ significantly in gene expression patterns and that a large number of genes are phase-specific. Our next goal is to identify among these genes those that might be involved in morphogenesis or phase change. The ESTs from the two phases also partition into different functional classes, underlining further the physiological differences between the two phases. Finally, we identified conserved elements within the EST sequences. While the functional significance of these conserved elements remains to be elucidated, it is tempting to suggest that these sequences might be involved in the post-transcriptional regulation of these transcripts, possibly in sub-cellular localization and/or stability.
Methods
Culture of A. acetabulum
Unicells were grown in artificial seawater until they reached the desired developmental age. Axenic cultures were obtained by decontaminating mature caps and then using the axenic gametangia they housed for mating [21]. Zygotes were grown in sterile artificial seawater, Ace27, which is identical to Ace25 [39] except that the KCl prestock was purified over a chelex-100 column and it contains urea hydrogen peroxide at a final concentration of 10-15 M. Cultures were grown under cool white fluorescent lights at a photon flux density of 170 μmol m-2 s-1 on a 14 h light/10 h dark photoperiod, at 21°C ± 2°C and repeatedly diluted to suit their developmental age [21].
mRNA extraction
Juveniles were harvested by filtration and adults were harvested using sterile dental tools. The unicells were dried briefly on a Kimwipe, and weighed on aluminum foil. Packets of algae of the same age were flash-frozen in liquid nitrogen. 7.15 g of juveniles (approximately 18,000 unicells) and 18.2 g of adults (approximately 4,000 unicells) were ground to a fine powder under liquid nitrogen. The powder was transferred to Oakridge tubes containing extraction buffer (0.1 to 0.2 g of ground unicells/ml extraction buffer). RNA was extracted according to Chang et al. [40].
Suppressive Subtractive hybridization (SSH)
cDNA synthesis and SSH were performed according to the manufacturer's recommendations using the PCR cDNA Synthesis Kit (Clontech Laboratories, Inc.) and the PCR-Select cDNA Subtraction Kit (Clontech Laboratories, Inc.) respectively. A summary of the steps involved in SSH and a more detailed figure of the formation of the ESTs from mRNA can be found in Additional file 1 and 2.
Cloning of the ESTs to make the libraries
DNA was precipitated using a standard ethanol precipitation protocol [41]. In order to add 3' A-overhangs to the PCR products for subsequent cloning, the DNA was resuspended into 25 μl of PCR reaction cocktail (2.5 μl of 10X buffer, 1.5 μl MgCl2, 2 μl 10 mM dNTPs, 18.875 μl water and 0.125 μl Taq polymerase (Promega)) and incubated at 72°C for 8–10 minutes. The DNA was precipitated again [41] and resuspended in TE to the starting volume of the DNA amplification reaction. Following the manufacturer's recommendations, each library was cloned into 2 different cloning vectors using the AdvanTAge™ PCR Cloning Kit (Clontech Laboratories, Inc., now a discontinued product) and the TOPO™-TA Cloning Kit (Invitrogen).
Dot blot and virtual Northern blot analysis of the libraries
The quality of subtraction was controlled as recommended by the PCR-Select protocol provided by Clontech. PCR-amplified inserts of 96 randomly picked clones from both libraries were duplica-spotted onto nylon membranes and hybridized with the radioactively labeled subtraction mix from both subtractions. In addition, differential expression of cDNA inserts of three clones was confirmed by virtual northern blots using SMART cDNA synthesis (Clontech) [15]. The clones used in these dot blots and virtual northern blots were not sequenced and are not part of the following sequence analysis.
EST sequencing
Colonies were randomly picked from each library using sterile toothpicks. Plasmid DNA from each colony was isolated and eluted with 2 × 40 μl of elution buffer (Plasmid Miniprep Kit, Qiagen).
DNA sequencing was carried out at the Plant-Microbe Genomics Facility, Ohio State University. The sequencing reactions were prepared by mixing 400 ng of plasmid DNA and 4 pmol of primer (M13F (5'-GTAAAACGACGGCCAG-3') or M13R (5'-CAGGAAACAGCTATGAC-3') with water for a total volume of 10 μl. Next, 2 μl of BigDyeTerminator mixture, version 2 (Applied Biosystems), 4 μl BetterBuffer (The Gel Company) and 4 μl water were added. The cycling parameters were those recommended by the manufacturer except that the reactions were run for 35 cycles instead of 25. The reactions were cleaned up with Millipore Multiscreen/Sephadex columns, according to the manufacturers recommendations (Millipore Technical Note TN053). The resulting 20 μl of clean sequencing reaction product (in water) was placed in an Applied Biosystems 3700 DNA Analyzer for separation and analysis.
Sequence analysis
Sequence preparation
Each clone was sequenced once using the M13 forward primer. If the sequence was of poor quality, the clone was sequenced again using the M13 reverse primer. Using Sequencher (Gene Codes Inc.), each nucleotide sequence was cleaned in silico of contaminating vector or primer sequence individually by aligning the EST sequence to that of the vector and those of the primers used in the creation of the libraries (nested PCR primer 1 (5'-TCGAGCGGCCGCCCGGGCAGGT-3') and nested PCR primer 2 (5'-AGCGTGGTCGCGGCCGAGGT-3'). These steps insured that the remaining sequence was devoid of contaminating DNA fragments that could potentially generate erroneous hits in BLAST searches [16]. A high proportion of the sequences also contained polyA or polyT tracts. These DNA fragments were also removed in silico from the corresponding sequences before performing homology searches.
Homology searches
Each EST was queried as follows:
- BLASTN searches [42] (database searched: nr (non-redundant nucleotide sequences)) [43].
- TBLASTX searches [42] (database searched: nr (non-redundant nucleotide sequences), genetic code: 6 (used by ciliates and Dasycladales [44]), defaults were used for the rest of the parameters) [43].
- InterPro searches [45] queries protein motifs databases from the European Bioinformatics Institute [46]. InterPro hits were mapped to the Gene Ontology [47].
- BLASTX searches against the Arabidopsis thaliana database [17].
- TBLASTX searches against the June 2003 draft of the Chlamydomonas reinhardtii genome [18].
Clustering of the ESTs
Clustering and alignments of the ESTs were performed using StackPack software (Electric Genetics, Cape Town, South Africa) [48, 49]. Clustering was performed in two phases. The first phase used the 'd2' algorithm, which is part of the 'd2' cluster [50, 51]. The second phase used Phrap [52].
The analysis was run with the following parameters:
d2_cluster: word_size = 6, similarity_cutoff = 0.96, minimum_sequence_size = 50, window_size = 150 and reverse_comparison = 1.
Phrap: old_ace = 1, vector_bound = 0, trim_score = 20, forcelevel = 0, penalty = -2, gap_init = -4, gap_ext = -3, ins_gap_ext = -3, del_gap_ext = -3, maxgap = 30, flags = -retain_duplicates.
Organization of the data
Bioinformatics scripts and the database systems used to store and query sequence/annotation data were provided by the Specialized Plant Resources in Informatics and Genomics (SPRIG) project http://bioinformatics.org/sprig, in particular, the SPRIG generic EST database and support script [53].
Availability of the sequences
The EST sequences analyzed in this study have been submitted to dbEST division of Genbank under accession numbers: CF 258288 to CF259228.
List of abbreviations
3' UTR:

3' untranslated region
BLAST:

Basic local alignment search tool
SSH:

Suppressive subtractive hybridization
AaCA1:

Carbonic anhydrase 1 from Acetabularia acetabulum
EST:

Expressed Sequence Tag
RTase:

Reverse transcriptase.
Declarations
Acknowledgements
We would like to thank Drs Harvey Bradshaw, Rose Ann Cattolico, Richard Olmstead and Elizabeth Van Volkenburgh for useful advice, comments and encouragement. We thank Mr. Richard Ivey for cell culture and RNA extraction, Mr. Eric Blackstone for help with the cloning of the EST libraries and Mr. Matthew Links, Bioinformatics Group (Dept. of Computer Sciences, University of Saskatoon, Canada) for the clustering and alignments of the ESTs. The sequencing of our ESTs was performed at the Plant-Microbe Genomics Facility (Ohio State University, Columbus). This work was supported in part by a Botany Departmental Fellowship, a Fulbright grant-in-aid and a Belgian-American Educational Foundation Fellowship (all to IMH), by NSF IBN #9630618, a University of Washington Friday Harbor Laboratory Apprenticeship course, and a PanWy Foundation grant (all to DFM) and by the Deutsche Forschungsgemeinschaft SFB 57 (to Z.S-S).
Authors' Affiliations
(1)
Department of Biology, University of Washington, Seattle, U.S.A
(2)
iCAPTURE Center, Vancouver, British Columbia
(3)
Department of Plant Biology and Plant Biotechnology Center, The Ohio State University, Columbus, U.S.A
(4)
Department of Molecular Plant Genetics, Max-Planck-Institut für Züchtungsforschung Carl-von-Linné Weg, Köln, Germany
(5)
Department of Biology and Center for Developmental Biology, University of Washington, Seattle, U.S.A
Copyright
© Henry et al; licensee BioMed Central Ltd. 2004
This article is published under license to BioMed Central Ltd. This is an Open Access article: verbatim copying and redistribution of this article are permitted in all media for any purpose, provided this notice is preserved along with the article's original URL.