Research article
Open Access
Phylogenetic analysis of pectin-related gene families in Physcomitrella patensand nine other plant species yields evolutionary insights into cell walls
BMC Plant Biology
2014
14:79
Received: 18 December 2013
Accepted: 26 February 2014
Published: 26 March 2014
Abstract
Background
Pectins are acidic sugar-containing polysaccharides that are universally conserved components of the primary cell walls of plants and modulate both tip and diffuse cell growth. However, many of their specific functions and the evolution of the genes responsible for producing and modifying them are incompletely understood. The moss Physcomitrella patens is emerging as a powerful model system for the study of plant cell walls. To identify deeply conserved pectin-related genes in Physcomitrella, we generated phylogenetic trees for 16 pectin-related gene families using sequences from ten plant genomes and analyzed the evolutionary relationships within these families.
Results
Contrary to our initial hypothesis that a single ancestral gene was present for each pectin-related gene family in the common ancestor of land plants, five of the 16 gene families, including homogalacturonan galacturonosyltransferases, polygalacturonases, pectin methylesterases, homogalacturonan methyltransferases, and pectate lyase-like proteins, show evidence of multiple members in the early land plant that gave rise to the mosses and vascular plants. Seven of the gene families, the UDP-rhamnose synthases, UDP-glucuronic acid epimerases, homogalacturonan galacturonosyltransferase-like proteins, β-1,4-galactan β-1,4-galactosyltransferases, rhamnogalacturonan II xylosyltransferases, and pectin acetylesterases appear to have had a single member in the common ancestor of land plants. We detected no Physcomitrella members in the xylogalacturonan xylosyltransferase, rhamnogalacturonan I arabinosyltransferase, pectin methylesterase inhibitor, or polygalacturonase inhibitor protein families.
Conclusions
Several gene families related to the production and modification of pectins in plants appear to have multiple members that are conserved as far back as the common ancestor of mosses and vascular plants. The presence of multiple members of these families even before the divergence of other important cell wall-related genes, such as cellulose synthases, suggests a more complex role than previously suspected for pectins in the evolution of land plants. The presence of relatively small pectin-related gene families in Physcomitrella as compared to Arabidopsis makes it an attractive target for analysis of the functions of pectins in cell walls. In contrast, the absence of genes in Physcomitrella for some families suggests that certain pectin modifications, such as homogalacturonan xylosylation, arose later during land plant evolution.
Keywords
Plant cell wallPectin Physcomitrella patens Arabidopsis thaliana PhylogenyEvolution
Background
Pectins make up approximately one third of the dry mass of primary cell walls in eudicots, affecting both water dynamics and the mechanical behavior of the wall [1]. Pectins consist of four domains: homogalacturonan (HG), xylogalacturonan (XGA), rhamnogalacturonan I (RG-I), and rhamnogalacturonan II (RG-II) [2]. Homogalacturonan makes up the majority of the pectic component of the cell wall and also serves as the backbone of XGA and RG-II. Xylogalacturonan is made up of HG with attached xylose side-groups, whereas RG-II has four complex and distinct side-chains [3]. Rhamnogalacturonan I has side-chains containing galactose and arabinose, but its backbone consists of alternating rhamnose and galacturonic acid. These complex polysaccharides are almost universally conserved in land plants and are also present in some algae [4], although structural diversity in pectins is present between some species. For instance, there is evidence for RG-II in all land plant species analyzed to date [3, 5] but its side chains are not perfectly conserved [6], and the side chains of RG-I vary among species [1]. Additionally, XGA has not been detected in Physcomitrella patens[7].
Pectins are important determinants of wall remodeling during cellular growth [8]. Pairs of HG molecules can be bound together by Ca2+ bridges, stiffening the wall [9], and RG-II side-chains dimerize via borate diol ester bonds [10]. A decreased ability to form RG-II dimers leads to dwarfism [11]. Modifications to pectin can enhance or prevent these interactions and thus affect the properties of the wall as a whole: for example, alterations in wall stiffness mediated by pectin methylation have been implicated in organ primordium initiation and cell elongation [8, 12]. Pectins also appear to be essential for normal cell-cell adhesion, since some pectin methylation-defective mutants lack tissue cohesion [13, 14].
The complex structures of pectins require a large suite of biosynthetic genes, many of which are inferred only by the biochemical reactions required to synthesize the many linkages in pectins [15, 16]. Nevertheless, many pectin-related genes have been identified, and modification of their expression can have serious effects on the development and growth of mutant plants [17–20]. Pectins play an especially important role in the tip growth of pollen tubes, with methylation status regulating the yielding properties of the tip and side walls [21, 22], but this system does not allow for easy genetic manipulation. Physcomitrella patens, the model moss [23], represents an attractive experimental system for the genetic and molecular analysis of pectins in the walls of tip-growing cells. Its primary growth form is a mass of protonemal filaments that extend exclusively via tip growth and might therefore rely heavily on pectins for normal development [24, 25]. Genes in the Physcomitrella genome [26] can be modified directly using high-efficiency homologous recombination [27], which, combined with the dominant haploid generation of this moss, makes it ideal for genetic modification and analysis. As a moss, Physcomitrella is also likely to resemble an early stage in the transition of plants from aquatic to terrestrial life, giving us a clearer view of the cell wall architectures and physiology that made this transition possible.
As diverse plant genomes are sequenced, there are new opportunities to study gene families in an evolutionary context. The PlantTribes 2.0 database [
28
] is an objective gene family classification that can be used to investigate gene family composition and phylogeny on a global scale. By using the complete inferred protein sequences from ten diverse plant genomes (seven angiosperms plus the lycophyte
Selaginella moellendorffii
, the moss
Physcomitrella
, and the chlorophyte
Chlamydomonas reinhardtii;
see Figure
1
), orthologous gene clusters (orthogroups) were identified that represent deeply conserved, but often narrowly defined gene families. Orthogroups were constructed using OrthoMCL [
29
], resulting in gene clusters that typically align well across their length and have a conserved domain structure [
30
]. Leveraging the PlantTribes 2.0 classification is a conservative approach to identify gene family members from sequenced genomes, avoiding false positive hits that may be identified using less structured search algorithms (e.g. BLAST). To assess the complexity of the pectin biosynthetic and modification machinery in
Physcomitrella
and to investigate the evolutionary history of pectin-related gene families in land plants, we performed an orthogroup-based phylogenetic study of 16 gene families associated with pectin production and modification and mapped the relationships of these genes among terrestrial plant species with sequenced genomes. These analyses reveal that the
Physcomitrella
genome contains at least one member in most of the families analyzed and that the total number of pectin-related gene family members in
Physcomitrella
is much lower than that in
Arabidopsis
. Analysis of these families not only identified members in
Physcomitrella
, it also reveals that several pectin-related gene families likely had multiple members in the land-plant common ancestor.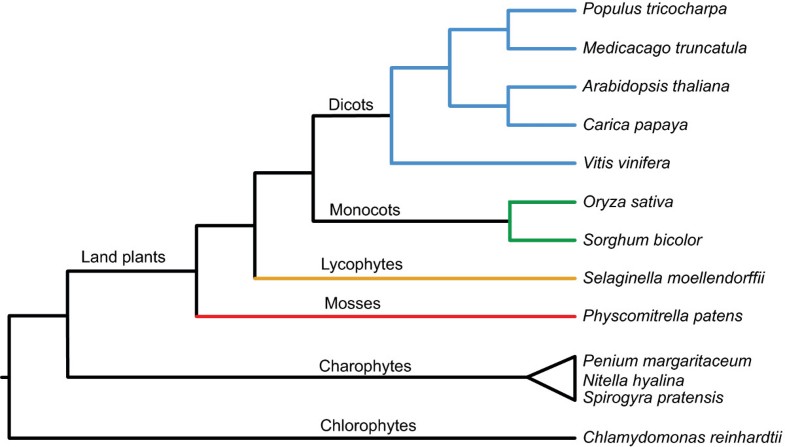 Conclusions
Pectins play a key role in the cell walls of plants. We analyzed 16 gene families involved in the production, modification, and degradation of pectins in nine land plant species. Our analysis indicates that although many of these families appear to trace back to a single gene in the last common ancestor to the mosses and the vascular plants, several of the major families involved in pectin regulation likely contained multiple genes. We did not detect Physcomitrella or Selaginella genes in four of the studied families, providing some evidence that they might have evolved after the divergence of seed plants from the lycophytes. This study has allowed us to identify Physcomitrella orthologs related to known pectin-related genes in Arabidopsis for in-depth experimental analysis. Our results also shed light on the evolutionary history of pectin biosynthesis and modification, suggesting that pectins may have played an important role in the transition from an aquatic to a terrestrial environment.
Methods
Identification of pectin-related gene families
We compiled a list of Arabidopsis genes with known and predicted pectin-related functions using TAIR and Uniprot annotations, as well as relevant literature (Additional file 1) [1, 34, 42, 53, 58–64]. In total, we used 108 genes from Arabidopsis to identify putative pectin-related gene families in the PlantTribes 2.0 database [65]. PlantTribes 2.0 is an objective gene family classification of protein coding genes from ten sequenced green plant genomes that have been clustered into orthogroups (putatively monophyletic gene lineages) using OrthoMCL [28]. Orthogroups containing pectin-related genes from Arabidopsis were extracted for phylogenetic analysis. This approach enabled us to include additional homologous genes from Arabidopsis not annotated with pectin-related gene functions. In some cases, the pectin-related query genes from Arabidopsis did not belong to an orthogroup (i.e., they were singletons). The closest Physcomitrella gene to each singleton Arabidopsis gene was identified via TBLASTX and added to the family alignment. Because PlantTribes 2.0 includes the Physcomitrella patens version 1.1 gene annotations from Phytozome [66], we used a nucleotide BLAST+ search of a local database of Physcomitrella patens version 1.6 annotated coding sequences to identify the current gene annotations for ease of reference (Additional file 2, which includes all of the genes used in this paper). Although PlantTribes 2.0 does include the chlorophyte alga Chlamydomonas reinhardtii, many of the gene families still lacked a non-land plant outgroup. To enhance the possibility of rooting our trees using an outgroup, we also included homologous transcript sequences from three additional green algae (Nitella hyalina, Penium margaritaceum, and Spirogyra pratensis) where possible [67]. We searched each transcriptome separately with coding sequences from Physcomitrella using TBLASTX with an E-value cutoff of 10-10. Full-length coding sequences were identified for the GAUT, pectin methylesterase, UDP-rhamnose synthase, rhamnogalacturonan I arabinosyltransferase, and rhamnogalacturonan II xylosyltransferase families.
Phylogenetic analysis
Sequences for each family were aligned by translation in Geneious using MUSCLE (default parameters) [32], manually curated, and saved as relaxed Phylip files (Additional files 17, 18, 19, 20, 21, 22, 23, 24, 25, 26, 27, 28, 29, 30, 31, 32 and 33). In some cases this required removing non-homologous genes and gene fragments from poorly annotated genomes. To generate trees (Additional files 34, 35, 36, 37, 38, 39, 40, 41, 42, 43, 44, 45, 46, 47, 48, 49 and 50), maximum likelihood phylogenetic analysis was performed using RAxML [33] with the following parameters: rapid bootstrap analysis and search for best-scoring maximum likelihood tree in one run, GTRGAMMA model of nucleotide evolution, random seed 12345, 1000 bootstrap replicates. Nodes with less than 50% bootstrap support were collapsed using TreeCollapserCL4 [68] and were visualized using FigTree [69]. Figures were manually edited for readability using Adobe Illustrator.
Availability of supporting data
The data sets supporting the results of this article are included within the article and its additional files.
Declarations
Acknowledgements
Thanks to William Ehlhardt, William Murphy, and John Doyle for help in building scripts to streamline database searches, and to Eric Wafula for bioinformatic assistance. Phylogenetic analysis was supported as part of The Center for LignoCellulose Structure and Formation, an Energy Frontier Research Center funded by the U.S. Department of Energy, Office of Science, Basic Energy Sciences under Award # DE-SC0001090 (TWM and CTA), and development of the PlantTribes 2.0 database was supported by NSF Plant Genome grant #0922742 (JPD, LAH, and CWD).
Authors' Affiliations
(1)
Department of Biology, The Pennsylvania State University, University Park, USA
Copyright
© McCarthy et al.; licensee BioMed Central Ltd. 2014
This article is published under license to BioMed Central Ltd. This is an Open Access article distributed under the terms of the Creative Commons Attribution License (http://creativecommons.org/licenses/by/2.0), which permits unrestricted use, distribution, and reproduction in any medium, provided the original work is properly credited. The Creative Commons Public Domain Dedication waiver (http://creativecommons.org/publicdomain/zero/1.0/) applies to the data made available in this article, unless otherwise stated.