Research article
Open Access
Genome-wide identification of WRKY45-regulated genes that mediate benzothiadiazole-induced defense responses in rice
BMC Plant Biology
2013
13:150
Received: 26 June 2013
Accepted: 2 October 2013
Published: 4 October 2013
Abstract
Background
The rice transcription factor WRKY45 plays a crucial role in salicylic acid (SA)/benzothiadiazole (BTH)-induced disease resistance. Its knockdown severely reduces BTH-induced resistance to the fungal pathogen Magnaporthe oryzae and the bacterial pathogen Xanthomonas oryzae pv. oryzae (Xoo). Conversely, overexpression of WRKY45 induces extremely strong resistance to both of these pathogens. To elucidate the molecular basis of WRKY45-dependent disease resistance, we analyzed WRKY45-regulated gene expression using rice transformants and a transient gene expression system.
Results
We conducted a microarray analysis using WRKY45-knockdown (WRKY45-kd) rice plants, and identified WRKY45-dependent genes among the BTH-responsive genes. The BTH-responsiveness of 260 genes was dependent on WRKY45. Among these, 220 genes (85%), many of which encoded PR proteins and proteins associated with secondary metabolism, were upregulated by BTH. Only a small portion of these genes overlapped with those regulated by OsNPR1/NH1, supporting the idea that the rice SA pathway branches into WRKY45- regulated and OsNPR1/NH1-regulated subpathways. Dexamethazone-induced expression of myc-tagged WRKY45 in rice immediately upregulated transcription of endogenous WRKY45 and genes encoding the transcription factors WRKY62, OsNAC4, and HSF1, all of which have been reported to have defense-related functions. This was followed by upregulation of defense genes encoding PR proteins and secondary metabolic enzymes. Many of these genes were also induced after M. oryzae infection. Their temporal transcription patterns were consistent with those after dexamethazone-induced WRKY45 expression. In a transient expression system consisting of particle bombardment of rice coleoptiles, WRKY45 acted as an effector to trans-activate reporter genes in which the luciferase coding sequence was fused to upstream and intragenic sequences of WRKY62 and OsNAC4. Trans-activation of transcription occurred through a W-box-containing sequence upstream of OsNAC4 and mutations in the W-boxes abolished the trans-activation.
Conclusions
These data suggest a role of WRKY45 in BTH-induced disease resistance as a master regulator of the transcriptional cascade regulating defense responses in one of two branches in the rice SA pathway.
Keywords
WRKYSalicylic acidBenzothiadiazole Magnaporthe oryzae OsNPR1
Background
The salicylic acid (SA) defense signaling pathway plays a crucial role in mediating induced defense responses, including systemic acquired resistance. In Arabidopsis, the transcriptional coactivator NPR1 plays a key role in regulating the SA signaling pathway [1]. Rice has an NPR1 counterpart, OsNPR1/NH1 (denoted as OsNPR1 hereafter), which plays a major role in the resistance to blast and leaf blight diseases caused by the fungal pathogen Magnaporthe oryzae and the bacterial pathogen Xanthomonas oryzae pv. oryzae (Xoo), respectively [2, 3]. Chemical inducers of defense known as 'plant activators' can protect plants against various diseases by acting on the plant SA signaling pathway [4–8]. Plant activators confer protection against a wide range of pathogens, and their 'priming effect' alleviates the costs of defense reactions on plant growth [9].
The WRKY transcription factors (TFs) form a super family that is involved in various regulatory processes in plants. They function via binding to a cis-element known as the "W-box" that is present in the promoters of target genes [10–12]. Several studies have highlighted the importance of WRKY TFs in transcriptional reprogramming of plant responses to different invading pathogens in various plant species [13]. The WRKY family has 109 members in rice [14]. Of these, several have been implicated in defense responses related to the SA pathway, mostly based on experimental evidence from overexpression studies [15–18]. However, the precise functions of most WRKY TFs remain unknown.
Previously, we identified rice WRKY45, which is transcriptionally inducible by the plant activator benzothiadiazole (BTH) [19]. WRKY45 belongs to group III of the WRKY family [20, 21] and its closest Arabidopsis homolog is AtWRKY70 [22]. WRKY45 plays a crucial role in resistance to the important rice pathogens M. oryzae and Xoo, and is induced by various plant activators [19, 23]. In our previous studies, overexpression of WRKY45 conferred extremely strong resistance to both M. oryzae and Xoo[19, 23]. Microscopic analyses demonstrated that the blast resistance in WRKY45-overexpressing (WRKY45-ox) rice is based on a two-layered mechanism: pre-invasive defense, which prevents the invasion of fungal hyphae into rice cells, and post-invasive defense, which accompanies HR cell death, whereas probenazole-treated rice plants showed only the post-invasive defense [23]. We have shown that WRKY45 is regulated by ubiquitin-proteasome degradation, similar to Arabidopsis NPR1 [24]. We proposed that this regulation could play a role in suppressing unnecessary defense activation in the absence of pathogens [25]. Recently, we reported that WRKY45 also plays a role in blast resistance mediated by Panicle blast 1, a blast resistance gene with a coiled-coil nucleotide binding leucine-rich repeat structure, through a protein–protein interaction [26].
In Arabidopsis, NPR1 plays a major role in the SA pathway by regulating more than 99% of SA/BTH-regulated genes [27], while NPR1-independent pathway(s) also operate during early phases of pathogen infection [22, 28, 29]. However, experimental evidence suggests that the SA pathway in rice differs from that in Arabidopsis. Based on the results of epistasis analyses, we proposed that the SA-signaling pathway in rice branches into WRKY45-dependent and OsNPR1-dependent sub-pathways as a consequence of evolutionary divergence between rice and Arabidopsis [19, 30]. Arabidopsis NPR1 equally regulates upregulation and downregulation of genes [27], but the molecular events that are regulated downstream of WRKY45 in rice are largely uncharacterized.
To elucidate the molecular basis of WRKY45-dependent disease resistance, we analyzed WRKY45-regulated gene expression using rice transformants in which WRKY45 expression was knocked-down by RNAi. Then, we conducted further expression analyses of representative genes after chemical-induced WRKY45 expression and M. oryzae infection. To validate the transcriptional cascade regulated by WRKY45, we also conducted trans-activation assays of TF genes.
Conclusions
The repertoire of WRKY45-dependent genes among BTH-responsive genes is consistent with the idea that the rice SA pathway branches into two subpathways (Figure
5
). The sequential expression of genes encoding transcription factors and defense genes, as well as the transactivation of TF genes by WRKY45, suggests a transcriptional cascade in which WRKY45 regulates the genes encoding downstream TFs, which in turn regulate different sets of defense genes (Figure
5
). Overexpression of WRKY45 induced extremely strong resistance to both the fungal pathogen
M
.
oryzae
and the bacterial pathogen
Xoo
. The mighty potential of this TF is probably because it governs the SA-pathway-mediated defense responses as a master TF of this transcriptional cascade. The identification of WRKY45-regulated genes has provided some insights into the defense reactions regulated by WRKY45, together with the phenotypes of
WRKY45
-kd and -ox transformants. These analyses have also raised some questions, such as why
WRKY62
, which encodes a negative regulator of
Xoo
resistance [
44
], is regulated by WRKY45. Functional characterization of each downstream TF will help to dissect further the defense mechanisms regulated by WRKY45 and provide important information for its practical application.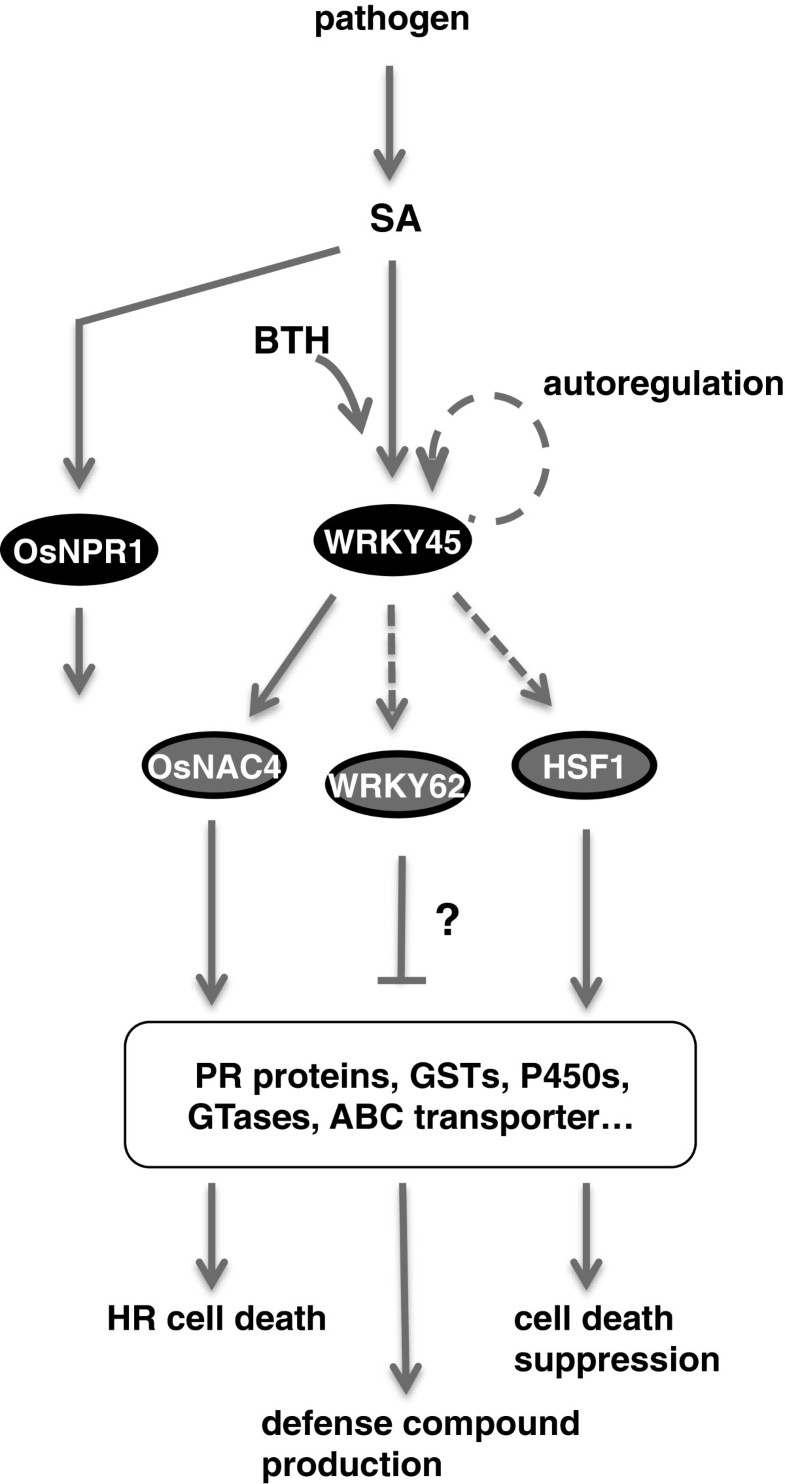 Methods
Plant materials and chemicals
Rice (Oryza sativa ssp. japonica cv. Nipponbare) plants were grown in a growth chamber and treated with BTH as described previously [19]. For DEX treatments, 60 μM DEX solution (in 0.2% [v/v] ethanol / 0.01% [v/v] Silwet L-77 (OSI Specialties Inc., Danbury, CT, USA) was sprayed onto leaves of rice plants at the 4- to 5-leaf stage. For mock treatments, the solvent alone was sprayed onto plants.
Plasmid construction and plant transformation
The plasmid to drive DEX-induced expression of myc-tagged WRKY45 proteins in rice cells was constructed as follows: the CDS of WRKY45 was amplified by PCR with the primers XhoI-WRKY45FW (5'-CTCGAGATGACGTCATCGATGTC-3') and BamHI-WRKY45RV (5'-GGATCCAAAGCTCAAACCCATAATG-3'). The amplified fragment was then inserted into the pGEM-T Easy Vector (Promega, http://www.promega.com/) to generate pGEM-WRKY45, which contained the WRKY45 CDS and a BamHI site between XhoI and SacI sites. A DNA fragment encoding three tandemly repeated myc sequences (3 × myc, 5'-ATGGAGCAAAAGCTTATCAGTGAGGAAGACTTGAACGAGCAGAAGCTGATTTCCGAAGAGGATCTCAACGAGCAAAAGCTCATCTCGGAGGAAGACCTGCTC-3') was inserted between the BamHI and SacI sites in pGEM-WRKY45. A DNA linker containing an XbaI site was inserted between the SacI and NsiI sites in pGEM-WRKY45. Finally, a fragment encoding WRKY45 CDS and 3 × myc sequence was excised with XhoI and XbaI, and inserted between XhoI and SpeI sites in a DEX-inducible gene expression vector, pTA7002 [50]. Rice plants were transformed via an Agrobacterium (strain EHA105)-mediated method [56] to generate transgenic GVG-WRKY45-myc plants.
Microarray analysis
NB and WRKY45-knockdown (WRKY45-kd) rice plants grown in a growth chamber were treated with 0.5 mM BTH (in 0.5% [v/v] acetone / 0.05% [v/v] Tween 20) or a mock solution. Then, the fourth leaves were harvested from four plants from each treatment/genotype and pooled on the basis of different treatments and genotypes. Total RNA was isolated from each pool, labeled with Cy3, and hybridized to an Agilent Rice Oligo Microarray (44 k, custom-made, http://www.home.agilent.com). We analyzed four biological replicate sample sets for each treatment–genotype combination. Microarray experiments and data analyses were carried out as described previously [19, 30]. Briefly, BTH-responsive genes were identified in NB rice, based on both significance [ANOVA p-value <0.05 after applying FDR multiple testing correction, according to the method of Benjamini and Hochberg [31]] and -fold change (2-fold). These genes were filtered through a two-way ANOVA, considering both genotype and treatment effects. WRKY45-dependent BTH-responsive genes were defined as those that showed decreases in BTH-responsive expression (to <1/2 of their corresponding expressions in NB) in two lines of WRKY45-kd rice (#3 and #15) with the q value < 0.2 after applying FDR multiple testing corrections [31].
M. oryzaeinoculation
Rice plants were grown for 20 days in a greenhouse. At the 4-leaf stage, the youngest leaves were cut and placed on wet paper in plastic cases. After preincubation at 25°C for 6 h, leaves were spray-inoculated with aqueous suspensions (5.0 × 105 spores/ml in 0.02% Tween 20) of compatible M. oryzae conidia (race 007.0), and then kept in the dark for 3 days.
qRT-PCR analysis
Total RNA was isolated from rice plants using Trizol reagent (Invitrogen, http://www.lifetechnologies.com) and purified with an RNeasy mini kit (Qiagen, http://www.qiagen.com). Reverse transcription was carried out using SuperScript II RNase H (Invitrogen) and oligo(dT)23 primers (Sigma-Aldrich, http://www.sigmaaldrich.com/). qRT-PCR was carried out on a Thermal Cycler Dice TP800 system (TaKaRa, http://www.takara-bio.co.jp/) using SYBR premix ExTaq mixture (TaKaRa) with cycles of 95°C for 5 s, 55°C for 10 s and 72°C for 20 s. Rice ubiquitin 1 (Rubq1; AK121590) was used as an internal standard. The primers used are listed in Additional file 5.
Transient expression assay
For transactivation assays, inner leaf sheaths of rice were cut into pieces and placed side-by-side on agar plates containing 0.4 M mannitol. The plasmids with or without WRKY45 cDNA driven by the cauliflower mosaic virus 35S promoter in the pUCAP vector were used as effector genes. The effector plasmids were introduced into the leaf sheaths together with reporter (3 μg) and reference (500 ng) genes containing luciferase (LUC) genes as specified using a PDS-1000/He Biolistic Particle Delivery system (Bio-rad, http://www.bio-rad.com). After incubation at 28°C for 6 h, samples were collected and ground in liquid nitrogen. Luciferase activities were assayed with the DualGlo Luciferase Reporter Assay system (Promega) and the ratio of the activity of the reporter gene product relative to that of the reference gene product was calculated.
Declarations
Acknowledgements
This work was supported by a grant from the Japanese Ministry of Agriculture, Forestry and Fisheries (Genomics for Agricultural Innovation, GMA0001, PMI0008 and GMO1006b). Rice transformation was supported by NIAS technical support system. We thank the Rice Genome Resource Center at NIAS for the use of the rice microarray analysis system, and Dr. Y. Nagamura and Ms. R. Motoyama for technical support.
Authors' Affiliations
(1)
Disease Resistant Crops Research Unit, National Institute of Agrobiological Sciences, Ibaraki, Japan
(2)
Maebashi Institute of Technology, Maebashi, Japan
(3)
Du Pont Kabushiki Kaisha, Chiyoda-ku, Japan
(4)
Department of Plant Pathology, Michigan State University, East Lansing, USA
(5)
Bayer CropScience, Tokyo, Japan
(6)
Disease Resistant Crops Research Unit, National Institute of Agrobiological Sciences, Tsukuba, Japan
Copyright
© Nakayama et al.; licensee BioMed Central Ltd. 2013
This article is published under license to BioMed Central Ltd. This is an open access article distributed under the terms of the Creative Commons Attribution License (http://creativecommons.org/licenses/by/2.0), which permits unrestricted use, distribution, and reproduction in any medium, provided the original work is properly cited.