Methodology article
Open Access
Integration of molecular biology tools for identifying promoters and genes abundantly expressed in flowers of Oncidium Gower Ramsey
BMC Plant Biology
2011
11:60
Received: 28 November 2010
Accepted: 7 April 2011
Published: 7 April 2011
Abstract
Background
Orchids comprise one of the largest families of flowering plants and generate commercially important flowers. However, model plants, such as Arabidopsis thaliana do not contain all plant genes, and agronomic and horticulturally important genera and species must be individually studied.
Results
Several molecular biology tools were used to isolate flower-specific gene promoters from Oncidium 'Gower Ramsey' (Onc. GR). A cDNA library of reproductive tissues was used to construct a microarray in order to compare gene expression in flowers and leaves. Five genes were highly expressed in flower tissues, and the subcellular locations of the corresponding proteins were identified using lip transient transformation with fluorescent protein-fusion constructs. BAC clones of the 5 genes, together with 7 previously published flower- and reproductive growth-specific genes in Onc. GR, were identified for cloning of their promoter regions. Interestingly, 3 of the 5 novel flower-abundant genes were putative trypsin inhibitor (TI) genes (OnTI1, OnTI2 and OnTI3), which were tandemly duplicated in the same BAC clone. Their promoters were identified using transient GUS reporter gene transformation and stable A. thaliana transformation analyses.
Conclusions
By combining cDNA microarray, BAC library, and bombardment assay techniques, we successfully identified flower-directed orchid genes and promoters.
Keywords
Bacterial Artificial ChromosomeBacterial Artificial Chromosome CloneBacterial Artificial Chromosome LibraryTransient TransformationTandem Repeat Sequence
Background
The Orchidaceae family comprises an estimated 35,000 species and is one of the largest families of flowering plants. The Oncidiinae subtribe consists of ~70 closely related genera and >1400 species, of which Oncidium is the largest genus [1, 2]. Like other orchids, Oncidiinae can be easily crossed intergenerically, or across species, to produce flowers with unique colors, fragrances and shapes. Oncidium has become a commercially important flower in the orchid industry. Oncidium 'Gower Ramsey' (Onc. GR) is one of the most important Oncidium cut-flower varieties; it is an interspecific hybrid derived from Onc. flexuosum, Onc. sphacelatum and Onc. varicosum. Onc. GR is a yellow flower variety that can flower year-round. The length of inflorescence is ~1 m, with hundreds of ca. 4 cm flowers.
Functional genomic studies of orchids remain a challenge owing to large genome size, low transformation efficiency and long life cycles [3]. However, gene transformation of Onc. GR has been established [4], offering an alternative strategy for Oncidium breeding and making it a priority to investigate and obtain Oncidium promoters. To date, several strategies have been used to investigate orchids at the genomic level. Sequence homology searches have identified homologous genes in Oncidium [5–11], and expressed sequence tag (EST) databases have been used for gene cloning [12–18]. Because model plants, such as rice and A. thaliana, do not contain all plant genes, and because some genes related to the unique morphological and physiological characteristics of Oncidium, such as the flower and pseudobulbs cannot be identified using sequence homology, an Oncidium-specific cDNA library of pseudobulbs and flowers has been established that contains a large amount of genetic information [12–18]. However, gene expression patterns cannot be predicted by nucleic acid sequences. Furthermore, several of the non-model plant EST sequences are not full-length sequences.
To clone full-length genes and promoters, further processing is necessary, such as rapid amplification of complementary DNA ends (RACE) for full-length cDNA, or genomic walking for promoter studies [8, 15, 16]. These techniques are difficult to apply to Onc. GR because its genome is complex and has not been sequenced. Bacterial artificial chromosome (BAC) libraries are an alternative tool for full-length gene and promoter cloning. To obtain such libraries, genomic DNA is cut into pieces of ~100 kb, cloned into a vector and stored in bacteria, making it is easier to obtain the promoter and the full length of the target gene without interference from homologs in the genome. Various strategies can then be used to identify the clones that contain target genes [19–22], and the identified clones can be sequenced directly to obtain the full-length gene sequence.
In this report, a cDNA microarray, a BAC library and a bombardment assay were combined to establish a novel platform that was used to identify and clone the Onc. GR genes and promoters abundantly expressed in Onc. GR flowers. This approach, combining multiple tools provides a fast, easy to use and convenient strategy for obtaining useful genetic information about Oncidium.
Conclusions
A cDNA library, a microarray, a BAC library and transient transformation were combined to identify gene promoters highly expressed in the flowers of Oncidium Gower Ramsey, a commercially important cut flower. Classical approaches of identifying orchid genes and promoters - in particular the genome walking method - cannot easily be performed when regions of high DNA sequence homology tandem repeats and tandemly duplicated genes are present. Gene sequences of interest were identified successfully using BAC sequencing. Using lip transient transformation, GUS reporter gene fusion constructs with various lengths of promoters were introduced into the lip to determine promoter activity. Furthermore, the subcellular localization of proteins encoded in these genes was also determined in this system. With this combination of approaches, 5 novel Oncidium gene promoters of genes abundantly expressed in flowers were cloned and confirmed. These promoters can be used to express genes in floral organs and change the flower phenotype without affecting the vegetative tissues.
Methods
Plant materials
Flowering Onc. GR (a tetraploid interspecific hybrid) were obtained from a local grower (Yung Hsin Orchid Nursery, Taichung, Taiwan). The orchids were maintained in the greenhouse at Academia Sinica, Taipei, Taiwan. A voucher specimen was deposited at the National Museum of Natural Science, Taichung, Taiwan.
Onc. Gower Ramsey flower cDNA library construction
Onc. GR flowers were used as the materials for cDNA library construction. Total RNA and poly(A)+ mRNA were isolated using Trizol reagent (Invitrogen, Carlsbed, CA, USA) and the Oligotex Midi mRNA kit (Qiagen, Venlo, The Netherlands), respectively, according to the manufacturer's instructions. The cDNA library was constructed using the Long Distance PCR SMART cDNA Library Construction kit (Clontech, Mountain View, CA, USA) following the manufacturer's instructions. The cDNAs were cloned into the pDNR-LIB vector (Clontech). Colonies were picked up, collected in 96-well plates, and stored at -80°C.
Microarray preparation
Microarray preparation followed the procedure described by Wu et al. [41] for the preparation of a bamboo microarray. A total of 1065 cDNAs [GenBank: HS521830-HS522791; HS524614-HS524707] derived from the Onc. GR flower cDNA library were amplified using PCR, incorporating the T3 and M13 reverse universal primers. The PCR products were purified using the MultiScreen PCR96 Filter Plate (Millipore Corp., Bedford, MA, USA) and eluted with 100 μl of 0.1× TE buffer (1 mM Tris and 0.1 mM EDTA, pH 8.0). Purified PCR products were printed on GAPS II-coated slides (Corning, New York, NY) using the OmniGrid 100 microarray (Genomic Solutions, Ann Arbor, MI, USA), and arranged into two 1.8 × 1.8-cm arrays (spot size: 100 μm). After printing, the slides were left to dry overnight. These DNAs were cross-linked to the slide by baking the array for 2 h at 80°C.
Total RNA from leaves and flowers (25 μg) was used for cDNA synthesis and labeling with either Cy3 or Cy5 dye, using the 3DNA Expression Array Detection kit for microarrays (Array 50, version 2, Genisphere, Hatfield, PA, USA). cDNA hybridization and washing procedures were performed according to the manufacturer's instructions. All experiments were carried out in 3 biological replicates (n = 3). Detailed information of the microarray has been deposited in the NCBI GEO database [GEO: GSE26504].
Semi-quantification using RT-PCR
Total RNA (5 μg) extracted from various tissues was subjected to RT-PCR. First-strand cDNAs were synthesized using M-MLV reverse transcriptase (RNase H Minus, Point mutant; Promega, Madison, WI, USA) and a poly(dT) primer. Each gene was amplified for 25 cycles using primers specific for each gene. Onc. GR ubiquitin was used as an internal control. The primers are given in Table 2.
BAC library construction
Young Onc. GR leaves (200 g) were collected for isolation of high molecular weight DNA according to Zhang et al. [42]. The DNA was sheared randomly, and the fragments ligated into the pSMART-BAC vector (Lucigen, Middleton, WI, USA). The ligated DNA was transfected into E. coli strain 10G BAC-Optimized Electrocompetent cells (Lucigen).
Identification of BAC clones containing target genes using PCR
The BAC library of
Onc
. GR DNA in
E. coli
was spread on solid medium plates (23 × 23 cm) containing Luria broth (LB) supplemented with 25 mg/L chloramphenicol. Each plate contained ~1000 clones. After overnight incubation at 37°C, individual clones were picked up by a Q-bot robot (Genetix, New Milton, UK) and placed into a 384-well plate that contained liquid LB medium with 12.5 mg/L chloramphenicol. Clones the robot failed to identify were picked up manually. The 384-well plates were incubated at 37°C overnight and stored at -80°C. The plates were washed with LB liquid medium containing 12.5 mg/L chloramphenicol, incubated overnight at 37°C and stored at -80°C for the superpool (Figure
8
).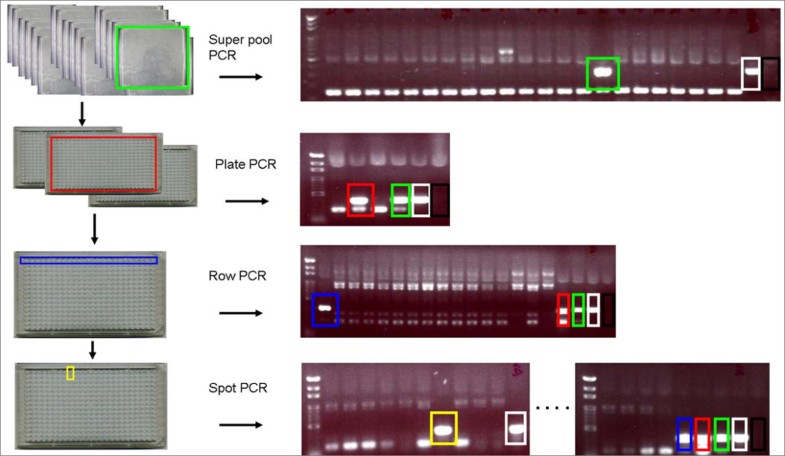 Sequences derived from the microarray experiments and the published flower-related genes were used to design primers. Primers that could amplify predicted genomic regions in the presence of Onc. GR genomic DNA (positive control, white box, Figure 8) were used for further screening. After superpool screening (149 reactions), plate screening (2-5 reactions) was performed, and row (16 reactions) and spot screening (24 reactions) were used to identify clones containing genes of interest.
BAC plasmid isolation and sequencing
BAC plasmids were isolated using the NucleoBond BAC 100 kit (NucleoSpin blood, Macherey-Nagel GmbH & Co KG, Germany) following the manufacturer's instructions, and sequenced using the Big Dye™ Terminator Cycle Sequencing Ready Reaction kit and an automated sequencer (Perkin-Elmer Applied Biosystems, CA, USA).
Transient transformation
Bombardment assay was conducted as outlined below, modified from Chiou et al. [14]. Purified recombinant plasmid DNA (2.5 μg) was isolated using the Midi Plus plasmid DNA extraction system (Viogene, Taipei, Taiwan) and coated onto gold particles (1 μm diameter) for bombardment transformation. Onc. GR flower lips and leaves were incubated on sucrose-free 1/2 MS [43] solid medium and bombarded using a pneumatic particle gun (Biolistic PDS-1000/He; Bio-Rad) set to the following conditions: 1350 psi helium pressure of projectile; 27 mm Hg partial vacuum; 9 cm target-distance. Bombarded lips were subsequently incubated on MS solid medium at 22°C overnight for further experiments.
Subcellular localization
Full-length cDNAs were amplified using PCR incorporating
Onc
. GR flower cDNA as template. The primer information is listed in Table
4
. Products were cloned into pDONR221 by Gateway BP Clonase II Enzyme Mix (Invitrogen), and into p2YGWF (cGFP) and p2GWF7 (N-YFP) using Gateway LR Clonase II Enzyme Mix (Invitrogen) [
44
]. The plasmids were isolated and transformed into the lips using bombardment transformation. The transformed lips were observed on Zeiss LSM 510 META laser-scanning confocal microscope using an LD C-Apochromat 40×/1.1 W objective lens. Excitation wavelengths and emission filters were 458 nm/band-pass 465-510 nm for CFP, 488 nm/bandpass 500-530 nm for GFP, 514 nm/bandpass 525-555 nm for YFP, 561 nm/bandpass 575-630 nm for RFP and mCherry, and 488 nm/band-pass 650-710 nm for chloroplast autofluorescence. The images are presented as 3D maxima intensity projected stacks processed with LSM 510 version 4.2 (Zeiss).
Table 4
Primers used for the construction of fluorescence protein fusion
Gene

Primer No.

Sequence

GFP

OnTI1

1894

AAAAAGCAGGCTTCATGGAGTTCATCAAAGCAAAG

2129

AGA AAGCTGGGTCAGGAGTACACTTTTTAT

YFP

OnTI1

1894

AAAAAGCAGGCTTCATGGAGTTCATCAAAGCAAAG

1895

AGAAAGCTGGGTCTTAAGGAGTACACTTTTTATC

OnTI2

1892

AAAAAGCAGGCTTCATGGAGCTCATCAAATCATCA

1893

AGAAAGCTGGGTCTTAATTACTAGTACATTTATT

OnTI3

2124

AAAAAGCAGGCTTCATGGAGTTCATCAAA

2125

AGAAAGCTGGGTCTTAAGGAGTACACTGTT

OnExpansin

1898

AAAAAGCAGGCTTCATGACACCATCCCTCTTCCTC

1899

AGAAAGCTGGGTCTCAAAACTGCGCGCCCTCGAA

OnDRRP

1896

AAAAAGCAGGCTTCATGGCTTCCTTCTCCTTCTCT

1897

AGAAAGCTGGGTCCTAATTGTTGTTAAAGACAAC
Promoter study
Promoters were amplified using PCR incorporating
Onc
. GR genomic DNA as the template. Primer information is given in Table
5
. Using Gateway Technology (Invitrogen), products were cloned into pDONR221 using Gateway BP Clonase II Enzyme Mix (Invitrogen) and cloned into the binary vector, pHGWFS7 vector, which has a GFP-GUS reporter gene [
44
], using Gateway LR Clonase II Enzyme Mix (Invitrogen). These plasmids were co-transformed with a reference control, pJD301, containing the luciferase gene driven by the CaMV 35S promoter [
45
] into the
Onc
. GR lips and leaves using bombardment transformation. For histochemistry, bombarded tissues were transferred to a reagent containing 0.1 M phosphate buffer (pH 7.0), 0.5 mM potassium ferricyanide, 0.5 mM potassium ferrocyanide, 0.1% Triton X-100, 10 mM EDTA, 20% (v/v) methanol and 1 mM 5-bromo-3-indolyl-glucuronide (Sigma). The tissues were incubated overnight at 37°C and cleared using 70% (v/v) ethanol.
Table 5
Primers used in the promoter study.
| Gene | Prom. size | Forward primer | Reverse primer |
| --- | --- | --- | --- |
| OnTI1 | 1913 | AAAAAGCAGGCTGTCGACAAAGCCCAATTCATTCCAGT | AGAAAGCTGGGTCATCTAAAGTGATTGTGAGGA |
| | 1340 | AAAAAGCAGGCTTTCATGTTAACAACCATC | AGAAAGCTGGGTCATCTAAAGTGATTGTGAGGA |
| | 920 | AAAAAGCAGGCTCAACTTCATTTACTGTAGCTC | AGAAAGCTGGGTCATCTAAAGTGATTGTGAGGA |
| | 740 | AAAAAGCAGGCTTGAAAAATTGTGAG | AGAAAGCTGGGTCATCTAAAGTGATTGTGAGGA |
| | 360 | AAAAAGCAGGCTCGGAACTCCACAAG | AGAAAGCTGGGTCATCTAAAGTGATTGTGAGGA |
| OnExpansin | 1027 | AAAAAGCAGGCTGCCCCAAATGACACCTTA | AGAAAGCTGGGTCATTGTTAAGAGTTAGAATTTG |
| | 882 | AAAAAGCAGGCTCTCCTATTGCACCCATTTTC | AGAAAGCTGGGTCATTGTTAAGAGTTAGAATTTG |
| | 746 | AAAAAGCAGGCTTGATTCAACCCATTC | AGAAAGCTGGGTCATTGTTAAGAGTTAGAATTTG |
| | 569 | AAAAAGCAGGCTTGCACAGAGGCAAACATATATTT | AGAAAGCTGGGTCATTGTTAAGAGTTAGAATTTG |
| | 334 | AAAAAGCAGGCTCAACGCAAGTTAACC | AGAAAGCTGGGTCATTGTTAAGAGTTAGAATTTG |
| | 133 | AAAAAGCAGGCTCAGCATGTGCACTTCCACCT | AGAAAGCTGGGTCATTGTTAGAGTTAGAATTTG |
| OnTI2 | 1151 | AAAAAGCAGGCTAAACAAGCTTCTCCCCCTTTGT | AGAAAGCTGGGTCATCTTAATAATTAGCTTGTTG |
| OnDRRP | 1024 | AAA AAG CAG GCT AGG AAG GAC ACA CAA CTT | AGA AAG CTG GGT CAT TAG AGA GTA GGA GGT |
To measure luciferase and GUS activities, 0.4 g of tissue was ground in a mortar after liquid nitrogen treatment. A volume of 1 ml of 1× CCLR Buffer (Promega, Madison, WI, USA) was added to the powder and incubated at room temperature for 5 min. The solution was centrifuged at 18,000 × g for 5 min and the supernatant collected for further measurements. Luciferase activity was determined using luciferase assay reagent (Promega). GUS-specific activities were determined using 2 mM of 4-methylumbelliferone glucoronide substrate [14].
Transcription binding sites and tandem repeats were analyzed using the Plant Promoter Analysis Navigator [46].
Declarations
Acknowledgements
We thank Dr. Yu-Yun Chang for helpful discussions and Dr. Heiko Kuhn and Ms. Miranda Loney for editing the manuscript. This work was supported by the Development Program of Industrialization for Agricultural Biotechnology (to MTC and CSL), the Taiwan Seed Improvement and Propagation Station (to CSL) and Academia Sinica (to MTC and CSL) Taiwan.
Authors' Affiliations
(1)
Agricultural Biotechnology Research Center, Academia Sinica, Taipei, Taiwan
(2)
Scientific Instrument Center, Academia Sinica, Taipei, Taiwan
(3)
Institute of Plant and Microbial Biology, Academia Sinica, Taipei, Taiwan
(4)
Institute of Molecular Biology, Academia Sinica, Taipei, Taiwan
(5)
Institute of Biotechnology, National Chung Hsing University, Taichung, Taiwan
(6)
Academia Sinica Biotechnology Center in Southern Taiwan, Tainan, Taiwan
Copyright
© Hsu et al; licensee BioMed Central Ltd. 2011
This article is published under license to BioMed Central Ltd. This is an Open Access article distributed under the terms of the Creative Commons Attribution License (http://creativecommons.org/licenses/by/2.0), which permits unrestricted use, distribution, and reproduction in any medium, provided the original work is properly cited.