Research article
Open Access
Characterisation of the legume SERK-NIKgene superfamily including splice variants: Implications for development and defence
BMC Plant Biology
2011
11:44
Received: 18 October 2010
Accepted: 9 March 2011
Published: 9 March 2011
Abstract
Background
SOMATIC EMBRYOGENESIS RECEPTOR-LIKE KINASE (SERK) genes are part of the regulation of diverse signalling events in plants. Current evidence shows SERK proteins function both in developmental and defence signalling pathways, which occur in response to both peptide and steroid ligands. SERKs are generally present as small gene families in plants, with five SERK genes in Arabidopsis. Knowledge gained primarily through work on Arabidopsis SERKs indicates that these proteins probably interact with a wide range of other receptor kinases and form a fundamental part of many essential signalling pathways. The SERK1 gene of the model legume, Medicago truncatula functions in somatic and zygotic embryogenesis, and during many phases of plant development, including nodule and lateral root formation. However, other SERK genes in M. truncatula and other legumes are largely unidentified and their functions unknown.
Results
To aid the understanding of signalling pathways in M. truncatula, we have identified and annotated the SERK genes in this species. Using degenerate PCR and database mining, eight more SERK-like genes have been identified and these have been shown to be expressed. The amplification and sequencing of several different PCR products from one of these genes is consistent with the presence of splice variants. Four of the eight additional genes identified are upregulated in cultured leaf tissue grown on embryogenic medium. The sequence information obtained from M. truncatula was used to identify SERK family genes in the recently sequenced soybean (Glycine max) genome.
Conclusions
A total of nine SERK or SERK-like genes have been identified in M. truncatula and potentially 17 in soybean. Five M. truncatula SERK genes arose from duplication events not evident in soybean and Lotus. The presence of splice variants has not been previously reported in a SERK gene. Upregulation of four newly identified SERK genes (in addition to the previously described MtSERK1) in embryogenic tissue cultures suggests these genes also play a role in the process of somatic embryogenesis. The phylogenetic relationship of members of the SERK gene family to closely related genes, and to development and defence function is discussed.
Keywords
Somatic EmbryogenesisSoybean GenomeIntron RetentionFull Length Code SequenceNuclear Shuttle Protein
Background
The plant receptor-like kinases (RLKs) are a large group of signalling proteins in plants, and are a fundamental part of plant signal transduction. In Arabidopsis the RLK family contains more than 600 members, constituting 60% of kinases, including almost all of the transmembrane kinases [1]. The position of RLKs in the plasma membrane, with an extracellular receptor domain and an intracellular kinase domain, makes them well suited to the task of perceiving a signal external to the cell and conducting that signal into the cell in order to elicit a response. In addition to RLKs there are a number of receptor-like proteins (RLPs). These proteins contain an extracellular domain similar to a RLK but lack the intracellular kinase domain [2]. Based on the criteria of extracellular domain structure and kinase domain phylogeny, RLKs are divided into subfamilies [1]. The SOMATIC EMBRYOGENESIS RECEPTOR-LIKE KINASE (SERK) gene family belong to the leucine-rich repeat (LRR) subfamily of RLKs. These RLKs contain varying numbers of LRRs in their extracellular receptor domain. SERK genes belong to subgroup II (LRRII) and contain five LRR domains [1].
The family has been defined according to several factors. The first is the presence of 11 exons with conserved splicing boundaries and the tendency for each exon to encode a specific protein domain. Secondly the SERK amino acid sequence contains a particular order of domains from N to C-terminal: Signal peptide (SP), leucine zipper (ZIP), 5 LRRs, a proline-rich domain (SPP), transmembrane, kinase and C-terminal domains. The SPP domain, containing the SPP motif and the C-terminal domain are considered to be the characteristic domains of SERK proteins [3, 4]. Although this is largely correct for annotated SERK genes there is some divergence from the set criteria. The Arabidopsis NIK (NSP interacting kinase) genes share many similarities with SERK genes. NIK genes are so named because of their function in signalling during virus infection [5, 6]. They are described as interacting with the Nuclear Shuttle Protein (NSP) domain of the virus.
The first SERK genes identified were linked to competence of cultured cells to form somatic embryos in carrot (Daucus carota), orchard grass (Dactylis glomerata) and Arabidopsis thaliana species [3, 7, 8]. Since that time SERK gene expression has been associated with somatic embryogenesis (SE) and organogenesis in numerous species [9–19]. In Arabidopsis five SERK genes have been identified [3] (AtSERKs 1-5) and the gene functioning in SE is AtSERK1 (locus At1g71830). As understanding of the roles of the different members of the SERK gene family has increased, it has become apparent that these genes function in diverse signalling pathways with roles from development to defence. The Arabidopsis SERK gene family is subdivided into two subfamilies, generated from an ancestral gene duplication event. The first subfamily consists of AtSERKs 1 and 2 (SERK1/2) and the second subfamily, AtSERKs 3, 4 and 5 (SERK3/4/5) [3, 20, 21].
AtSERK1 is required in conjunction with AtSERK2 for anther development and male gametophyte maturation, with double mutants lacking a tapetal layer and failing to develop pollen [22, 23]. AtSERK1 and AtSERK3 (also called BRI1-associated kinase1 (BAK1)) function in brassinosteroid (BR) signal transduction as components of the BR receptor complex, through dimerization with brassinosteroid-insensitive 1 (BRI1) kinase [24–26]. Both AtSERK3 and AtSERK4 (also called BAK1-LIKE 1 (BKK1)) have been linked to programmed cell death, which can function in both developmental and pathogen defence roles [20, 27]. What has emerged from studies of Arabidopsis SERK signalling is that these genes have a tendency to be redundant in pairs with different pairs working in different pathways. Therefore single SERK gene mutants show weak or no phenotype as a second SERK gene can complement their function. Different combinations of SERK genes act in different pathways and these combinations vary according to the pathway. For instance, AtSERK1 and 2 can complement each other in anther development, where AtSERK3 is shown not to function [21]. However, AtSERK1 and 3 function together in BR signalling, and AtSERK3 and 4 are redundant in the programmed cell death pathway. So far a function for AtSERK5 is not known.
In defence responses, AtSERK3/BAK1 functions in pathogen-associated molecular pattern (PAMP)-triggered immunity through heterodimerization with the Flagellin sensing 2 (FLS2) receptor kinase in response to binding by the bacterial PAMP, flagellin [28, 29]. A rice SERK, OsSERK1, shows activity in both somatic embryogenesis and fungal defence [30]. The concept of a receptor functioning in both development and pathogen response pathways is reminiscent of the TOLL receptor of Drosophila, also an LRR protein, which is a controlling factor in both embryo development and immunity [28]. Similarly ERECTA in Arabidopsis functions in inflorescence and fruit development as well as pathogen resistance [31].
The ability of AtSERKs to be essential to a number of diverse pathways, receptive to both peptide and steroid ligands, poses the question as to how these similar proteins can show such diversity of function. One possibility is that they are not the primary ligand-binding receptor protein, but instead dimerize with other RLK proteins that are specifically targeted to the one response pathway; for example, the BRI1 RLK in the case of BR signalling, or the FLS2 RLK in immune response to bacterial infection [32]. There is also evidence that AtSERK proteins may function in the process of endocytosis of the active receptor complex following ligand binding [28, 33, 34].
In the model legume M. truncatula we have studied MtSERK1 in relation to SE and other aspects of development [9, 35] but no additional information is available in legumes on other members of the SERK family. Legume species comprise some of the world's essential crops for both human and animal nutrition, as a source of biofuels and are of ecological importance due to their ability to form symbiotic relationships with Rhizobium species and fix atmospheric nitrogen [36]. In this study we have identified members of the SERK family in M. truncatula and soybean (Glycine max) and analysed their phylogeny in relation to development and defence. In the case of MtSERK3 a number of transcripts have been identified by PCR, consistent with the presence of splice variants, and this is discussed in relation to MtSERK3 function.
Results
SERK genes identified in M. truncatula
Using degenerate PCR from various tissues and database mining we identified eight putative
SERK
genes in
M. truncatula
, in addition to the already characterized
MtSERK1
(Table
1
). Degenerate PCR did not detect any
SERK
-like sequences that were not also found using database searches. Based on our analysis these genes were named
MtSERK 2-6
and
MtSERK-like 1-3
(
MtSERKL 1-3
). Five of the genes had one or two corresponding tentative consensus (TC) or EST sequences on the DFCI Medicago gene index (
http://compbio.dfci.harvard.edu/tgi/cgi-bin/tgi/gimain.pl?gudb=medicago
; shown in Table
1
) but none of these represented full length coding sequences. The remaining three genes (
MtSERK3, MtSERK4 and MtSERK6
) matched genomic DNA sequences but had no corresponding ESTs. Of the eight predicted genes, five (
MtSERKs 2-6
) occur in tandem over a 33 Kb region on chromosome 2 (genomic sequence from GenBank accession numbers AC195567 and AC187356). The other three occur on chromosomes 3, 5 and 8 (genomic sequences from GenBank accession numbers CT967306, CT025841 and AC126784 repectively; Table
1
). PCR amplification of cDNA from various tissues and sequencing were used to obtain the full length coding sequence of each of the eight identified genes. For one of these genes, seven different cDNA sequences were amplified using nested PCR and sequenced. The presence of these different sequences is consistent with the presence of splice variants. Blastp searches of all of the predicted amino acid sequences of the putative
SERK
genes on the NCBI database
http://www.ncbi.nlm.nih.gov
showed
MtSERKs 2-6
have high similarity to
AtSERK3
. The other three
MtSERKL
genes are similar to
SERKs
from various species, but in Arabidopsis,
MtSERKL1
and
MtSERKL2
are more similar to
NIK
genes. The homology of the
M. truncatula
SERK and SERKL sequences with each other and with Arabidopsis SERK and NIK sequences is shown in Additional file
1
.
Table 1
SERK and SERKL genes identified in M. truncatula
Gene name

Genomic identifier

Chr

TC/EST

identified

Current TC number

No of ESTs on DFCI

Deg

PCR

Matching

probeset ID

on MtGI

Chr Pos

(Kbp)

Gene loci

(Medtr-)

SV

GenBank

Number

Protein length

MW

pI

MtSERK1

AY162177

0

TC142011

10

yes

Mtr.43625.1.S1_at

AY162176

627

69140.3

5.48

MtSERK2

AC195567 AC187356

2

TC100619

TC97176

TC150247

5

yes

Mtr.37421.1.S1_at

1603.3-1609.6

2g008470

2g008480

HM640001

619

68538.8

5.47

MtSERK3

AC195567

AC187356

2

0

no

none present

1610.0 - 1616.1

2g008490

2g008500

SV1

HM640008

586

65127.2

5.12

SV2

HM769882

271

29246.0

4.98

SV3

HM769883

562

62537.2

5.20

SV4

HM769884

247

26656.1

5.22

SV5

HM769885

154

16964.2

4.59

SV6

HM769886

154

16964.2

4.59

SV7

HM769887

154

16964.2

4.59

MtSERK4

AC195567

AC187356

2

0

no

none present

1615.7-1621.4

2g008510

HM640002

615

67882.3

5.50

MtSERK5

AC195567

2

TC104947

TC110830

TC155497

TC151948

8

yes

Mtr.39468.1.S1_at

Mtr.11713.1.S1_at

1622.7-1628.9

2g008520

HM640003

620

68615.9

5.61

MtSERK6

AC195567

2

0

no

none present

1629.2-1636.2

2g008530

2g008540

HM640004

642

70720.3

5.41

MtSERKL1

AC126784

8

CB891120

TC143055

4

no

Mtr.15874.1.S1_s_at Mtr.15874.1.S1_at

35000.0-35005.0

8g144660

HM640005

640

70293.2

6.66

MtSERKL2

CT025841

5

TC109616

TC150718

5

no

Mtr.41552.1.S1_at

14476.6-14481.4

5g035120

HM640006

625

69142.3

6.86

MtSERKL3

CT967306

3

TC97017

TC166655

10

no

Mtr.44258.1.S1_at

24728.8-24736.2

3g101870

HM640007

609

68019.8

5.64
In order to determine the chromosomal position of each gene genomic full-length coding sequences plus several hundred bases 5' and 3' of each gene were used for a CViT blast search of the M. truncatula pseudomolecule: MT3.0 database. Each of the Medicago SERK and SERKL genes, except for MtSERK1, showed 100% match to the database, and the position of these is shown in Table 1. MtSERK1 is not present on this database, with its closest match corresponding to part of MtSERK2 sequence on chromosome 2. The gene loci numbers are also shown in Table 1, with MtSERKs2, 3 and 5 each occupying two loci.
Predicted motifs in Medicago genes and comparison with Arabidopsis SERKs
The positions of the different SERK domains in Arabidopsis SERKs are indicated above the sequence alignment in Figure
1
. All of the
M. truncatula
sequences except for MtSERK3 have a predicted signal peptide. MtSERK3 is predicted to be secreted in a non-classical manner. The consensus sequence of a leucine zipper Leu-X
6
-Leu-X
6
-Leu-X
6
-Leu, where X is any residue [
37
] is present in MtSERKs 1, 2, 5 and 6. It is absent in the remaining
M. truncatula
SERK-like proteins and is also absent in Arabidopsis SERKs 4 and 5 as well as the three Arabidopsis NIKs. All of these proteins have partial leucine zipper sequences, with the first Leu-X
6
-Leu sequence intact, but lack other conserved leucines and/or have extra residues between conserved leucines (Figure
1
). The positions of the five SERK LRRs are indicated in Figure
1
. There is good alignment of the LRRs with the exception of LRR 5 in the three Medicago SERKL proteins. The SPP domain is not well conserved. The SERK-characteristic SPP motif, highlighted yellow in Figure
1
is not present in all SERK proteins with AtSERKs 4 and 5 lacking this motif. In
M. truncatula
the SPP motif is present in MtSERKs 1, 2, 4 and 5, but is lacking in the other proteins. The Medicago SERKL proteins show the least amount of homology in this domain. All of the
M. truncatula
sequences contain predicted transmembrane and kinase domains. The genomic structure of each of the
M. truncatula SERK
and
SERKL
genes and the relative positions of the
SERK
genes on chromosome 2 are shown in Figure
2
. Each of the genes contains 11 exons which is characteristic of
SERK
genes. The gene encoding several putative splice variants is
MtSERK3
. One of the splice variants contains the usual
SERK
exon structure with eleven exons as shown in Figure
2
. The main variation in the gene structure between the different
M. truncatula
genes is in the length of the introns.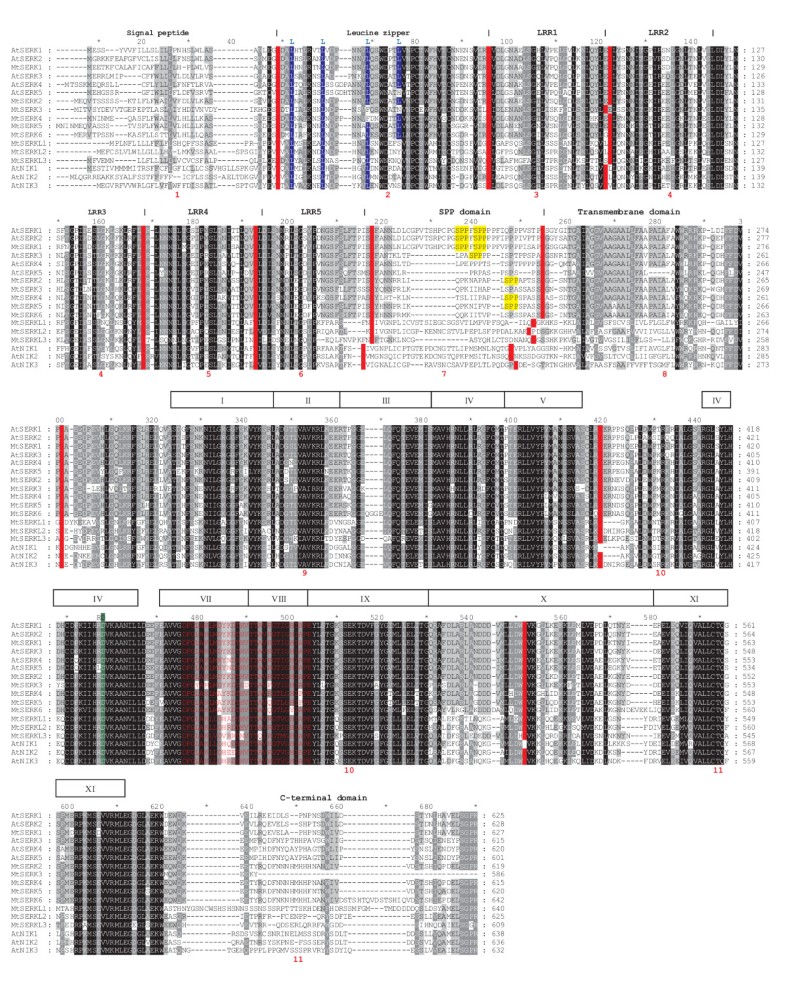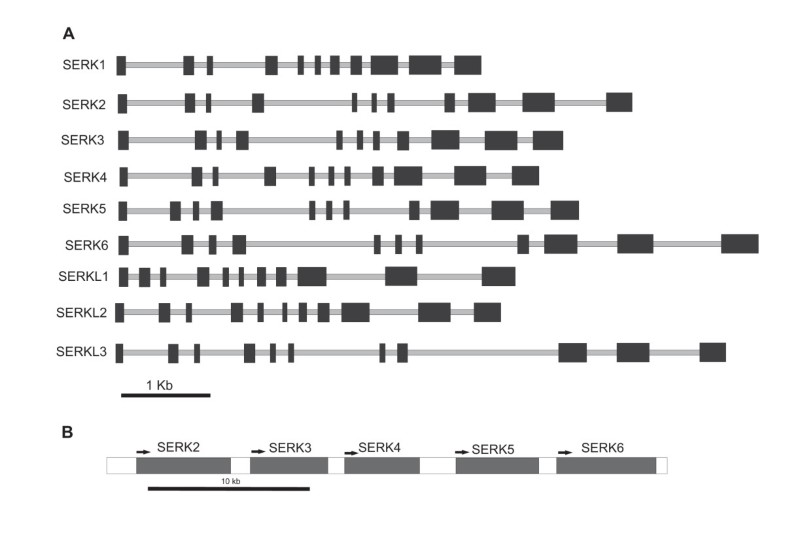 Another characteristic of SERK genes is conservation of exon boundary sites with the tendency for different protein domains to be encoded by separate exons [4]. The positions of each exon boundary site in each sequence are shown in Figure 1. Each of the M. truncatula sequences identified and the Arabidopsis NIKs have similar boundary sites to the Arabidopsis SERKs, with the exception of AtNIK1, which is missing two boundary sites, with a single exon encoding the equivalent of exons 9, 10 and 11 in the other genes. The boundaries of greatest divergence occur between exons 6/7 and 7/8. Exons 6, 7 and 8 encode LRR5, the SPP and the transmembrane domains respectively.
SERKgene prediction from the soybean genome
Soybean (Glycine max) has three genes annotated as SERK genes on the NCBI database. However two of these sequences (GenBank numbers EU869193 and FJ014794) are sequences from the same gene. The other sequence is Genbank number EU888313. There is also one annotated NIK gene in soybean (GenBank number FJ014718). To identify other putative SERK and SERK-like genes in soybean, the mRNA sequences of the M. truncatula SERK and SERK-like genes were blasted against the genomic sequence of soybean. Fourteen more SERK-like genomic sequences were obtained, and from these mRNA and amino acid sequences were predicted.
Phylogenetic analysis of legume SERKgenes
A phylogenetic tree was constructed from the predicted amino acid sequences of the
M.truncatula SERK
and
SERK
-like genes, the three soybean
SERK
and
NIK
genes present in the database and the fourteen soybean genes predicted from the soybean genome sequence. Also included in the tree are all LRRII subgroup RLK-LRR genes from Arabidopsis and SERKs from the NCBI database representing full length AA sequences from a number of other plant species (Figure
3
). As indicated by the blast searches some of the
M. truncatula
sequences form a clade with the known SERKs. MtSERKL1 and MtSERKL2 fall into a clade with the soybean and Arabidopsis NIKs. Sequences of four of the predicted soybean genes also fall in the NIK clade. One Medicago sequence, MtSERKL3, along with three Arabidopsis sequences and four of the predicted soybean sequences form a clade that is separate from the SERK and NIK clades (Labelled "Other" in Figure
3
). The four non-Arabidopsis, non-legume sequences that fall in the NIK clade (Pt1, Os1, PpSERK1 and PpSERK2 in Figure
3
) have been annotated as SERKs in the literature and/or on the NCBI database. This phylogenetic analysis shows that the five sequences from chromosome 2 that have been named as MtSERK2-6 are part of the SERK3/4/5 family clade, with MtSERK1 the only
M. truncatula
sequence in the SERK1/2 subfamily. One known and two predicted soybean sequences fall into the SERK1/2 subfamily. One known and four predicted soybean sequences fall into the SERK3/4/5 subfamily. Together the phylogenetic and exon boundary results indicate high similarity between the
SERK
and
NIK
genes. The
M. truncatula
sequences have been deposited on the NCBI database (For GenBank numbers see Table
1
).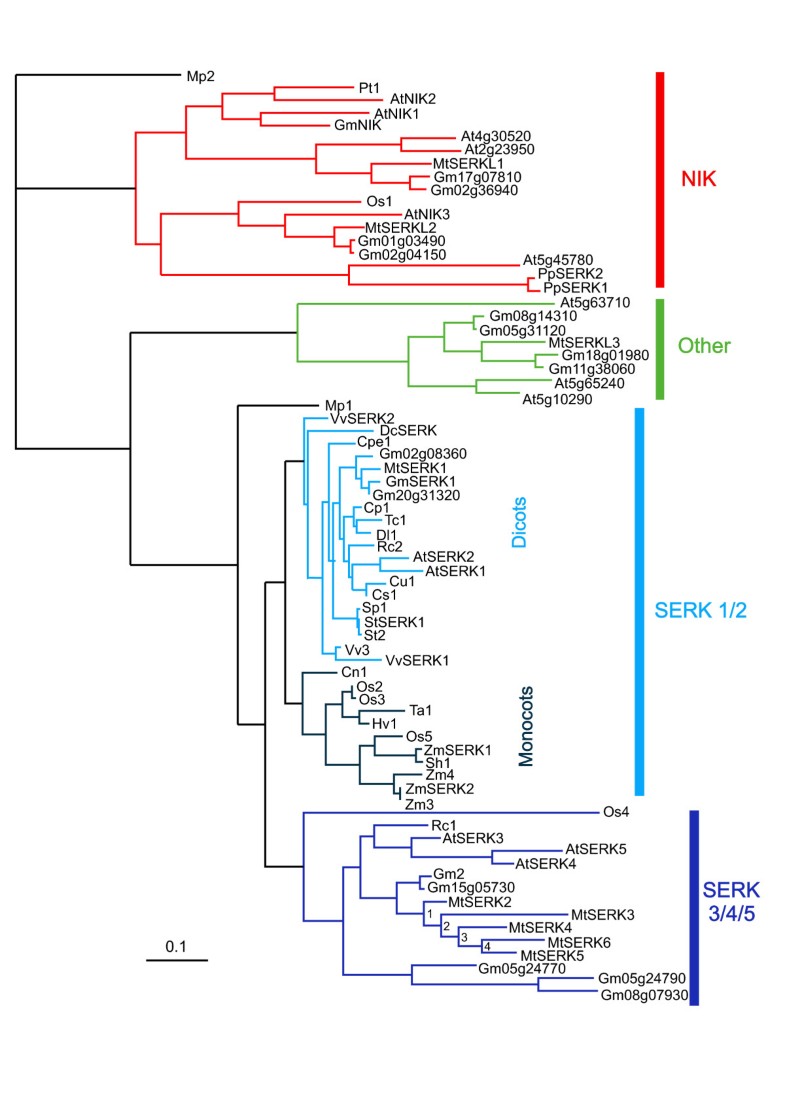 In the SERK3/4/5 subfamily, two soybean genes lie adjacent on chromosome 5, (Glyma05g24770 and Glyma05g24790) but there is not a region with five genes in tandem as is found on chromosome 2 in M. truncatula. Lotus japonicus is more closely related to M. truncatula than soybean [38]. A search of the database revealed only one Lotus predicted gene similar to the Medicago SERK3/4/5 genes. This gene occurs on chromosome 6 (Genbank accession number AP006424), which is syntenic to M. truncatula chromosome 2 [39]. This Lotus genomic DNA sequence showed sequence homology with all five Medicago SERK3/4/5 genes, with some sequence homology in introns and in 5' and 3' untranslated regions, as well as in exons. These results, combined with the fact that no other potential sequences were found in the Lotus genome, indicate that the single SERK gene region on Lotus chromosome 6 probably corresponds to the five SERK gene region on M. truncatula chromosome 2. These five SERK genes in Medicago may have duplicated since it diverged from Lotus. At this point it is unknown whether legumes closely related to Medicago also have replication of this SERK gene as there is as yet no sequence information. The intron sequences of the five replicated M. truncatula genes were used to estimate the times of duplication of these genes. It is estimated that duplication events occurred at 3.25, 3.05, 2.65 and 2.2 million years ago as indicated in Figure 3.
MtSERK3transcripts
PCR analysis suggested a total of seven different transcripts consistent with seven splice variants of
MtSERK3
. The differences observed between the splice variants is that they either include an intron or introns in their sequence and/or are missing exon 3 (Figure
4
). Introns that are included as exons are introns 5, 6 and 8, either alone or in combination. Each of these intron sequences introduces a stop codon thereby creating a truncated coding sequence. Splice variant (SV) 1 has the structure of a normal
SERK
gene, containing 11 exons. SV3 is also full length except it lacks exon 3, which encodes the first LRR. SV2 and SV4 retain intron 8, with SV4 also lacking exon 3. The remaining three splice variants lack exon 3 and retain intron 5 and its associated stop codon. SV5 and SV6 retain intron/s after intron 5, but the three SVs 5-7 encode the same protein sequence. Together the seven SVs encode five predicted proteins. Although five of the SV sequences contain stop codons in introns 5 or 8, the transcript continues through the remaining coding sections found in a typical
SERK
gene. In these sequences a second possible transcript occurs with a predicted start codon in exon 9 in the region encoding subdomain IV of the the kinase domain. This sequence continues through to the position of the stop codon in exon 11 of SV1 (usual SERK gene structure). This was confirmed by sequencing in SVs 4, 5, 6 and 7. In SV2, sequence data was not obtained for sequence corresponding to most of exon 10 and exon 11.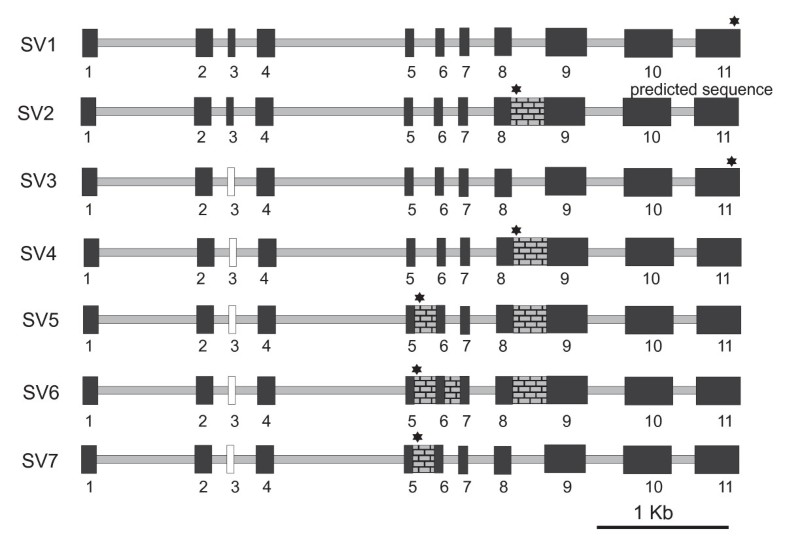 Although the MtSERK3 gene contains the typical 11 exon SERK genomic structure and SV1 has characteristics of a typical SERK transcript, there are some features that distinguish this gene from other SERKs. The first feature is the absence of a predicted signal peptide and the second is a truncated C-terminal domain, with the coding sequence terminating just after the kinase domain (Figure 1).
Expression of Medicago SERKsduring the induction of somatic embryogenesis in culture
The apparent recent duplications of an ancestral gene to create the five
SERK
genes on chromosome 2 raised the question of whether or not the five Medicago genes are redundant in function of whether they have developed divergent functions. Our previous work showed that
MtSERK1
expression is induced in somatic embryo-forming and root forming cultures [
9
] and we were interested to know if other
SERK
genes played a role in SE. Quantitiative RT-PCR (qPCR) expression studies were conducted on these five
MtSERKs
in cultured
M. truncatula
tissue. Relative expression was compared over a four-week time course in cultured leaf tissue from both the embryogenic 2HA seedline and the non-embryogenic Jemalong seedline (Figure
5
). The expression of
MtSERK3
was measured using primers that would amplify all putative splice variants of this gene. Therefore expression shown is the sum expression of all splice variants. Like
MtSERK1
,
MtSERKs 3-6
are upregulated within the first week of culture and show similar expression in both the embryogenic 2HA and non-embryogenic Jemalong genotypes. These results show that
MtSERK1
is not the only
SERK
gene induced in culture at the time of induction of SE.
MtSERKs 3
and
5
are upregulated four to five-fold over expression in the starting leaf material and remain relatively high over the four weeks. This is a similar expression pattern to that observed for
MtSERK1
[
9
]. However, as the expression results for
MtSERK3
do not distinguish between splice variants, it is not known which or how many splice variants contribute to these expression levels. Expression of
MtSERK4
and
6
are more significantly upregulated (12-20 fold) within the first week of culture, then the expression decreases slightly (but not significantly) over the culture time measured. The variation in expression pattern between
MtSERK2
and the other replicated
SERK
genes indicate some differences in function.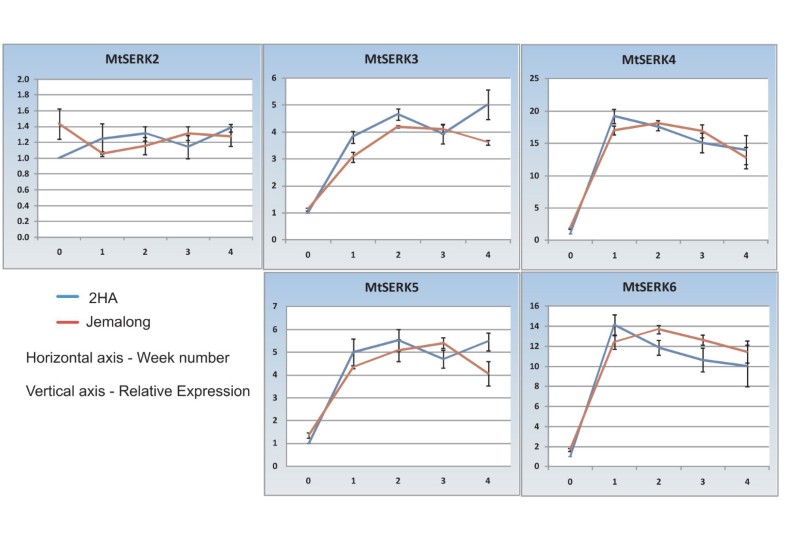 Conclusions
In this study we have identified and sequenced the mRNAs of five more SERK and three SERK-like genes in M. truncatula, and used these sequences to identify homologous genes in soybean. Phylogenetic analysis shows that some of these genes fall distinctly in the SERK family, while others are SERK-like which include NIK genes and other LRRII subgroup RLK-LRR family members. The M. truncatula SERK3/4/5 subfamily genes have undergone a gene duplication event that is not present in orthologous genes in soybean or Lotus. One of these duplicated genes apparently encodes a number of sequences, consistent with the existence of splice variants, which is a novel finding for a SERK gene. The gene duplication event and the presence of splice variants may be indicative of a role in defence, similar to that observed in NBS-LRR genes. Other members of this replicated SERK3/4/5 gene cluster are upregulated in embryogenic tissue cultures implying a similar developmental role to that previously observed for MtSERK1 [9, 35].
Declarations
Acknowledgements
Funding from ARC Centre of Excellence Grant CEO348212 (RR). We thank Mark Rowland and Sam Zhang for technical assistance.
Authors' Affiliations
(1)
Australian Research Council Centre of Excellence for Integrative Legume Research, School of Environmental and Life Sciences, The University of Newcastle, University Dr. Callaghan, NSW, Australia
Copyright
© Nolan et al; licensee BioMed Central Ltd. 2011
This article is published under license to BioMed Central Ltd. This is an Open Access article distributed under the terms of the Creative Commons Attribution License (http://creativecommons.org/licenses/by/2.0), which permits unrestricted use, distribution, and reproduction in any medium, provided the original work is properly cited.