Research article

Open Access
Parthenocarpic potential in Capsicum annuumL. is enhanced by carpelloid structures and controlled by a single recessive gene
BMC Plant Biology
2011
11:143
Received: 24 June 2011
Accepted: 21 October 2011
Published: 21 October 2011
Abstract
Background
Parthenocarpy is a desirable trait in Capsicum annuum production because it improves fruit quality and results in a more regular fruit set. Previously, we identified several C. annuum genotypes that already show a certain level of parthenocarpy, and the seedless fruits obtained from these genotypes often contain carpel-like structures. In the Arabidopsis bel1 mutant ovule integuments are transformed into carpels, and we therefore carefully studied ovule development in C. annuum and correlated aberrant ovule development and carpelloid transformation with parthenocarpic fruit set.
Results
We identified several additional C. annuum genotypes with a certain level of parthenocarpy, and confirmed a positive correlation between parthenocarpic potential and the development of carpelloid structures. Investigations into the source of these carpel-like structures showed that while the majority of the ovules in C. annuum gynoecia are unitegmic and anatropous, several abnormal ovules were observed, abundant at the top and base of the placenta, with altered integument growth. Abnormal ovule primordia arose from the placenta and most likely transformed into carpelloid structures in analogy to the Arabidopsis bel1 mutant. When pollination was present fruit weight was positively correlated with seed number, but in the absence of seeds, fruit weight proportionally increased with the carpelloid mass and number. Capsicum genotypes with high parthenocarpic potential always showed stronger carpelloid development. The parthenocarpic potential appeared to be controlled by a single recessive gene, but no variation in coding sequence was observed in a candidate gene CaARF8.
Conclusions
Our results suggest that in the absence of fertilization most C. annuum genotypes, have parthenocarpic potential and carpelloid growth, which can substitute developing seeds in promoting fruit development.
Keywords
Outer IntegumentLanolinSingle Recessive GeneParthenocarpic FruitSeedless Fruit
Background
Pollination and fertilization are required in most flowering plants to initiate the transition from a fully receptive flower to undergo fruit development. After fertilization the ovules develop into seeds and the surrounding carpels develop into the fruit, while in the absence of fertilization the ovules degenerate and growth of the surrounding carpels remains repressed [1]. The initiation of fruit set can be uncoupled from fertilization, and this results in the development of seedless or parthenocarpic fruits. This can be achieved by ectopic application or artificial overproduction of plant hormones [1], or by mutating or altering the expression of specific genes. In Arabidopsis, the fruit without fertilization (fwf) mutant that develops parthenocarpic fruit [2] has a lesion in the AUXIN RESPONSIVE FACTOR 8 (ARF8) gene [3]. Expression of an aberrant form of Arabidopsis ARF8 also conferred parthenocarpy in Arabidopsis and tomato, indicating ARF8 as an important regulator in the control of fruit set [4]. Mapping of a parthenocarpic QTL in tomato further suggests a role for ARF8 in fruit set [5].
Fruit set is normally initiated by two fertilization events occurring in the ovules. Ovules are complex structures found in all seed bearing plants, comprising protective integuments that surround the megagametophyte leaving an opening referred to as the micropyle. When the pollen tube successfully enters the micropyle of the mature ovule, it releases two sperm cells that combine with respectively the egg cell and the central cell. These sites of cell fusion are considered as primary locations from where signalling triggers fruit set [1, 6]. After fertilization, the integuments grow and expand to accommodate the developing endosperm and embryo, but they also apparently have a role in coordinating the growth of both fruit and seeds [1]. Various Arabidopsis mutants have been identified where ovules show disrupted integument growth, such as aintegumenta (ant; lacks inner and outer integuments), aberrant testa shape (ats; contains a single integument), inner no outer integument (ino; the absence of outer integument growth on the ovule primordium), short integuments1 (sin1; where both integuments are short), and bel1 and apetala2 (ap2) [7–12]. In the latter two loss-of-function mutants ovule integuments are converted into carpelloid structures [11–13]. Interestingly, two specific mutants have been reported to affect parthenocarpic fruit development of the Arabidopsis fwf mutant. Firstly, the ats-1/kan4-1 loss-of-function mutation enhances the fwf parthenocarpic phenotype, suggesting that modification of the ovule integument structure influences parthenocarpic fruit growth [2]. Secondly, parthenocarpic fruit development was also enhanced in the bel1-1 fwf-1 double mutant, and at the same time a higher frequency of carpelloid structures was observed compared to the bel1-1 single mutant [14]. This suggests on the one hand that carpelloid structures enhance parthenocarpic fruit development, and on the other hand that the development of carpelloid structures is enhanced in the absence of seed set [14].
Parthenocarpy is a desired trait in Capsicum annuum (also known as sweet pepper), as it is expected to minimize yield fluctuations and enhance the total fruit production while providing the inclusion of a quality trait [15]. Research into the developmental and genetic basis for parthenocarpy in C. annuum is limited. Several C. annuum genotypes have been identified that show tendencies for facultative parthenocarpic fruit development [16]. Seedless fruit from these facultative genotypes display a high frequency of carpelloid structures at low night temperatures [16]. To understand the relationship between parthenocarpic potential and the presence of carpelloid structures, we investigated ovule development and the occurrence of abnormal ovules in C. annuum genotypes possessing a range of high (Chinese Line 3), moderate (Bruinsma Wonder) and low (Orlando) potential for parthenocarpic fruit set. Our results show that parthenocarpy in C. annuum can promote carpelloid ovule proliferation and that an appropriate genetic background enhances the transformation of ovules which can in turn further stimulate seedless fruit growth. Five selected genotypes that differed most in their parthenocarpic fruit development and carpelloid ovule growth were evaluated to identify a possible correlation between these two traits. Through genetic analysis with crosses between Line 3 and contrasting parents we linked the parthenocarpic potential of this genotype to a single recessive gene. Furthermore sequence analysis showed that the parthenocarpic potential already present in C. annuum genotypes is not caused by a mutation in CaARF8.
Conclusions
Based on our findings we postulate a model indicating the role of fertility, aberrant ovules and carpelloid growth in parthenocarpic fruit set and development (Figure
6
). Carpelloid development positively reinforces fruit growth, particularly in genotypes showing parthenocarpic potential. Abnormal ovules may convert into carpelloid structures, however, growth of carpelloid structures only becomes prominent in the absence of fertilization, indicating fertility as an important determinant of their development. In agreement with this model, genotype Line 3 showed reduced fertility and developed more carpelloid structures. Upon fertilization, normal seed development occurs, inducing fruit set but possibly suppressing carpelloid proliferation. Facultative parthenocarpy is widely present in
C. annuum
genotypes, and the absence of fertilization allows the parthenocarpic potential to be expressed, and at the same time induces carpelloid proliferation, possibly following the homeotic transformation of abnormal ovules.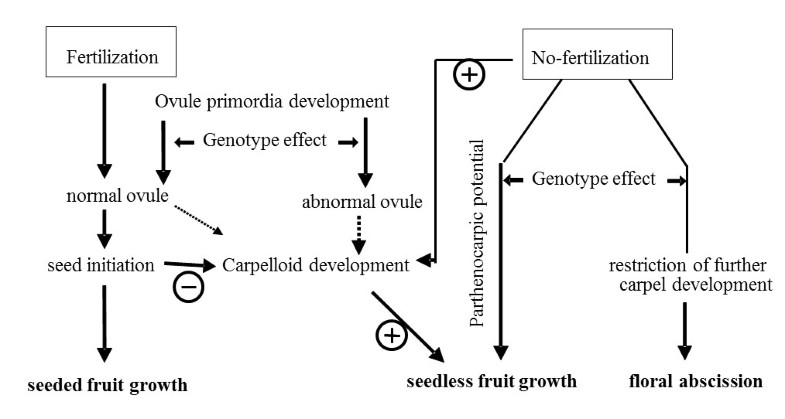 Declarations
Acknowledgements
We thank Hans Dassen, Ceclia Kgomotso Rabosielo and Maarten Peters for help with the greenhouse experiments and Werner Helvensteyn for sequencing. This work was supported by STW grant LB06822 to R.O., E.H. and A.V-S.
Authors' Affiliations
(1)
Horticultural Supply Chains, Plant Sciences Group, Wageningen University, AP Wageningen, The
(2)
Molecular and Developmental Genetics, Institute of Biology, Leiden University, Sylvius Laboratory, BE Leiden, The Netherlands
(3)
Plant Research International, Plant Sciences Group, Wageningen University and Research Center, AA, The Netherlands
(4)
Department of Horticulture, Yangzhou University, Yangzhou, PR China
(5)
Norwegian Forest and Landscape Institute, Ås, Norway
Copyright
© Tiwari et al; licensee BioMed Central Ltd. 2011
This article is published under license to BioMed Central Ltd. This is an Open Access article distributed under the terms of the Creative Commons Attribution License (http://creativecommons.org/licenses/by/2.0), which permits unrestricted use, distribution, and reproduction in any medium, provided the original work is properly cited.