Research article

Open Access
The Vitis vinifera sugar transporter gene family: phylogenetic overview and macroarray expression profiling
BMC Plant Biology
2010
10:245
Received: 16 June 2010
Accepted: 12 November 2010
Published: 12 November 2010
Abstract
Background
In higher plants, sugars are not only nutrients but also important signal molecules. They are distributed through the plant via sugar transporters, which are involved not only in sugar long-distance transport via the loading and the unloading of the conducting complex, but also in sugar allocation into source and sink cells. The availability of the recently released grapevine genome sequence offers the opportunity to identify sucrose and monosaccharide transporter gene families in a woody species and to compare them with those of the herbaceous Arabidopsis thaliana using a phylogenetic analysis.
Results
In grapevine, one of the most economically important fruit crop in the world, it appeared that sucrose and monosaccharide transporter genes are present in 4 and 59 loci, respectively and that the monosaccharide transporter family can be divided into 7 subfamilies. Phylogenetic analysis of protein sequences has indicated that orthologs exist between Vitis and Arabidospis. A search for cis-regulatory elements in the promoter sequences of the most characterized transporter gene families (sucrose, hexoses and polyols transporters), has revealed that some of them might probably be regulated by sugars. To profile several genes simultaneously, we created a macroarray bearing cDNA fragments specific to 20 sugar transporter genes. This macroarray analysis has revealed that two hexose (VvHT1, VvHT3), one polyol (VvPMT5) and one sucrose (VvSUC27) transporter genes, are highly expressed in most vegetative organs. The expression of one hexose transporter (VvHT2) and two tonoplastic monosaccharide transporter (VvTMT1, VvTMT2) genes are regulated during berry development. Finally, three putative hexose transporter genes show a preferential organ specificity being highly expressed in seeds (VvHT3, VvHT5), in roots (VvHT2) or in mature leaves (VvHT5).
Conclusions
This study provides an exhaustive survey of sugar transporter genes in Vitis vinifera and revealed that sugar transporter gene families in this woody plant are strongly comparable to those of herbaceous species. Dedicated macroarrays have provided a Vitis sugar transporter genes expression profiling, which will likely contribute to understand their physiological functions in plant and berry development. The present results might also have a significant impact on our knowledge on plant sugar transporters.
Keywords
Transporter Gene
Sugar Transporter
Vegetative Organ
Hexose Transporter
Sucrose Transporter
Background
In plants, sugars (sucrose, monosaccharides, polyols) are important molecules that constitute not only metabolites but also nutrients, osmotic and signal molecules. In numerous species, sucrose is the most prevalent sugar produced in photosynthetic organs (source) and transported via the phloem over long distances to heterotrophic organs (sink), which depend on a constant supply of carbohydrates [1]. In sink organs, sucrose is either directly imported or cleaved by cell wall-bound invertases into monosaccharides (glucose and fructose), that can be taken up by the sink cells [2]. In some species, sugar alcohols (polyols), such as mannitol, sorbitol and galactinol can also be transported on top of sucrose for long-distance carbon partitioning [3]. In addition to this long-distance transport, sugars can also be allocated in the different organelles of source and sink cells, and more and more biochemical and molecular studies argue for the transport of hexoses into the chloroplast [4] the vacuoles [5], and the Golgi apparatus [6]. Therefore, it is now clearly established that not only the loading and the unloading of the conducting complex, but also the allocation of sugars into source and sink cells is controlled by sugar transporters mediating the transport of sucrose [7–9], reducing monosaccharides [10], or polyols [11–13]. Since the cloning of the first monosaccharide transporter in Chlorella [14], the first sucrose transporter in Spinacia oleracea [15], and the first polyol transporter in Apium graveolens [11], many genes belonging to these families have been isolated from various species. The complete Arabidopsis genome has been described to contain 9 sucrose transporter-like sequences [8] and a monosaccharide transporter(-like) gene family, including 53 members grouped into 7 subfamilies [10]. Furthermore, the evolutionary analysis of plant monosaccharide transporters revealed that these seven subfamilies are ancient in land plants [16].
Despite the progress made in identifying genes encoding sugar transporters, little is known about the transcriptional regulation of these genes. Arabidopsis microarray data (Genevestigator: https://www.genevestigator.com; The BAR: http://bbc.botany.utoronto.ca) and some plant transporter gene expression patterns have indicated that developmental and environmental factors could regulate the expression of sugar transporters. Furthermore, evidence is provided that the expression of some sugar transporter genes is regulated by sugars as described for sugar transporter genes in yeast [17], for VvHT1, a grapevine hexose transporter [18–20] and for sucrose transporter genes from rice, OsSUT1 [21] and sugar beet, BvSUT1 [22–24]. All these data suggest that the expression of sugar transporters might be regulated at the transcriptional level by distinct but usually converging signalling pathways, depending on either developmental and environmental cues or metabolic and hormonal signals. In spite of the evidence for the role of sugar signalling in the transcriptional control of some transporter genes, the in silico analysis of promoter regions of different genes involved in carbon metabolism, sugar storage, mobilization and transport clearly demonstrates the absence of common sugar specific cis-elements [25–27]. This analysis is consistent with the fact that in plants, several types of transcription factors (bZIP, WRKY, AP2, MYB, B3, EIN3) are required for sugar signalling and are involved in sugar-regulation of gene expression [27, 28]. Considering that the analysis of sugar transporter orthologs in different species might help to better understand their biological function, we analyzed the recently sequenced Vitis vinifera genotype PN40024 [29] in order to identify sugar transporter gene families in this species. This work will represent the first exhaustive analysis for sugar transporters in ligneous plant as most of the already known sugar transporters have been characterized from herbaceous species. In woody plants, only 4 sucrose transporters have been already described in Vitis [30–32] (GenBank: AF439321), 2 in Citrus sinensis (GenBank: AY098891, AY098894), 2 in Hevea brasiliensis (GenBank: ABJ51934, ABK60189) and one in Juglans regia [33, 34]. Seven hexose transporters in Vitis [35–37], 2 in Juglans regia [34] and few polyol transporters in Prunus cerasus [38], in Malus domestica [39] and in Olea europea [40] were also reported. Furthermore during the last decade, Vitis vinifera has become an interesting model to study fruit maturation. It is now clearly established that the onset of ripening (veraison) is characterized by an important accumulation of glucose and fructose in vacuoles of the mesocarp cells [41]. In grapevine, sucrose is the main carbohydrate used for long distance transport and after reaching the phloem of the berry, it is unloaded into the apoplast, possibly cleaved by apoplastic invertases, and sucrose or hexoses can than be transported into the mesocarp. In the cytoplasm of the mesocarp cells, sucrose and hexoses must be transported into the vacuole via tonoplastic transporters. The identification and the characterization of sugar transporter genes in Vitis vinifera are therefore important steps in understanding the roles of these proteins in grapevine development as well as in grape ripening process and may further highlight our knowledge on plant sugar transporters.
The present study reports on the identification of sucrose and monosaccharide-like transporter genes in the Vitis vinifera genome, on their phylogenetic analysis in comparison with Arabidopsis transporters, on their promoter sequences analysis. The construction of specialized cDNA macroarrays used to determine the expression pattern for 20 of these genes in grapevine vegetative organs and during berry ripening is also described.
Conclusions
The present work represents the first exhaustive analysis of sugar transporter genes in a woody plant. The identification of grapevine sugar transporter genes and their comparative analysis with the
Arabidopsis
ones has indicated a strong conservation of these genes between herbaceous and woody plants as well as some expansions of particular functional subfamilies such as hexoses and ERD6-like transporters. In this paper, we developed macroarrays to profile the expression of 20 of these transporters simultaneously in different organs. Our results not only confirmed some expression data already described in the literature but also demonstrated that four sugar transporter genes are expressed in almost all vegetative organs (
VvHT3
,
VvHT11
,
VvPMT5, VvSUC27
), few transporters are more specifically expressed in roots (
VvHT2
), mature leaves (
VvHT5
) and/or in seeds (
VvHT3
,
VvHT5
) and three others are regulated during berry development (
VvHT2
,
VvTMT1
,
VvTMT2
) (Figure
9
). The present results might help to elucidate the biological function of sugar transporters in
V. vinifera
development particularly during berry ripening and would also have a significant impact on our knowledge on plant sugar transporters in general. The
in silico
analysis of promoter sequences revealed the presence of
cis
-regulatory elements involved in sugar signalling, and represents a first step towards the understanding of the regulation of sugar transporter gene expression
via
metabolic, hormonal and environmental signals. More and more evidences suggest that sugar transporter genes are regulated under various conditions. Thus, the macroarray analysis described in this paper could constitute a powerful approach to investigate the sugar transporter response to environmental factors in grapevine.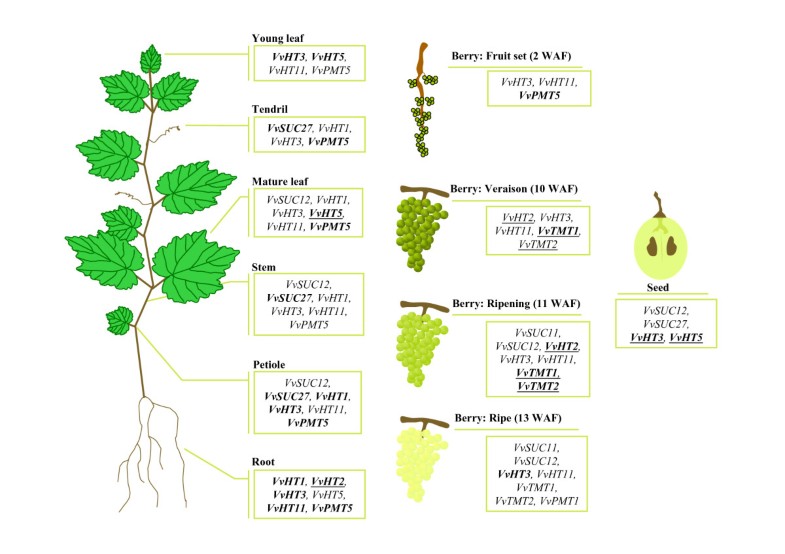 Methods
Identification of sugar transporter genes in V. viniferagenome
V. vinifera sugar transporter genes were identified performing a Blastp analysis [75] against the V. vinifera proteome 8X database, on Genoscope website http://www.genoscope.cns.fr/externe/GenomeBrowser/Vitis using each A. thaliana monosaccharide and sucrose transporter amino acid sequences as query, and an E-value of 1,00E-04 as threshold. Furthermore, the 2 kb region upstream of the start codon for each gene was considered as the promoter sequence.
Sequence similarities, phylogeny and promoter sequence analysis
Sequence similarities were determined performing Clustal V multiple alignments using Lasergene software (DNASTAR, USA). Phylogenetic analysis of V. vinifera and A. thaliana sugar transporter protein sequences was performed using maximum likelihood and the http://www.phylogeny.fr website[76]. For this, protein sequences alignment was performed using the MUSCLE program [77], and maximum likelihood trees with 100 bootstrap replicates were constructed with the PHYML program [78, 79] and the JTT amino acid substitution model. Phylogenic tree was visualized using Treedyn program [80]. Search for cis-regulatory elements in promoter sequences was performed using the PLAnt Cis acting regulatory DNA Elements database (PLACE: http://www.dna.affrc.go.jp/PLACE/index.html)
Plant material and growth conditions
Vitis vinifera cv. Chardonnay plants were cultivated in vitro, for 7 weeks (46 days), on McCown Woody Plant Medium (Duchefa, The Netherlands), pH 5.8, supplemented with 20 g.l-1 sucrose, with 16 h photoperiod at 24°C. Plants were then transferred to an aeroponic culture system and grown with Gibeaut solution [81] under controlled conditions (16 h photoperiod, 23°C; 70% RH day/18°C; 65% RH night). After 24 days, young and mature leaves, stems, roots, petioles and tendrils were sampled, immediately frozen in liquid nitrogen and stored at -80°C. V. vinifera cv. Chardonnay berries were harvested in the 2007 growing season (between 25th June and 10th September) from grapevines grown in SRPV Poitou-Charentes fields (Biard, Poitiers, France). Berries were sampled at 2, 10, 11 and 13 weeks after flowering (WAF) corresponding to fruit set, veraison, and two maturation developmental stages, the last one being 10 days before harvest. After freezing in liquid nitrogen, seedless berries and seeds were stored at -80°C.
RNA isolation
Total RNA was isolated from grapevine tissues as previously described by Valtaud and coworkers (2009) [82]. For macroarray analysis, RNA was treated with RNase-free DNaseI (QIAGEN, Germany) in order to eliminate contaminant DNA and purified using the RNeasy Mini Kit (QIAGEN, Germany), according to the RNA clean up protocol.
Cloning of specific cDNA fragments and macroarray membrane spotting
Specific DNA regions for each sugar transporter and reference genes (actin, EF1α, EF1γ and GAPDH) have been identified in the 3'UTR of the nucleotide sequence and amplified by PCR using Chardonnay genomic DNA and specific primers (Additional file 4). PCR products were purified with Wizard®SV Gel and Clean-Up System (Promega, USA) according to manufacturer's protocol, cloned into the pGEM®-T Easy Vector (Promega, USA) and sequenced using the ABI PRISM® BigDye® Terminator v3.1 Cycle Sequencing Kit (Applied Biosystems, USA).
Specific cDNA fragments have been amplified from the obtained plasmids by PCR using one specific primer and T7 primer. For each reaction, 1 μl of plasmid DNA solution was used as template in a 50 μl PCR reaction, containing 1× Green GoTaq® Flexi Buffer, 2 mM MgCl2, 0.4 μM of each primer, 0.2 mM of each deoxynucleotide and 1.25 U of GoTaq® DNA Polymerase (Promega, USA). Amplification reactions included an initial denaturation step at 94°C for 5 min, followed by 30 cycles of 1 min at 94°C, 1 min at 52°C, 1 min at 72°C and a final extension of 5 min at 72°C. All PCR products were purified using the Wizard®SV Gel and Clean-Up System (Promega, USA) according to manufacturer's protocol.
Each cDNA fragment was dotted in triplicate on a 6× SSC-soaked nylon Hybond™-N+ membrane (GE Healthcare, UK), using a 96-well Bio-Dot® Microfiltration Apparatus (BIO-RAD, Canada). The amount of cDNA per spot was 50 ng for sugar transporter and 100 ng of each reference gene. Three dots of 50 ng of salmon sperm DNA were used as internal negative control. Membranes were then incubated in a denaturing solution (1.5 M NaCl, 0.5 M NaOH), in a neutralizing solution (1.5 M NaCl, 0.5 M TRIS-HCl pH 8), and finally washed in 2× SSC solution. DNA was cross-linked to the membrane by exposure to UV light (120 mJ/cm2) using a crosslinker (Bio-Link-BLX-E254).
Macroarray membrane hybridization
For the synthesis of 33P-labeled cDNA, 30 μg of DNase treated total RNA were retro-transcribed using 2 μM oligo d(T)16, 0.5 mM dATP, dTTP, dGTP, 2.26 μM dCTP, 0.33 μM [α-33P]-dCTP (10mCi ml-1) and 800 U of M-MLV Reverse Transcriptase (Promega, USA). Labeled products were then treated with 10 U of Ribonuclease H (Promega, USA) and purified on illustra™ Probe Quant™ Micro Columns (GE Healthcare, UK). Prehybridization and hybridization were carried out at 65°C using Church solution (1% BSA, 1 mM EDTA, 0.25 M Na2HPO4-NaH2PO4 and 7% SDS). After 16-20 h of hybridization, membranes were washed twice in 2× SSC; 0.1% SDS for 15 min, twice in 1× SSC; 0.1% SDS for 15 min at 65°C and exposed in a Storage Phosphor Cassette for 48 h and images were acquired using a Typhoon TRIO Imager (GE Healthcare, UK). Spot finding, quantification and background subtraction were done with ImageQuant TL 7.0 program (GE Healthcare, UK). Spots were considered as present only if higher than the mean of salmon sperm negative control and then normalized using the mean of 4 reference genes (actin, EF1α, EF1γ and GAPDH).
Northern blotting
Total RNA (20 μg) isolated from different organs of grapevine plants were separated by electrophoresis in denaturing formaldehyde 1.2% agarose gel and then transferred to Hybond™-N Nylon membrane (GE Healthcare, UK). DNA probes designed on 3'UTR regions of genes of interest were produced by PCR reaction and labeled with [α-32P]-dCTP using Prime-a-Gene® Labelling System (Promega, USA) according to manufacturer's protocol. Prehybridization and hybridization were performed as described for macroarray. Membranes were washed in 2× SSC, 0.1% SDS for 15 min, in 1× SSC, 0.1% SDS for 15 min and in 0.5× SSC, 0.1% SDS for 5 min at 65°C. Membranes were exposed for 48 h in a Storage Phosphor Cassette and scanned as performed for macroarray analysis. Quantification and background correction were done using Image Quant 5.2 software. Reported signals were then normalized to GAPDH expression value.
Declarations
Acknowledgements
The authors thank Mathieu Célérier and Emilie Sohier for their contribution in retrieving gene and promoter sequences. We are grateful to Freddy MANCEAU from SRPV (service regional de la protection des végétaux) Poitou-Charentes in BIARD (FRANCE) for Chardonnay berries gift.
Authors' Affiliations
(1)
UMR-CNRS-UP 6503 - LACCO - Laboratoire de Catalyse en Chimie Organique - Equipe Physiologie Moléculaire du Transport de Sucres, Université de Poitiers - Bâtiment Botanique, Poitiers, France
(2)
UMR Génétique et Horticulture (GenHort), INRA/INH/UA, Beaucouzé, France
Copyright
© Afoufa-Bastien et al; licensee BioMed Central Ltd. 2010
This article is published under license to BioMed Central Ltd. This is an Open Access article distributed under the terms of the Creative Commons Attribution License (http://creativecommons.org/licenses/by/2.0), which permits unrestricted use, distribution, and reproduction in any medium, provided the original work is properly cited.