Research article

Open Access
High diversity of root associated fungi in both alpine and arctic Dryas octopetala
BMC Plant Biology
2010
10:244
Received: 7 July 2010
Accepted: 11 November 2010
Published: 11 November 2010
Abstract
Background
Dryas octopetala is a widespread dwarf shrub in alpine and arctic regions that forms ectomycorrhizal (ECM) symbiotic relationships with fungi. In this study we investigated the fungal communities associated with roots of D. octopetala in alpine sites in Norway and in the High Arctic on Svalbard, where we aimed to reveal whether the fungal diversity and species composition varied across the Alpine and Arctic regions. The internal transcribed spacer (ITS) region of nuclear ribosomal DNA was used to identify the fungal communities from bulk root samples obtained from 24 plants.
Results
A total of 137 operational taxonomic units (OTUs) were detected (using 97% similarity cut off during sequence clustering) and well-known ECM genera such as Cenococcum, Cortinarius, Hebeloma, Inocybe and Tomentella occurred frequently. There was no decrease in fungal diversity with increasing latitude. The overall spatial heterogeneity was high, but a weak geographical structuring of the composition of OTUs in the root systems was observed. Calculated species accumulation curves did not level off.
Conclusions
This study indicates that the diversity of fungi associated with D. octopetala does not decrease in high latitude arctic regions, which contrasts observations made in a wide spectrum of other organism groups. A high degree of patchiness was observed across root systems, but the fungal communities were nevertheless weakly spatially structured. Non-asymptotical species accumulation curves and the occurrence of a high number of singletons indicated that only a small fraction of the fungal diversity was detected.
Keywords
Root SystemInternal Transcribe SpacerFungal CommunityDetrended Correspondence AnalysisFungal Diversity
Background
The land area covered by arctic and alpine vegetation makes up roughly 11 million km2, an area comparable to that of boreal forests on the Northern and Southern Hemisphere. In most areas of the arctic and alpine zone, less than ten species constitute more than 90% of the vascular plant biomass [1]. The vast majority of plants form mycorrhizal relationships, a symbiosis considered favourable, especially for plants in nutrient-stressed situations [2]. Mycorrhiza may therefore be particularly beneficial in arctic ecosystems where low soil moisture and nutrient availability, low soil and air temperatures, and a short growing season limit plant growth and reproduction. It has been estimated that mycorrhizal fungi supply arctic plants with as much as 61-86% of the host plants nitrogen [3]. This implies that mycorrhizal fungi are the main nitrogen providers under the nitrogen-limited conditions in arctic tundra. Compared to the low plant diversity in arctic and alpine communities, the richness and heterogeneity of root-associated fungal communities is high [4].
Many factors and complex interactions influence the structure and composition of mycorrhizal communities [5]. For example, several studies have shown that mycorrhizal communities may change during ecosystem succession [6–10]. However, few studies have analysed how root associated fungal communities change along broader regional gradients, for example along latitudinal and longitudinal gradients. A widely recognised pattern in plant and animal ecology is the decrease in biological diversity with increasing altitude and latitude, but the underlying causes for this gradient are still poorly understood [e.g., [11–14]]. As pinpointed by Allen et al. [15], such patterns are almost unexplored in mycorrhizal fungi (but see [16]).
Ectomycorrhiza (ECM) is most common on woody perennial plants. In heath and tundra areas of arctic and alpine environments the long-lived dwarf shrub Dryas octopetala (Rosaceae) is of particular ecological significance [2, 17]. Dryas octopetala have been found to be associated with many different ECM fruiting bodies [4, 18, 19]. Väre et al. [20] revealed by light microscopy that D. octopetala in western Spitsbergen (Svalbard) was symbiotic with 15 ECM fungal species. In a recent study by Ryberg et al. [21], the ECM diversity of D. octopetala and Salix reticulata in an alpine cliff ecosystem in northern Sweden was investigated using molecular methods. This survey documented a species rich fungal community dominated by Cenococcum geophilum, Thelephoraceae spp., Cortinarius spp., and Sebacinales spp. However, despite the ecological significance of fungi in arctic and alpine habitats, and that the documentation of fungal diversity in these climatic regions is of great importance due to global climatic changes, this is a sparsely investigated field.
The main aims of this study were to characterise the diversity of the fungal communities associated with roots of D. octopetala and to analyse the variation and change in the fungal communities, from alpine areas in the Central and Northern parts of Norway to the High Arctic in Svalbard. The following questions were asked: 1) Does the diversity of root associated fungi decrease towards arctic regions, as is the case for many other organism groups? 2) Is the fungal species composition different in arctic regions compared to more southern areas?
The fungal diversity was analysed by cloning and sequencing of ITS fragments from pooled root samples, and DNA similarity searches against UNITE [22] and GenBank [23]. In addition, a collection of ITS reference sequences were obtained from basidiocarps collected in arctic regions in order to improve the reference sequence library.
Results
Sequence data
A total of 576 non-chimaerical ITS sequences were obtained, 24 from each of the 24 analysed root systems. Five additional sequences, 0.8% of all obtained sequences, were classified as chimaerical and omitted from further analyses. The 576 sequences represented 264 unique ITS genotypes of which 17 were detected in two or three independent root systems. These genotypes were grouped into 137 OTUs based on a 97% similarity cut-off level. A high proportion of the OTUs (80.4%) were detected in a single root system only, while 9.4% and 3.6% were detected in two and three root systems, respectively. A total of 119 of the 264 unique ITS sequences had 97% sequence similarity or higher to a reference sequence with known taxonomic affinity. Most sequences (81.9%) had best matches against GenBank accessions, 8.0% against UNITE accessions and 10.1% against the collection of reference sequences obtained in this study. The best matches in GenBank/UNITE of all unique sequences are listed in Additional file 2 and a list of all detected OTUs is presented in Additional file 3.
Taxonomic distribution
Based on identification by most similar reference sequences, 68.8% of the 576 sequences belonged to Basidiomycota, 30.7% to Ascomycota, 0.35% (two sequences) to Zygomycota, and 0.17% (one sequence) to Glomeromycota (Figure
2a
). The corresponding numbers of OTUs in the four phyla were 75, 59, 2 and 1, respectively (Figure
2b
). As shown in Figure
2a
, Agaricales was the most commonly detected order (28.8% of the 576 sequences), followed by Thelephorales (16.0%), Helotiales (14.1%), and Russulales (10.1%). The corresponding distributions of OTUs in the various orders are presented in Figure
2b
. ECM genera such as
Hebeloma
,
Cortinarius
,
Tomentella
, and
Inocybe
were frequently observed in the root systems of
D. octopetala
. It is noteworthy that the dominance of basidiomycetes over ascomycetes was much greater in terms of sequences (Figure
2a
) than in terms of OTUs (Figure
2b
). This is particularly striking when considering the 'Unknown Ascomycota' group with 19 sequences representing 15 separate OTUs. In contrast, the basidiomycete order Agaricales included 166 sequences that grouped into 26 different OTUs.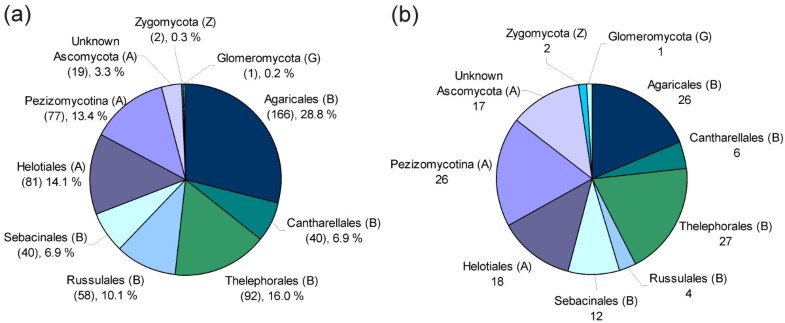 The 20 most frequently detected OTUs and their distribution across the four main localities are listed in Table
2
. A high number of the sequences (92) had taxonomic affinity to Thelephorales, and this order also included most OTUs (27). The two most widespread OTUs had high sequence similarity (>99%) to accessions of
Cenococcum geophilum
and
Phialocephala fortinii
(Table
2
). Two OTUs, both having best matches to
Cadophora finlandia
(98% similarity), were also widespread (Table
2
). The OTU '
Cadophora finlandia
1' was detected in samples from the above-mentioned four main localities, while the OTU '
Cadophora finlandia
2' was represented in samples from one sub-locality in Tromsø and in all three Longyearbyen sub-localities. Another widespread OTU shared 99% similarity to reference sequences of both
Cortinarius
aff.
inconspicuus
and
C
. aff.
diasemospermus
.
Table 2
The most frequent OTUs.
| OTU1 | Taxonomic affinity | SS2 | #C3 | #RS (#ML)4 | Sub-localities5 |
| --- | --- | --- | --- | --- | --- |
| 6 | Cenococcum geophilum | 100% | 34 | 11 (4) | F1,F2,F3,N2,S3,T1,T2 |
| 4 | Phialocephala fortinii | 100% | 34 | 10 (4) | F1,F3,N3,S2,S3,T1,T2,T3 |
| 28 | Cadophora finlandia1 | 98% | 13 | 7 (4) | F3,N1,N3,S2,S3,T2,T3 |
| 8 | Cortinarius aff. inconspicuus/diasemospermus | 99% | 20 | 6 (3) | F1,F2,F3,N1,N2,S3 |
| 22 | Tomentella sp.1 | 92% | 8 | 4 (3) | F2,F3,N1,S1 |
| 67 | Caloplaca sp. | 91% | 4 | 3 (3) | N3,S3,T1 |
| 80 | Cadophora finlandia 2 | 98% | 12 | 5 (2) | S1,S2,S3,T3 |
| 83 | Mycenaceae 1 | 82% | 36 | 5 (2) | S2,T1,T2,T3 |
| 33 | Inocybaceae 1 | 82% | 12 | 3 (2) | F3,N2 |
| 2 | Hebeloma aff. alpinum | 99% | 11 | 3 (2) | F1,N1,N2 |
| 39 | Tomentella sp.2 | 94% | 9 | 3 (2) | N1,N3,S1 |
| 43 | Tomentella sp.3 | 95% | 13 | 2 (2) | N1,S1 |
| 61 | Cortinarius aff. polaris | 100% | 13 | 2 (2) | N3,S3 |
| 30 | Tomentella sp.7 | 95% | 3 | 2 (2) | F3,S1 |
| 63 | Hymenoscyphus sp. | 91% | 3 | 2 (2) | N3,S1 |
| 57 | Leohumicola sp. | 94% | 2 | 2 (2) | N2,T1 |
| 76 | Russula delica | 100% | 31 | 4 (1) | S1,S2,S3 |
| 48 | Cadophora sp. | 96% | 5 | 4 (1) | N1,N2,N3 |
| 47 | Cortinarius aff. tenebricus | 100% | 11 | 2 (1) | N1,N3 |
| 40 | Tomentella sp.4 | 93% | 4 | 2 (1) | N1,N2 |
Sub-alignments were constructed for the 11 most frequently detected genera, also including the most similar reference sequences from GenBank or UNITE, in addition to congeneric basidiocarp reference sequences. The resulting phylogenetic trees are presented in Additional file 4, and show that many OTUs had a distinct geographic distribution.
Diversity and composition of OTUs
The species-accumulation curves for the four main localities showed no sign of reaching an asymptote, nor did they show any latitudinal trend in richness of OTUs (Figure
3
). Most OTUs were observed in Tromsø (49 OTUs), followed by Ny-Ålesund (45), Longyearbyen (37), and Finse (34). The average number of OTUs per root system was 8.2 in Tromsø followed by 7.5 in Ny-Ålesund, 6.2 in Longyearbyen, and 5.6 at Finse, which is a non-significant difference (ANOVA, p > 0.05). The extrapolated total species (T-S) curves further demonstrated a high degree of heterogeneity in the fungal communities, as none of them reached a plateau (Additional files
5
and
6
). The estimated total richness of fungal OTUs, with 'sampling area' extrapolated to 10
6
root systems (24 clones from each) and randomisation by bootstrapping, resulted in estimation of 226 (± 32) OTUs to occur in the Tromsø main locality, 229 (± 28) in Ny-Ålesund, 177 (± 28) in Longyearbyen, and 169 (± 22) in Finse.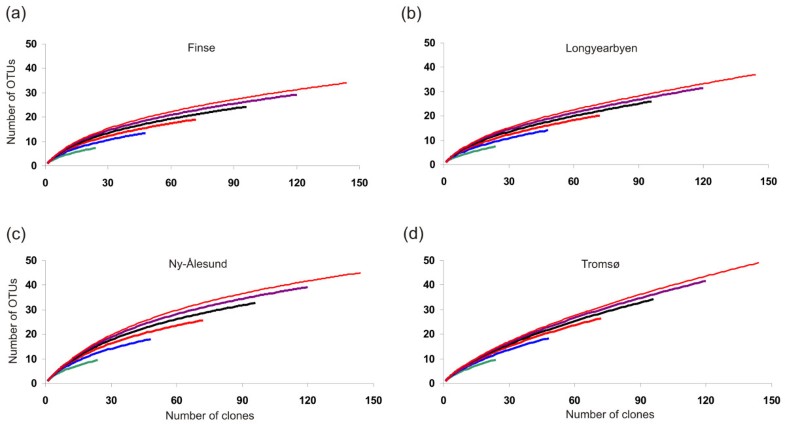 Overall, the GNMDS ordination axes were strongly correlated with the corresponding DCA axes and the GNMDS ordination diagrams (data not shown) were visually similar to the DCA diagrams. Thus, only the DCA ordination results are presented (Figure
4
), which have the advantage over GNMDS that the axes are scaled in standard deviation (S.D) units [e.g. [
39
]]. In the DCA analysis based on similarity in composition of OTUs of the various plant root systems (Figure
4a
), only a weak geographical structuring can be observed along the two first DCA axes. The DCA analysis based on sub-localities (i.e. where incidence data from two plant root systems were pooled) displayed more distinct geographical structuring, which can be observed along the first two DCA axes (Figure
4b
). It is noteworthy that the sub-localities did not cluster according to a latitudinal gradient neither along DCA axis 1 nor along DCA axis 2.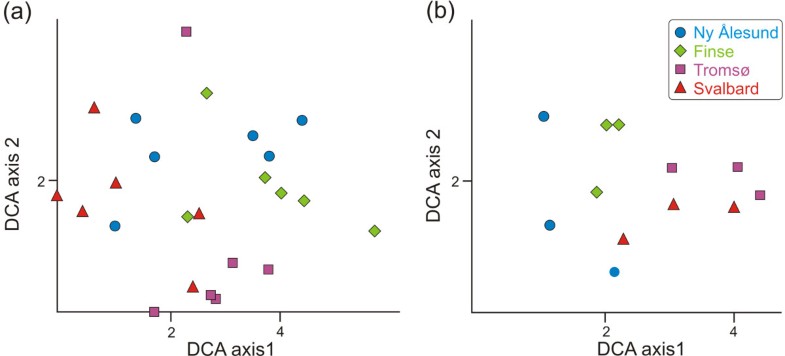 The average number of shared OTUs between root systems was 1.17 within sub-localities, 1.06 between sub-localities, and 0.65 between main localities. The Venn diagrams in Figure
5
displays the low number of overlapping OTUs between the three sub-localities from each main locality.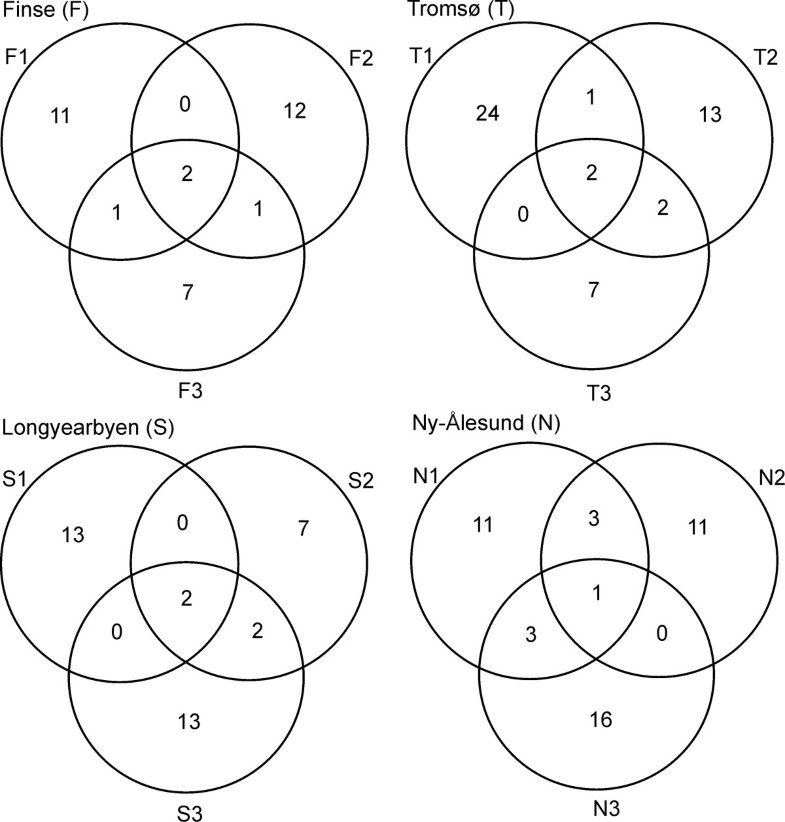 Discussion
Observed diversity
Using a 97% cut-off during sequence clustering, a total of 137 OTUs were detected in the 24 root systems, which is significantly higher than what have been observed in earlier diversity surveys of root associated fungi in arctic-alpine plants and environments [20, 47–52]. Harrington and Mitchell [53–55] conducted several studies of ECM fungi associated with D. octopetala populations in western Ireland by morphotyping root tips and subsequent ITS sequencing. They detected 34 ECM morphotypes, of which 11 were identified to species or genus. Using ITS2 and similar sequence clustering conditions as in our study, Ryberg et al [21] observed 74 OTUs in 48 root systems of D. octoptala from Northern Sweden. The higher diversity detected in our study may be ascribed to the different sampling and molecular methodologies applied. For example, the applied clone based approach probably is more efficient in detecting the diverse array of fungi associated with the root systems compared to root tip morphotyping with subsequent sequencing. The latter approach often fails to identify many of the fungal symbionts [56, 57]. The observed non-asymptotical accumulation curves and the long tail of rare genotypes observed in our study demonstrate that the 24 sequences generated from each root system did not cover the entire diversity of root associated fungi of D. octopetala.
Taxonomic coverage
Members of Basidiomycota were more frequent than those of Ascomycota in the root systems of D. octopetala, in particular in terms of the number of sequences. This difference was not as pronounced when counting the involved OTUs (Figure 2a,b). This corroborates earlier observations that a small number of ECM species, in most cases basidiomycetes, are highly abundant and dominant [58]. Basidiomycetes are often represented by extensive fungal biomass in the form of thick ECM mantles and extraradical mycelium, while many ascomycetes may have thin mantles and a sparse amount of external mycelium [e.g., ECM of Cadophora finlandia; [59]], or they may be present as endophytes. This is in accordance with the most commonly detected taxonomic groups in this study being ECM genera of Basidiomycota that produce an extensive amount of external hyphae, such as Hebeloma [60], Inocybe [61], Tomentella [62], and Cortinarius [63].
A high number of ITS sequences and OTUs had taxonomical affinities to order Thelephorales. This fungal group was also one of the most frequently detected in a survey of ECM fungi associated with D. octopetala and Salix reticulata in Northern Sweden [21]. This suggests that these fungi are of special importance in the fungal communities associated with D. octopetala in arctic and alpine environments. The hyphal cell walls of the Thelephorales are generally melanised, which has been hypothesised to be an adaptation to resist attack from antagonistic fungi and fungivorous soil fauna, and to protect hyphae from extreme temperatures and drought. Melanised hyphae may also play a significant role in the fungus' persistence from year to year [64, 65]. Interestingly, a high number of sequences with affinity to Thelephorales were observed in samples from the northernmost localities (Longyearbyen and Ny-Ålesund on Svalbard). It is noteworthy that most of the matches against reference sequences were quite low (typically 91-95% identity, with query coverage 99-100%), indicating that the arctic-alpine Thelephorales represent an unexplored group of fungi.
A striking feature emerging from studies of a wide array of plants that are growing in arctic and alpine environments is the extensive occurrence of dark septate endophytic (DSE) fungi in their roots [e.g., [2, 20, 52, 66–68]], which are also characterized by melanised cell walls. DSE fungi were among the most frequently detected ascomycetes in our study. These included Phialocephala fortinii, Cadophora finlandia, and Leptodontidium orchidicola, fungi that might have a mycorrhizal and beneficial function in these habitats [67, 69]. Phialocephala fortinii was detected in all main localities (10 of the 24 root systems) and has been recognized as one of the most abundant DSE in roots of conifers and ericaceous plants in heathlands, forests, and alpine ecosystems [e.g., [52, 70–74]]. Two different OTUs with close affinity to Cadophora finlandia were observed. Cadophora finlandia forms characteristic melanised ECM morphotypes [59], and has frequently been observed in harsh habitats [e.g., on metal polluted or burnt sites; [74]].
Our study also corroborates the view that the Cenococcum geophilum complex, another melanised ECM fungus, is widespread and frequent in arctic and alpine environments [4, 6, 47–50]. This species was the most frequently encountered OTU, and was observed in about half of the root systems from all main localities.
The high occurrence and diversity of melanised fungi found in the present study indicate that they hold an important ecological function as associated with D. octopetala in arctic-alpine environments.
Composition and distribution of OTUs
Even at a local scale (within sub-localities) there was little overlap in fungal OTUs across root systems, indicating high spatial heterogeneity. This finding is in agreement with earlier studies where community composition has been shown to be highly variable and patchily distributed at fine scales [75–77]. The ordination analysis of the 24 plant root systems (Figure 4a) further underlines the high degree of spatial heterogeneity, as little grouping of root systems according to locality was observed. Neither the species-accumulation curves, nor the extrapolated total species richness curves, showed any sign of reaching an asymptote, which also suggests a high spatial heterogeneity. A possible explanation for the high spatial heterogeneity is that plant root systems, as well as the fungal mycelium, are three dimensional, displaying a fractal-like geometric structure, and that the associated biotic factors such as soil microbes, and abiotic factors such as minerals, nutrient, and water supply, also usually vary at microscales in the soil, both spatially and temporally [2, 5, 58, 78]. Due to the high complexity of the root system and the associated environmental factors, there are potentially a high number of micro-niches. This could explain the high fungal diversity and the high degree of spatial turnover in fungal communities observed at the different geographic levels. However, it must be emphasised that a higher sampling intensity is necessary to finally conclude on this matter.
There was no decrease in number of OTUs with increasing latitude, which contrasts the general pattern observed in other organisms groups [79] such as benthic marine invertebrates [80], birds [81, 82], mammals [83, 84], plants [85, 86], and foliar fungal endophytes [87]. Arctic-alpine soils seem unexpectedly rich in diversity of microorganisms compared to their depauperate plant communities [4, 15]. There are even some indications that microbial diversity in some cases is higher in the arctic than in boreal soils [88, 89]. Hence, the belowground diversity of root-associated fungi may not follow the same latitudinal trend as the aboveground diversity.
In spite of the high heterogeneity and species turnover even at small scales, there seems to be a slight geographical structuring of the composition of fungal OTUs in the D. octopetala root systems at a larger geographical scale, as demonstrated by the ordination analysis of sub-localities (each including two analysed root systems; Figure 4b). In line with this, root systems within the same main localities and sub-localities had more OTUs in common compared to root systems compared across the main localities. The underlying cause for the geographic structuring at larger spatial scales is likely that some OTUs have a distinct biogeographical structure, as can be seen in some of the phylogenetic trees of selected taxonomic groups (Additional file 4). Some OTUs were only recorded from Svalbard (in multiple root systems), including several OTUs with affinity to Thelephorales. These OTUs (and many more, see Additional file 4) could be examples of fungi with a distinct arctic affiliation. There was no latitudinal trend in the ordination plot among the main localities, indicating that other factors than those associated with latitude structure the root associated fungal community of D. octopetala at a larger geographic scale. As highlighted by Bruns [5], almost 15 years ago, the factors which control and structure fungal diversity at a global, regional, and even single-root level, still remain a subject of debate. While overall diversity is thought to be important to ecosystem functioning, the functional significance of individual taxa is very poorly understood [77], but the high species richness of mycorrhiza in many ecosystems suggests a high level of functional heterogeneity may occur, even at the local scale [90].
Conclusions
This study demonstrates that a phylogenetically diverse array of fungi is associated with roots of the arctic-alpine plant Dryas octopetala. Both the non-asymptotic species-accumulation curves, the disparity between observed and estimated species richness, and the fact that most OTUs were detected only once, suggest that the species richness is even higher than recorded here, and that many fungal species remain undetected. Noteworthy, we observed no decrease in fungal species richness in the Arctic. A weak spatial structuring of the composition of OTUs was observed, which would probably have been more pronounced with a higher sampling intensity.
Declarations
Acknowledgements
Cecilie Mathiesen is acknowledged for help with the molecular analyses. UNIS at Svalbard, Finse Research Station and Bioforsk Tromsø are acknowledged for allowing us to use their laboratory facilities, Vegar Bakkestuen for help with the ordination analyses, Surendra Kumar for help with bioinformatics, Marie Davey for proof reading, three anonymous reviewers for helpful comments, and Andy Taylor for constructive advices. The nature management authorities at Svalbard are acknowledged for allowing us sample plant material. The University of Oslo is acknowledged for financial support and the Norwegian Polar Institute for a travel grant to AB.
Authors' Affiliations
(1)
Microbial Evolution Research Group (MERG), Department of Biology, University of Oslo, Blindern, Norway
(2)
Centre for Ecological and Evolutionary Synthesis (CEES), Department of Biology, University of Oslo, Blindern, Norway
(3)
Marine Biology, Department of Biology, University of Oslo, Blindern, Norway
(4)
Kits van Waveren Foundation, Nationaal Herbarium Nederland, Universiteit Leiden, Leiden, Nederland
Copyright
© Bjorbækmo et al; licensee BioMed Central Ltd. 2010
This article is published under license to BioMed Central Ltd. This is an Open Access article distributed under the terms of the Creative Commons Attribution License (http://creativecommons.org/licenses/by/2.0), which permits unrestricted use, distribution, and reproduction in any medium, provided the original work is properly cited.