Research article

Open Access
Molecular and phylogenetic characterization of the sieve element occlusion gene family in Fabaceae and non-Fabaceaeplants
BMC Plant Biology
2010
10:219
Received: 15 January 2010
Accepted: 8 October 2010
Published: 8 October 2010
Abstract
Background
The phloem of dicotyledonous plants contains specialized P-proteins (phloem proteins) that accumulate during sieve element differentiation and remain parietally associated with the cisternae of the endoplasmic reticulum in mature sieve elements. Wounding causes P-protein filaments to accumulate at the sieve plates and block the translocation of photosynthate. Specialized, spindle-shaped P-proteins known as forisomes that undergo reversible calcium-dependent conformational changes have evolved exclusively in the Fabaceae. Recently, the molecular characterization of three genes encoding forisome components in the model legume Medicago truncatula (MtSEO1, MtSEO2 and MtSEO3; SEO = sieve element occlusion) was reported, but little is known about the molecular characteristics of P-proteins in non-Fabaceae.
Results
We performed a comprehensive genome-wide comparative analysis by screening the M. truncatula, Glycine max, Arabidopsis thaliana, Vitis vinifera and Solanum phureja genomes, and a Malus domestica EST library for homologs of MtSEO1, MtSEO2 and MtSEO3 and identified numerous novel SEO genes in Fabaceae and even non-Fabaceae plants, which do not possess forisomes. Even in Fabaceae some SEO genes appear to not encode forisome components. All SEO genes have a similar exon-intron structure and are expressed predominantly in the phloem. Phylogenetic analysis revealed the presence of several subgroups with Fabaceae-specific subgroups containing all of the known as well as newly identified forisome component proteins. We constructed Hidden Markov Models that identified three conserved protein domains, which characterize SEO proteins when present in combination. In addition, one common and three subgroup specific protein motifs were found in the amino acid sequences of SEO proteins. SEO genes are organized in genomic clusters and the conserved synteny allowed us to identify several M. truncatula vs G. max orthologs as well as paralogs within the G. max genome.
Conclusions
The unexpected occurrence of forisome-like genes in non-Fabaceae plants may indicate that these proteins encode species-specific P-proteins, which is backed up by the phloem-specific expression profiles. The conservation of gene structure, the presence of specific motifs and domains and the genomic synteny argue for a common phylogenetic origin of forisomes and other P-proteins.
Keywords
Sieve Element
Conserve Domain Database
Genome Duplication Event
Sieve Plate
Genomic Synteny
Background
In vascular plants, photoassimilates are transported through differentiated sieve elements (SEs) in the phloem forming a network of sieve tubes throughout the plant [1]. The pressure-driven mass flow [2] requires a high degree of functional specialization of the phloem during development. In order to enable efficient translocation of photoassimilates, SEs loose most of their organelles and thus the ability to perform protein biosynthesis [3]. Mature SEs are therefore dependent on adjacent, metabolically-active companion cells, which are connected to SEs by so-called pore-plasmodesm units [4]. The pressure within the sieve tubes can reach 30 bar [5], so rapid and efficient protection against wounding is essential and favoured the evolution of a plugging mechanism based on specialized phloem proteins (P-proteins) [6]. These structural proteins accumulate in the cytoplasm of metabolically-active, undifferentiated SEs, but are anchored to the plasma membrane when SEs mature [7]. After wounding, they detach from their parietal location and plug downstream sieve plates by forming a gel-like mass, thereby preventing the loss of photoassimilates [8]. This occurs in all the dicotyledonous plant families that have been studied, and P-proteins have also been identified in certain monocotyledonous plants [9]. There is currently no standardized classification for P-proteins although different types were often distinguished by their tubular, fibrillar, granular or crystalline ultrastructure, which may represent different developmental or conformational states of the same protein subunits rather than evolutionarily-distinct families [10]. Nevertheless, Fabaceae plants possess a special type of elongated crystalline P-protein bodies [11], which show a unique type of reactivity. The spindle shaped protein bodies, also known as forisomes ("gate bodies") [12], are able to undergo a reversible, calcium-induced conformational change and can consequently plug and open the sieve elements after wounding and regeneration. Three SEO (sieve element occlusion) proteins named MtSEO1, MtSEO2 and MtSEO3 have been identified in the model legume Medicago truncatula, and their role in forisome structure and assembly has been confirmed by immunological and GFP-fusion studies [13–15]. Comprehensive promoter analyses in M. truncatula roots and Nicotiana tabacum plants demonstrated a restricted expression of the corresponding MtSEO genes in immature sieve elements [14, 16], indicating a highly conserved regulation of promoter activities among diverse plant species, including non-Fabaceae lacking forisomes.
Although genes encoding forisome components of Fabaceae have recently been isolated and characterized, little is known about the genetic basis of structural P-proteins in other plant families. The only P-protein to be characterized thus far is phloem protein 1 (PP1) from Cucurbita maxima [17]. Immunological studies identified this filamentous protein in SE slime plugs and P-protein bodies, although the corresponding mRNA was shown to accumulate in companion cells [18].
In this study, we report the identification of several new SEO genes in Fabaceae and, most interestingly, also in non-Fabaceae plants (which do not possess forisomes). The unexpected occurrence of SEO genes in plant families lacking forisomes may argue that these genes encode other structural P-proteins, which implies a common phylogenetic origin. To further characterize the newly-identified SEO genes, we analyzed their gene structure and genomic synteny using bioinformatics and studied their expression by RT-PCR. Selected SEO genes were also studied by promoter analysis in transgenic plants.
Discussion
Forisomes are specialized P-proteins found solely in the Fabaceae. Genes encoding forisome components were recently identified in M. truncatula, and are the founder members of the sieve element occlusion (SEO) gene family [13–16]. In this study, we identified many additional SEO genes in the genomes of two Fabaceae and, interestingly, also in several non-Fabaceae plant families (which do not possess forisomes). Even within the Fabaceae, it appears that only some of the newly-identified SEO genes encode forisome components. Phylogenetic analysis showed that all the known and novel SEO genes can be clustered in seven subgroups (Figure 1) and they have a similar exon-intron structure (Figure 2). Their expression is likely to be phloem-specific (Figure 3) most probably restricted to immature sieve elements (SEs) as shown for one Fabaceae and one non-Fabaceae SEO gene (Figure 4) and the proteins contain highly conserved domains and motifs (Figures 5 and 6).
Forisomes have been described as a special type of P-protein mainly based on their morphological characteristics. Like forisomes, P-proteins of various species were reported to accumulate in immature sieve elements [23] and in their differentiated state both types of P-protein share the same function of blocking sieve elements after phloem injury [8]. Furthermore, forisomes and P-proteins show very similar ultrastructural characteristics in both the condensed and dispersed states [24, 25]. A calcium-induced reactivity, as known for forisomes, is also discussed for P-proteins [26, 27]. Although the dispersion process is similar in each case, the complete reversibility of the conformational switch is unique to forisomes [12]. It therefore seems likely that the non-forisome SEO genes in the Fabaceae, and all the SEO genes in non-Fabaceae plant families, encode other (non-forisome) P-proteins. It should be noted that the Cucurbita maxima PP1 protein, which is the only non-forisome P-protein to be characterized thus far, shares neither significant sequence similarities nor any conserved domains with the SEO proteins described herein. For this reason, PP1 should not be assigned to the SEO gene family, despite its potential functional similarity. Additionally, we and others [18] have not identified any PP1 orthologs in the genomes of non-Cucurbitaceae plants, suggesting PP1 may play a unique role in the phloem of the Cucurbitaceae family.
We used a number of bioinformatics approaches to identify functional motifs and domains conserved in all SEO proteins or in particular phylogenetic clades. We identified a 'potential thioredoxin fold' domain common to all SEO proteins, which is also found in enzymes that catalyze disulfide bond formation [28]. However, the canonical thioredoxin fold contains two central cysteine residues that are not present in the SEO proteins, indicating some functional divergence. Interestingly, thioredoxin folds lacking cysteines have also been found in other calcium-binding proteins such as calsequestrin [29]. Calsequestrin has three such domains that condense to form an acidic platform for high-capacity but low-affinity calcium adsorption that is most likely non-specific [30]. Calcium binding in forisomes is also weak and probably non-specific given that other divalent cations can also induce the typical conformational change [31, 12]. The core of the calsequestrin thioredoxin fold domain is a five-strand β-sheet sandwiched by four α-helices [29]. A similar arrangement of α-helices and β-sheets is predicted within the thioredoxin domain of all SEO proteins analyzed with I-TASSER, which suggests that the modified thioredoxin fold could also be involved in calcium binding and the subsequent dispersion of forisomes and other P-proteins. Although thioredoxin folds are found in many different proteins, the presence of this domain together with the two PfamB domains we identified seems to be a unique characteristic of SEO proteins. Single PfamB domains were also identified in Fabaceae non-SEO proteins, but not in non-Fabaceae plants, which suggests the transfer of these domains from SEO to non-SEO genes by domain rearrangement [32, 33].
All the SEO proteins contain the conserved C-terminal motif M1, which is characterized by four spatially conserved cysteine residues (Figure 6B). Although these residues could form disulfide bridges, this requires an oxidizing environment and disulfide bridges are generally not present in cytosolic proteins [34]. However, given the unique function of P-proteins and forisomes, it is possible disulfide bridges could form when the redox state of the cytosol is disrupted by cellular damage, stabilizing the dispersed state of SEO proteins and allowing them to seal off the injured sieve element. Indeed, forisome reactivity declines significantly in the presence of oxygen [30]. We identified several other motifs that were representative of SEO protein subgroups, e.g. motif M4 with potential intrinsic disorder, found at the N-terminus of subgroups 5 and 6 (Figure 6B). Disordered regions do not have a fixed three-dimensional structure, but can be involved in a variety of different molecular processes such as DNA/RNA or protein binding [35]. However, their precise role(s) in SEO proteins remains unclear.
To investigate the evolution of the
SEO
gene family, we studied the distribution and organization of
SEO
genes in
Fabaceae
and non-
Fabaceae
genomes (Figure
7
and Additional file
5
) and their phylogenetic division into seven subgroups (Figures
1
and
8
). Because subgroup 5 contains
SEO
genes from all the dicotyledonous plants with sequenced genomes included in our investigation, it is likely a similar ancestral
SEO
gene pre-dated the split between the rosids and asterids. Subgroup 4 contains only
SEO
genes from the closely-related plant families
Fabaceae
and
Rosaceae
, which suggests the subgroup 4 genes evolved by duplication and mutation prior to the divergence of the two plant families. With the exception of
MtSEO-F3
, all
SEO-F
genes cluster in the
Fabaceae
-specific subgroup 1 indicating they are unique within the plant kingdom. The function of the
GmSEO
genes clustering in subgroups 2 and 3 remains unclear. Although showing significant similarity to
SEO-F
genes, the corresponding proteins were not detected in forisomes. However, their detection might be affected by a low abundance in forisomes.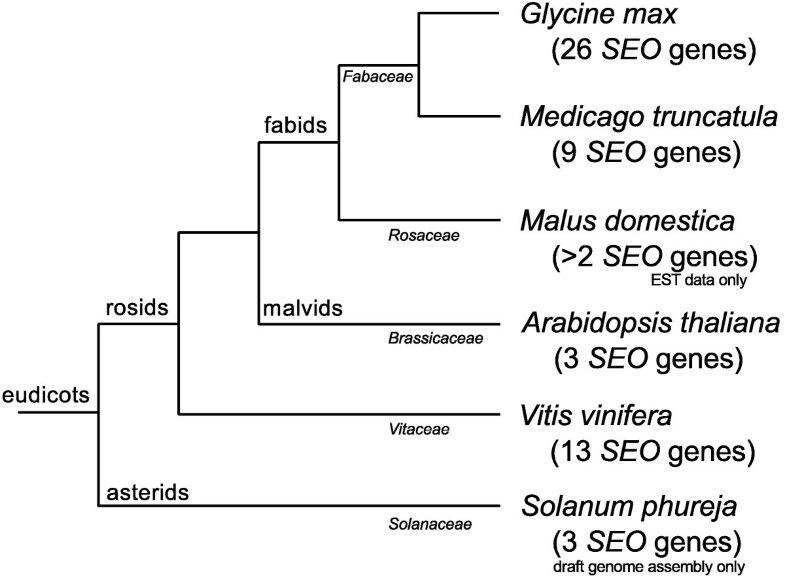 The distribution and organization of SEO genes in M. truncatula and G. max genomes indicates that several gene duplication events have occurred during the evolution of the Fabaceae SEO-F genes. With one known exception, M. truncatula SEO genes are clustered on chromosome 1 (the location of MtSEO-F3 is unknown), suggesting proliferation through tandem duplication. There is evidence that most Fabaceae share a common whole genome duplication event, which occurred approximately 50-60 million years ago, before G. max and M. truncatula diverged from a common ancestor [36, 37]. Although this event cannot be verified by analyzing the position of SEO genes in the M. truncatula genome, it is possible that the evidence has been obscured by incidental gene loss events, since orthologs of several of the SEO genes present in G. max and other plants are missing in M. truncatula. For G. max, an additional whole genome duplication event is thought to have occurred ~15 million years ago [38, 39]. This is supported by the observed synteny in the SEO gene clusters on M. truncatula chromosome 1, G. max chromosome 10, and the paralogs on G. max chromosome 20 (Figure 7). Definitive G. max orthologs could be identified for five of the nine M. truncatula SEO genes, and most of them exist as paralogs in G. max, leading to the conclusion that they were present prior to the split of the two Fabaceae and therefore the duplication event in G. max. No equivalent to the SEO gene cluster in A. thaliana or the arrangement of SEO genes in V. vinifera could be identified in G. max or M. truncatula, as their orthologs are not organized in clusters in both Fabaceae. Therefore it seems likely that additional and independent gene duplication and reorganization events affected the SEO genes in A. thaliana and V. vinifera. We also identified a number of potential SEO pseudogenes, five of which are found in G. max, which probably could be maintained because of the functional redundancy created by gene duplication. Nevertheless, we cannot exclude the possibility that at least the expressed pseudogenes ('pot. ψe') have evolved to take on novel functions, such as the regulation of gene expression [40, 41]. SEO genes appear to be widespread in dicotyledonous plants and may therefore provide a powerful new tool to study the evolution of gene families in dicotyledons.
Conclusions
We provide evidence that SEO genes are widely distributed in non-Fabaceae species and most probably encode P-proteins. The strong conservation of the gene structure, protein motifs and domains, the phylogenetic profile and the genomic synteny indicate a common phylogenetic origin for all SEO genes. Numerous tandem gene and whole genome duplication events appear to have contributed to the evolution of forisome genes in Fabaceae. We identified a fourth M. truncatula gene encoding a forisome component and presented the first analysis of forisome genes in G. max.
Declarations
Acknowledgements
The technical assistance of Ann-Christin Müller and the help of Sarah Weiss is gratefully acknowledged. This work was supported by grants from the VolkswagenStiftung (contract no. I/82 075) and the Fraunhofer Society. EBB and ARR acknowledge support from the Human Frontier Science Program.
Authors' Affiliations
(1)
Institut für Biochemie und Biotechnologie der Pflanzen, Westfälische Wilhelms-Universität Münster, Hindenburgplatz 55, Germany
(2)
Fraunhofer Institute for Molecular Biology and Applied Ecology (IME), Forckenbeckstraße 6, Germany
(3)
Institut für Evolution und Biodiversität, Westfälische Wilhelms-Universität Münster, Hüfferstraße 1, Germany
Copyright
© Rüping et al; licensee BioMed Central Ltd. 2010
This article is published under license to BioMed Central Ltd. This is an Open Access article distributed under the terms of the Creative Commons Attribution License (http://creativecommons.org/licenses/by/2.0), which permits unrestricted use, distribution, and reproduction in any medium, provided the original work is properly cited.