Editor Profiles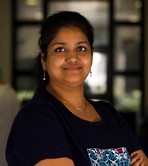 Akila Sridhar obtained her Ph.D from the University of Aberdeen, UK, has a further three years postdoctoral experience as an EMBO Long-term Fellow at Instituto Gulbenkian de Ciência (IGC), Portugal. Her interests cover molecular genetics, cellular biology, biochemistry, developmental biology and telomere biology. After over eleven years of research experience, mainly as a molecular biologist, working with different model systems, she joined the BMC Series as a Locum Editor in September 2018. She has been the Editor of BMC Plant Biology since February 2019 and is based in Springer Nature's London office.
Anna studied Biology, with an emphasis on Cell/Molecular/Developmental Biology at the University of Crete, Greece. During her PhD in Queen Mary, University of London she worked on the knockout of Flavin-containing monoxygenase 5 (Fmo5) gene of the mouse, which eventually led to the identification of Fmo5 as a regulator of metabolic aging. As a Postdoc at the Universities of Ioannina, Greece and the University of Cambridge, UK she worked on the role of cell-surface receptors (Wnt/Notch/FGF4) and adherens junctions in the fate specification of mES cells and mES-derived multipotent cardiac progenitors. She also contributed in the development of an ES-cell-based expression and reporting system for the selection of antibodies affecting cell-surface receptor signalling and controlling stem cell differentiation. Anna joined the BMC Series as a Manuscript Editor in March 2019 and is based in Springer Nature's London office.
Biochemistry and physiology
Paul completed his undergraduate degree and an MSc at the University of Auckland in New Zealand investigating the causes of browning in apples. He then moved to Adelaide, Australia to take up a PhD scholarship studying the production of anthocyanin pigments in grape berry skins. Following this, Paul worked at CSIRO to investigate inflorescence formation in grapes. This interest in flowering and molecular genetics lead Dr Boss to the John Innes Centre in Norwich, England where he worked on flowering in the model plant Arabidopsis. In 2004, Paul returned to Adelaide to lead a research group at CSIRO investigating flavour and aroma development in grape berries, with a particular interest in the link between grape secondary metabolism and wine flavour and aroma. His current research activities bring together the disciplines of analytical chemistry, biochemistry, molecular biology and genetics to understand the impact of environment, management and genotype on grape secondary metabolism.
Plant-abiotic interactions
I received my MS in Vegetable Crops in 1982 and my PhD in Plant Physiology in 1985 from the University of California, Davis. I started as an Assistant Professor in the Department of Plant Science in 1988 at the University of Nevada, Reno. I am currently employed as a Professor in the Department of Biochemistry and Molecular Biology at the University of Nevada, Reno. My research career focused primarily on the mechanisms of salinity tolerance during the first two decades of my career. In the last two decades, I have changed my focus to abiotic stress tolerance (drought, salinity and cold) of grapes using a systems biology approach. I am actively working at the international level to develop cooperation amongst grape scientists and at the local level to establish a grape and wine industry in the dry desert climates of Nevada.
Genetics and crop biotechnology
Dr Fabrizio Costa is a senior scientist at the Biology and Genomics of Fruit Crops Department of the Research and Innovation Centre, Fondazione Edmund Mach (Italy). He obtained his MSc. in Plant Science and PhD in Fruit Crop Science at the University of Bologna. He has also been a visiting scientist at the Plant Research International of Wageningen University (The Netherlands) and at the Boyce Thompson Institute at Cornell University (USA). The lab of Dr Costa is focused on the study of the genetic and molecular mechanism controlling the ripening of climacteric fruit. Main research interests include the discovery of the fundamental genes involved in the modification of important features for fruit quality, such as texture, aroma and ethylene, and the design of molecular markers to assist the selection of novel valuable ideotypes. Dr Costa joined the BMC Plant Biology editorial board in April 2012 as an Associate Editor then Section Editor from 16 February 2016.
Genetics and crop biotechnology
Yuling Bai is professor holding a personal chair at Plant Breeding, Wageningen University & Research (WUR) in the Netherlands. Dr. Yuling Bai obtained her PhD from Wageningen University and her research interests cover plant genetics, molecular plant-microbe interactions and related areas that are relevant to breeding crops with resistance to diseases. Dr. Yuling Bai joined the BMC Plant Biology editorial board as an associated Editor several years ago and then Section Editor from June 2019.
Plant-biotic interactions
Prof. Pradeep Kachroo was born in India, where he received his B.S. degree at the University of Delhi in 1987 and his M.S. and Ph.D. degrees at the University of Baroda in 1989 and 1995. A portion of his dissertation research was conducted at the University of Wisconsin, Madison, through a graduate fellowship from the Rockefeller Foundation. He then moved to be a post-doctoral scholar at the Swiss Federal Institute of Technology (ETH) in Zurich, the Waksman Institute of Microbiology at Rutgers University, and the Boyce Thompson Institute at Cornell University. He joined the faculty of the University of Kentucky in the Department of Plant Pathology in 2002, where since 2013, he is a full professor. His work has significantly contributed to our understanding of Signalling pathways regulating host-pathogen interaction. His group uses Arabidopsis as a host model and to study molecular, genetic and biochemical mechanisms governing response to infection by various different microorganisms. His work made multiple advances that are foundational to our understanding of plant disease resistance. He is a recipient of the Noel T. Keen Award for Research Excellence in Molecular Plant Pathology. University of Kentucky in the Department of Plant Pathology in 2013. He joined the Editorial board of BMC Plant Biology in 2009, and has heads the 'Plant-Biotic Interaction' Section on the Journal.
Genomics and evolution
Dr. David Alvarez-Ponce is an Associate Professor at the University of Nevada, Reno. He received his PhD in Genetics from the University of Barcelona in 2010, and was a postdoctoral researcher at the Maynooth University, Trinity College Dublin, and the Institute for Plant Molecular and Cell Biology (Spain). He uses bioinformatics methods to compare the genomes of different organisms and learn about the evolution of their genes, and how this evolution is shaped by natural selection. Foci of his lab include understanding why certain proteins evolve faster than others, the evolution of molecular networks, and the evolution of methylomes. He joined the Editorial board of BMC Plant Biology as a Section Editor in April 2019.
Development and cell biology
Greg is a professor of viticulture working at the agricultural graduate school (Bordeaux Sciences Agro) and the Institut des Sciences de la Vigne et du Vin (ISVV) in Bordeaux, France. He received his PhD from UC Davis while working in the department of Viticulture and Enology and has worked for over 15 years as an industrial and academic researcher in the U.S., Mexico, Italy, and France. His research on grapevine adaptation to drought and the impact of environment on winegrape ripening is internationally recognized. Through his work Greg has been recognized as a Fulbright scholar, National Science Foundation award recipient, and California Council on Science and Technology fellow. He has been the Section Editor of the Development and cell biology section of BMC Plant Biology since April 2019.
Reproductive biology
Jorge is an Associate Professor at the University of Buenos Aires, Argentina and a Principal Investigator at the Institute of Genetic Engineering and Molecular Biology "Dr. Héctor N. Torres" (INGEBI, CONICET), Buenos Aires, Argentina. He got his Ph.D. in Biochemistry from the University of Buenos Aires, Argentina in 1991. He then trained as a post-doctoral scholar at the Plant Gene Expression Center – University of California at Berkeley (Sheila McCormick's lab), United States, from 1992-1996.

His lab uses Arabidopsis and tomato as model systems to study the genetic and molecular mechanisms that control pollen pistil interactions and plant fertilization. His lab focuses on the biochemical and physiological events that take place in the pollen tube during his journey towards the accomplishment of double fertilization of the female gametophyte.

Jorge joined the Editorial Board of BMC Plant Biology in 2011.
Announcement

As a result of the significant disruption that is being caused by the COVID-19 pandemic we are very aware that many researchers will have difficulty in meeting the timelines associated with our peer review process during normal times. Please do let us know if you need additional time. Our systems will continue to remind you of the original timelines but we intend to be highly flexible at this time.
Follow
Portable Peer Review
The editors of BMC Plant Biology support initiatives that expedite the peer review process and are happy to consider manuscripts that have been reviewed in Peerage of Science. Please indicate in your cover letter if this applies to your manuscript.